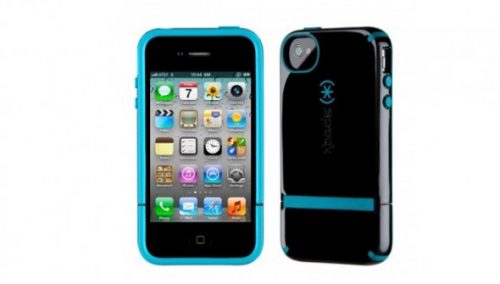 But it's also because I find that as long as I'm not tossing my phone around my apartment like a Koosh ball, it's durable enough to withstand the occasional fumble onto the floor.


That being said, the glass-fronted and glass-backed iPhone 4 is a slippery little fish, and for some, a case will be a necessity. Especially now that Apple has apparently forsaken their clumsier customers by ending their informal free-replacement policy. So if I had to get a case, this is the one I'd get: the Speck CandyShell Flip case.
The CandyShell Flip has a hard, shiny polycarbonate shell (good for protection and for slipping your phone out of skinny jeans pockets) and a soft rubber interior that extends onto the case's bezel, intended to act as a shock absorber and keep your iPhone from sliding around when you put it face down on a table. The case gives full access to all the iPhone's buttons and connections, and it includes a clever flip-back bottom section which allows you to dock the iPhone without removing the case altogether. If you're a regular user of Apple's USB dock or any sort of iPhone stereo dock, this clever little design will save you a good deal of hassle. But overall what's most attractive about the CandyShell is the compromise between protection and bulk; you get some serious added armor without turning your iPhone into some sort of chunky military-grade walkie talkie.
The thorough crew over at iLounge awarded the CandyShell Flip the "Case of the Year" award in their 2012 iPhone Buyers' Guide, and accessories editor Nick Guy told me that it "really is a great case: very protective, nice looking design, and fully accessory-compatible."
It retails for $35 on Speck's official site, which isn't cheap, but then again neither was your iPhone. It currently comes in three colors (though previous versions of the case have come in over a dozen–more might be in the pipeline), and it comes with a one year warranty.
The downside with the Candy Shell? You get a fairly obnoxious Speck logo on the back of your phone. If that's a deal breaker, you might want to take a look at InCase's Pro Slider–a similarly-sized offering with a clean, logoless back–though that case, some users note, is susceptible to cracks and breaks when dropped. Not quite as hardbody as the CandyShell Flip.
And then there are all stripe of other, more specialized cases. If you're a roadwarrior who's constantly battling to make it through a long workday on a single charge of your battery, you might want to look at Mophie's Juice Pack Air, a svelte case that packs a rechargeable external battery which can nearly double your talk time. If you know from past smartphone experience that your iPhone is going to take a beating, the Otterbox Defender is a popular rugged choice, combining a polycarbonate shell and silicone skin to keep your iPhone in pristine condition. With these, of course, you pay for your extended battery life and/or your super duper protection with some serious added bulk.
But for most, the CandyShell Flip covers all the bases. Good protection, nice looks, accessory-compatible, and still keeps things slender enough for your pants pocket.