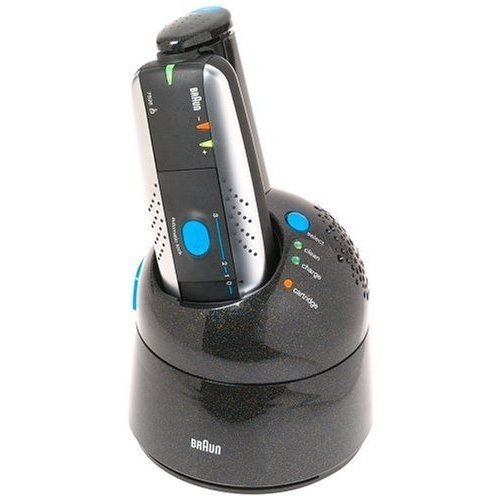 One model you might want to think twice about is the Panasonic Sonic Max. We haven't been able to find many reviews of this shaver, but Tech TV's reviewer is unimpressed by the Sonic Max's 13,000-rpm rotary power—says its tester, "I had to run the razor a few times over most of my face to get the smooth shave I'm used to." He admits that the razor made his face smooth, but at the expense of an unacceptable amount of razor burn. Fortunately, reviews indicate there are better choices.
The best shavers seem to fall in the middle price range; neither very expensive nor very cheap models rate well with experts. One consumer reviewer we found complains that his high-priced shaver ran too slowly, and its irreplaceable battery had a short lifespan. Slate Magazine's Seth Stevenson says one expensive shaver should go beyond the call of duty: "At these prices, it ought to clean the sink when it's done." On the other end of the spectrum, the budget-priced (as low as $40) Wahl and Eltron brands also don't rank very highly with experts or consumers. Reviewers point out that you'll use it every day, so spending money on a good shaver now is better than continually buying cheaply made models.
One line in particular has its share of supporters and detractors who comment mainly on one feature. Most of the Braun Syncro System Smart Logic shavers have a special base for cleaning and charging the shaver. While most reviewers were very pleased with the shaver itself, testers differ wildly on the cleaning base unit. While most posters love it ("Having a fresh, clean foil against my face every morning feels so much better," writes one poster to Amazon.com), others say it's a gimmicky feature. While the cleaning unit appears to be a love-it-or-hate-it proposition, reviewers do recommend the Syncro line.
The two types of electric shavers are rotary and foil. Foils theoretically offer a closer shave, but get into trouble cutting longer hairs. Rotary shavers can cut long hairs, and are easier to maneuver around difficult areas like the chin and neck, but they don't get as close as the foils. The best shavers combine these functions: Foil shavers such as the Braun Syncro incorporate cutters that catch longer hairs that get by the holes in the foils, while rotary shavers such as the Norelco have holes to capture shorter stubble.
In a poll taken on the Electric Shaver Page, 59% of respondents found foil shavers less irritating than rotary models. However, foil shavers' surfaces are more delicate, and though they're easier to clean, they're also easier to break. Rotary shavers are sturdier than foils, but require more effort to keep clean.
The most highly praised electric foil shaver is the Braun Syncro. There are three models in this line: The 7680 (*est. $135) and the 7526 (*est. $95), which both have a charging base with cleaning function, and the 7505 (*est. $100) which does not come with a base unit. The top-of-the-line Syncro has an "interactive LCD panel" that "provides useful data on charge status and maintenance in a form that is easy to understand, detailed and practical," according to the Braun Web site. Unless you're a real gadget-head, experts say you don't need an LCD panel on your shaver. Instead, most reviewers go for the mid-range model, the 7526. This model doesn't have the interactive LCD, but does have a charging indicator and all of the 7680's other features, including the base unit.
Even testers who are initially skeptical of the Braun Syncro's cleaning function eventually surrender to it, saying it leaves the shaver with a fresh lemony scent. The cleaning solution is an added expense (*est. $10 for two cartridges), and you'll need a new cartridge each month, but most contributors to Epinions and Amazon.com happily surrender. If you want the top-rated Braun, but don't care about the cleaning unit, the Braun Syncro 7505 (*est. $100) comes without the base unit, but has a brush for cleaning the unit yourself. There's little price difference the two units.
Among rotary shavers, the Norelco Spectra and Quadra Action series tops reviewers' lists, making these the best models for more infrequent shavers. As with the Braun, above, experts say shavers in each line perform similarly, with the major differences being features and finish. The top-of-the-line Norelco Spectra 8894XL (*est. $170) is advertised as "James Bond's Shaver of Choice;" presumably you'll look like Pierce Brosnan when you're done shaving. Despite the kitschy tag line, testers say the Spectra is a great shaver. Posters to Amazon.com and Razor Rap say it shaves close, and the ability to rinse it out under the tap is a big time saver.
As with the Syncro, the more you spend, the more features you get. The 8894XL has a special polymer finish and an LED display. Middle models have battery-life indicator lights and come in colors such as eggplant and champagne. The entry-level model, the Norelco Spectra 8825XL (*est. $130), has a blue finish and a full-battery indicator, but is otherwise identical to the middle-of-the-line models, with the same quick-charge feature, two-stage cutting, comfort selector and two-year warranty.
The Spectra line is newer than Norelco's older Quadra line, which reviewers also favor. The Quadra Action 7885XL (*est. $130) is great for longer stubble, say reviewers, but has added features (like little holes) to whisk away shorter hairs as well. As an added bonus, it includes an LCD display to show how much shaving time you have left in cordless mode. A lower-end model in this line, the Norelco Quadra 7825XL (*est. $80), makes a good budget choice. This model has the same cutting system as the more expensive models, but skips the LCD readout. The Norelco can also be rinsed under the tap.
When buying on a budget, experts say it's better to go with a low-end model from a reliable manufacturer than an inexpensive, off-brand shaver. The Braun Flex XP 5614 (*est. $55) costs less than other high-end foil shavers, but reviewers say it keeps the pace, although some say it feels less durable than Braun's Syncro line. The Flex XP can be used either cordless or corded, has a charging indicator, can be cleaned under tap water and has a quick-charge function. Unlike the Syncro series, the Braun 5614 doesn't have a self-cleaning base unit.
Many consumers love the Grundig Pro Avantgarde 8875 (*est. $190), which claims to give the world's smoothest shave. Users agree, but also say that the Grundig is high maintenance. It must be cleaned frequently and thoroughly to continue working well, and its replacement parts are more expensive than most. This model has been discontinued, however, and we've yet to see reviews for the new models.
Experts say to look for the following features in an electric shaver:
Look for a 10,000 or faster motor speed (meaning the blades move back and forth 10,000 times per minute). The faster the blades move, the closer the shave and the less irritation. Slower models are cheaper, but your daily shave may take a frustratingly long time.
Go for a quality brand with fewer features rather than a generic model with lots of bells and whistles. Remember, the quality of your shave is more important than flashing timer lights.
An adequate trial period is essential. It takes thirty days for your face to adjust to a new shaver; only after this initial adjustment period can you determine if the shaver is the right one for you. For this reason, you should look for a money-back guarantee ranging from thirty to sixty days.
A shaver should feel comfortable in your hand, and shouldn't be annoyingly noisy or vibrate too much.
A quick-charge option and a long charge life are important. It doesn't matter how many fancy features a shaver has if it quits before you finish the job.