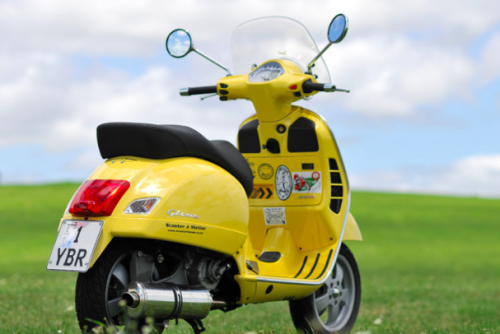 If you don't plan to do a lot of freeway riding, reviewers say the Vespa GTS 250 is the best all-around scooter you can buy. Agile and quick, beautiful and well built, able to hit 76 mph and at least 60 mpg, the Vespa GTS 250 is well worth its high price, according to most critics.
"I've never felt so much like Audrey Hepburn as I did riding the new GTS 250," writes Susan Carpenter, the Los Angeles Times' motorcycle columnist. Its elegant shape is formed from a single sheet of stainless steel — Italy's Vespa is the only brand that is built that way — and it is "gently rounded and chromed in all the right places," she says. Testers say they even got approving glances from riders on regular motorcycles while driving the Vespa GTS 250 scooter, which they didn't expect.
The Vespa scooter's 244 cc fuel-injected engine (four-stroke, single-cylinder, liquid-cooled) and automatic continuously variable transmission make for quick, easy acceleration, according to reviewers. Unlike the smaller, 50 cc Vespa LX 50 (MSRP: $3,300), you can take the GTS 250 on the freeway — and unlike the 150 cc Kymco People 150 (MSRP: $2,800), the more powerful Vespa GTS 250 scooter can keep pace with 70 mph-plus traffic.
But some testers say the Vespa GTS 250 still feels a bit shaky and underpowered in freeway traffic. They recommend a bigger scooter, such as the Honda Silver Wing (MSRP: $8,500 to $9,000) or the three-wheeled Piaggio MP3 scooter (MSRP: $8,900) if you plan to do a lot of long-distance or freeway riding.
A wide variety of sources road-test and review the Vespa GTS 250 scooter, and all come to similar conclusions. Major newspapers including The New York Times and Los Angeles Times, scooter-oriented sites such as TheScooterReview.com and ScooterMaxi.com and motorcycle publications including Cycle World and Motorcycle-USA.com all praise the Vespa GTS 250 scooter. Although the Vespa scooter doesn't win the comparison review at Wired magazine, it still earns the usual kudos for its beauty and agility.

PRO-KODASKIN Emblem Sticker decals 3D for vespa GTS LX LXV Sprint Primavera 50 125 250 300 GTS 300ie S 50 Sprint 50 946