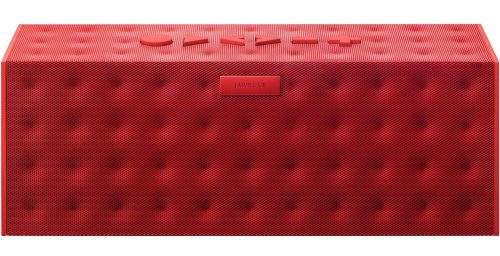 The truth is, I'd rather get a Bluetooth speaker than another iPhone dock.
Jawbone's Jambox  Portable bluetooth speaker box is awesome, though kind of weird. It's shaped like a stylish, compact brick. There's an input jack, but the designers really wanted you to connect your phone to it by Bluetooth. It plays music, of course, but you can also use it as a speakerphone.

Jawbone BIG JAMBOX Wireless Bluetooth Speaker
The Jambox is surprisingly loud and clear despite the tiny size of the speakers. This speaker's software makes it even more interesting. It obeys voice commands to turn it on or off, to select music on iPhones, or dial a person in your phonebook. The Jambox has a voice of its own, too — by default, a female voice that dictates system notifications, such as the battery level of the unit. A recent software update improved on some of the Jambox's early weaknesses with Bluetooth fidelity, so it's actually much better now than it was a few months ago.
So, why this one versus other Bluetooth speakers out there, such as the Soundmatters FoxLv2? Both devices are almost exactly the same in terms of performance, price and functionality, and both gained very high reviews from technology reviewers all over the map. In the end, it comes down to looks and feel, and the Jambox "definitely feels more solid than the Soundmatters FoxLv2," says CNET gadgets editor Justin Yu, who did a roundup of all the major Bluetooth speakers on the market. The Jambox rocks.