After spending dozens of hours considering every hybrid that's currently on sale (and driving and living with the better ones), we found the best choice for most is the standard 2015 Toyota Prius Two, which starts around $25,000  but can be bought by most for as little as $23,000. No duh, huh?
The Prius is purpose-built for fuel efficiency and achieves the country's second-best rating of 50 miles per gallon  without much effort required by the driver. And unlike many of its competitors, it doesn't cost that much more than a comparable non-hybrid compact car, but would start saving you gas money, and lots of it, from day one.
It prefers to be driven slowly and easy to burn less gas, but the Prius also has enough power to merge, pass, and pull away from stoplights with some gusto. It's also durable, has plenty of room for people and cargo, and boasts what no other hybrid can: a 14-year record of proven reliability and the title of World's Most Popular Hybrid. Until a new crop of competitors arrives later this year, including an all-new Prius, this current model remains atop the hybrid heap.
Our pick
2015 Toyota Prius Two
The 2015 Toyota Prius Two is the best choice for most people. At $23,000, it doesn't cost much more than comparable non-hybrid cars and boasts fuel efficiency of 50 miles per gallon. It's also durable, with a 14-year record of reliability and the title of World's Most Popular Hybrid.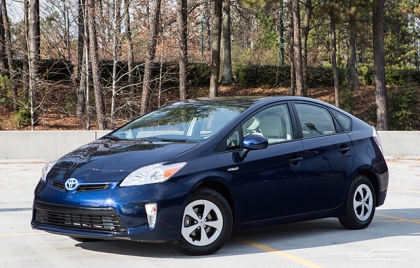 The Prius family includes three models: the small Prius c, the large Prius v, (we'll talk about both later) and the standard Prius liftback. The latter is our pick, and it's the one you're probably most familiar with because it's been the poster car for hybrids for over a decade. There are five trim levels of the standard Prius liftback. Some of them can cost as much as a luxury car when fully loaded, but the base model Prius Two is best for most because it's equipped well-enough: with standard features like Bluetooth phone and audio, a rearview camera, and push-button start. Its lower starting price also means you'll start saving money sooner.
This guide focuses on traditional parallel hybrids like the Prius, which make up the bulk of what's for sale out there. We decided not to consider plug-in hybrids because they cost considerably more than traditional hybrids and work a little differently; they'll get their own guide in the near future. We threw out mild hybrids too because they're all but extinct and have always played second fiddle to full-on parallel hybrids like the Prius.
The runner-up
2015 Honda Accord Hybrid
The Accord Hybrid is a hybridized version of the regular Accord, but comes remarkably close to matching the Prius in fuel economy. While its unique hybrid system is great to drive, it's still more expensive than the Prius while being less fuel efficient. It's a good pick for going green incognito, but doesn't quite best the Prius.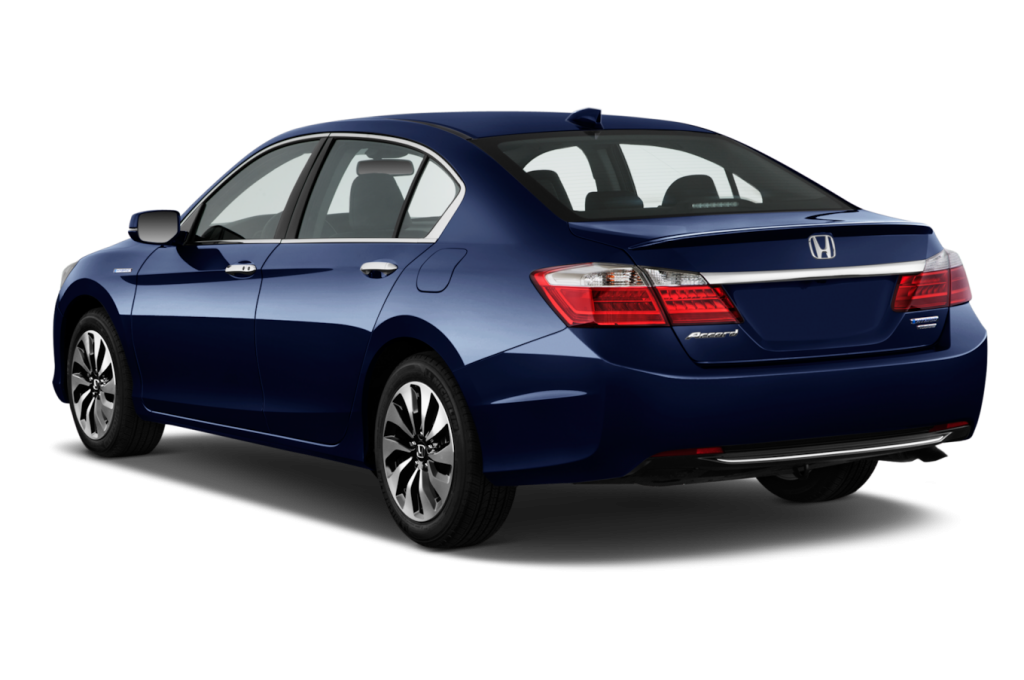 Not everyone likes the polarizing looks or social symbolism of a Prius. If that's you, check out the 2015 Honda Accord Hybrid as a great alternative. We like the standard trim level that starts around $30,000 —most people are even paying $2,000 less than that—because it's already equipped with a lot of nice features. Based on the gas-only Accord midsize sedan, it looks and drives more like a regular car than the Prius and has a new, very advanced hybrid powertrain that, for us, easily achieved its official combined rating of 47 mpg (2.13 gp100), which is the best rating for any hybridized version of a regular gas-powered car.
For families
2014 Toyota Prius v Two
The Prius v is simply a larger version of the standard Prius that adds more room for people and cargo at the cost of a few mpg. The bigger back seat makes it easier to deal with car seats and the larger cargo area handles more family gear. Otherwise it acts just like a Prius.
If you're transporting a family often, consider the 2014 Toyota Prius v that starts around $27,500. It's a larger version of the regular Prius with a bigger back seat and much more cargo space, making it just the right size for a family with one or two kids while still being able to hit 42 mpg combined (2.38 gp100). And just like with the standard Prius, the base model Prius v Two is very well equipped.
Responsible luxury
2015 Lincoln MKZ Hybrid Reserved
The MKZ Hybrid is the least expensive and most fuel-efficient luxury hybrid you can buy, plus Lincoln offers a truly impressive collection of premium features. There aren't many good luxury hybrids available, but Lincoln still went all out to be the best.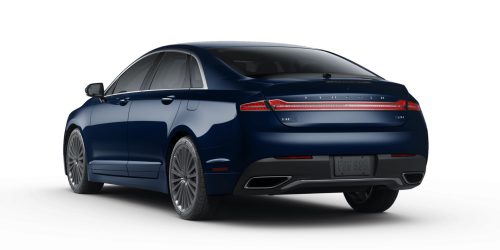 There are also lots of hybrid luxury cars available, but most aren't worth the extra money compared to non-hybrid luxury cars. There are a couple of exceptions, so if you really don't want to sacrifice the finer things for fuel efficiency, we recommend the 40-mpg (2.5 gp100) Lincoln MKZ Hybrid that starts around $36,000 as the best all-around luxury hybrid. It offers not only the best fuel efficiency for the well-heeled set but also the lowest starting price among luxury hybrids and a great selection of unique, premium features. The base model is very well-equipped, but since it's the least expensive luxury hybrid, we recommend reaching for the top-of-the-line Hybrid Reserved model that starts a little over $41,000 and gives you access to Lincoln's best options.
Who should get a hybrid?
If you're looking to save money, most hybrids aren't worth it. That's because hybrids typically cost about 5% to 20% more than a regular car, a premium that can't always be erased by how much money you'll save on fuel.
Some will tell you the premium you pay for a hybrid is even more, but they're probably not comparing them to regular cars with the same level of features. For instance, the hybrid version of the Ford Fusion comes standard with a lot more features than the base model Fusion. Comparing the hybrid version to a Fusion with more features that costs more, a higher trim level say, paints a more accurate picture of their price difference.
Hybrids can save you money even though they cost more, but only in the long run.
Hybrids can save you money, but only in the long run. You've got to own one long enough that the pile of money you save on gas becomes greater than the pile of extra money you paid to get one. It's called the break-even point, and most hybrids—at least hybridized versions of regular cars—take more than 100,000 miles of driving to reach theirs.
Perhaps a better reason to buy a hybrid than saving money is wanting to pollute less. Hybrids release less CO2 and other pollutants than regular cars by virtue of simply burning less fuel. That makes them perfect for the green crowd—people willing to spend more upfront to reduce the environmental impact of their driving.
A better reason to buy a hybrid than saving money is wanting to pollute less.
So hybrids have their work cut out for them. They've got to be a pleasure to own and drive just like any new car you might consider buying, and then balance that with amazing fuel economy for a reasonable price hike over what you'd pay for a similar (and similarly-equipped) car powered by gas alone. They should also do a good job concealing the complexity of what's going on under their hoods. That means masking the noise and shaking of their gas engines starting up and stopping, which is happening all the time, as well as imperceptibly melding their regenerative braking (which sends energy back into their batteries) with traditional friction brakes.
Why you should trust me
I was the editor-in-chief of Autoblog.com for nearly 10 years and grew that website to become the most popular destination for automotive news, reviews, and auto show coverage on the web. While I led the site, Autoblog.com reviewed 20 new vehicles on average per month, performed comparison tests, and maintained a stable of long-term review vehicles. I exhaustively research every major purchase of my own (just ask my wife) and I'm giving you the same advice I would give friends or family.
How we picked
Believe it or not, there are over 40 hybrids on sale in the U.S., and there's no one set kind. They come in all different shapes and sizes with prices that range from cheap to OMG. They don't all work the same, either; there are many different takes on the fundamental principle of a gas engine and electric motor working together to move your car.
What we're considering for this guide are parallel hybrids, which is what most hybrids on sale today are. They work by letting an electric motor and a gas engine operate in parallel, sometimes combining their power to move the car and sometimes having one or the other move the car by itself. Parallel hybrids are popular because they offer a good bump in fuel economy for a reasonable bump in price, and they've proven to be very durable.
There are about 30 parallel hybrids for sale today that include everything from small cars to mid-size sedans to crossovers and wagons to luxury cars. We decided to pick an overall best hybrid, as well as some good alternatives for people in different situations.
There are other kinds of hybrids you can buy besides parallel, like plug-in hybrids and mild hybrids, but we're leaving them out of this discussion. We'll explain why in detail later; for now we'll just say that traditional parallel hybrids are what the vast majority of hybrid buyers are choosing.
Aside from being a pleasure to own and use just like any other car, the most important factor when choosing a hybrid is fuel economy, because that's what you're paying extra for. The next is how easy it is to achieve that fuel economy; some hybrids have been dinged for not being able to achieve their official fuel economy ratings from the Environmental Protection Agency in the real world. Because of this, we went beyond the EPA and also looked at independant fuel economy numbers from places like Consumer Reports and Fuelly.com to ensure our picks perform as advertised, as well as tested some of them ourselves over the course of a week and hundreds of miles of driving.
We spent a week driving hundreds of miles with the top contenders so we could better gauge their comfort, usability, and drivability.
After analyzing all these hybrids to find out which ones floated to the top, we met with the best in person to make sure they also functioned well doing the duties of everyday life, as well as convincingly masked the complex partnership happening under their hoods. Some we drove at the dealership, while we spent a week driving hundreds of miles with the top contenders so we could better gauge their comfort, usability, and drivability.
We also read first drives and reviews of these hybrids from across the internet and sought out the informed opinions of green car experts Sebastian Blanco, Editor-in-Chief of AutoblogGreen; John Voelcker, Senior Editor for High Gear Media and Editor-in-Chief of the company's Green Car Reports website; and Sam Abuelsamid, Senior Analyst for Smart Transportation with Navigant Research.
Why miles per gallon doesn't matter
Since we compared a lot of fuel economy numbers for this guide, we also converted every mpg to gp100, or gallons burned per 100 miles driven. Why? As Dan Edmunds from Edmunds.com puts it, "A single MPG has no fixed value; it isn't a tangible thing." In a nutshell, higher mpg numbers represent less fuel burned per mpg—the difference between 50 and 51 mpg and 15 and 16 mpg are both a single mpg, but 50 to 51 mpg equals 0.04 gallons burned every 100 miles and 15 to 16 equals 0.41 gallons, a difference of more than 1,000%!
Why does that matter? Because we can't compare the fuel efficiency of different cars unless we're comparing the actual amount of fuel they burn. The old mpg standard can't tell us that because mpgs change their value depending on where on the spectrum they land; a mpg for a truck is much more fuel burned than a mpg for a hybrid. Gallons burned per 100 miles driven, however, does what it says, telling us how much fuel any car uses over a constant distance by which they all can be compared fairly.
The good news is that converting mpg to gp100 is super easy. It's 100 divided by the mpg number. And if you're new-car shopping, the gp100 number is actually printed on the sticker and listed on the government's fueleconomy.gov website. It's in small print and they don't include gp100 city or highway figures, just combined, but we'll take what we can get.
How much money will I save and when? How much will it cost to own?
Price is also a big consideration. We know you're interested in more than just how much a hybrid costs, but also how much more it costs than a similar (and similarly equipped) non-hybrid car. The best hybrids pay off their premium, i.e. reach their break-even point, sooner by saving more money on gas. The Prius does well in this regard depending on what it's compared with: similarly sized compact cars or similarly priced midsize cars. If you're cross-shopping it with midsize cars, the break-even point might occur before you drive it off the lot.
The best hybrids pay off their premium sooner by saving more money on gas.
We calculated the break-even point for every hybrid on sale in the U.S. with a gas-only counterpart, i.e. non-purpose-built hybrids. This required a lot of extra research to make sure we were comparing each hybrid to a similarly equipped non-hybrid version, which can be tough because hybrids usually come standard with extra features that base models don't. You can see the results in this chart.
Make, Model & Trim

Price

MPG Difference

Break Even Miles

Gallons of Fuel Saved

Toyota Prius
$24,200
19

109,609

1,593

Ford Focus 5-Door
$18,960
Honda Civic Hybrid
$24,635
12

125,341

1,050

HondaCivic EX
$21,090
Subaru XV Crosstrek Hybrid
$25,995
3

248,000

449

Subaru XV Crosstrek 2.0i Premium
$22,995
Honda Accord Hybrid
$29,305
17

101,307

1,567

Honda Accord EX
$25,030
VW Jetta Hybrid
$31,670
16

22,749

1,593

VW Jetta GLI SEL
$30,380
Lincoln MKZ Hybrid
$35,190
14

0

1,749

Lincoln MKZ
$35,190
Toyota Avalon Hybrid XLE Premium
$35,555
15

44,952

1,949

Toyota Avalon XLE Premium
$33,195
Lexus ES 300h
$39,500
16

49,371

2,166

Lexus ES 350
$36,620
BMW ActiveHybrid 5
$61,650
2

504,000

417

BMW 535i
$55,350
Lexus LS 600h L
$120,440
2

883,154

722

Lexus LS 460 L AWD
$101,305
Here's an example of what can be learned by figuring out a hybrid's break-even point. Compared to a similarly equipped non-hybrid version, the Toyota Avalon Hybrid will pay off its premium after just 44,952 miles and burn 37.5% less fuel, or about 1,949 fewer gallons, over its projected life (in this case, assuming 11.4 years of ownership and 11,400 miles driven per year). The BMW ActiveHybrid 5, on the other hand, needs 504,000 miles to reach its break-even point and will only burn about 8% less fuel or 417 fewer gallons over its projected life.
The point at which how much fuel the Prius saves makes up for its extra cost, its break-even point, is hard to figure because it's one of the few hybrids with no gas-only counterpart to compare it with. We tried anyway. A Ford Focus hatchback is similar in shape and size; a base model Prius would break-even with a comparably equipped Focus hatchback after 109,000 miles and 38% less fuel – 1,593 gallons fewer – according to our calculation.
If you're cross-shopping a Prius with a similarly priced, gas-only midsize sedan, you'll find the Prius lets you pocket its fuel savings as profit immediately.
That may not sound great, but the Focus is less expensive than the Prius and fairly fuel efficient already. When you cross shop the Prius with slightly larger midsize sedans, as we think many people likely do, its break-even point shrinks substantially or vanishes altogether because they're priced so similarly. That means if you're cross-shopping a Prius with a similarly priced, gas-only midsize sedan, you'll find the Prius lets you pocket its fuel savings as profit immediately. Cross-shop it with a compact hatchback like the Focus, though, and the Prius will need time to cancel its higher price with fuel savings.
Thanks mostly to lower fuel bills and less depreciation, hybrids are also often projected to cost less to own over five years than their similarly equipped gas-powered counterparts. Edmunds.com estimates a new Prius will cost $31,695 after five years of ownership, compared to $35,770 for a Honda Civic Hybrid or $36,912 for a similarly sized and shaped gas-only Ford Focus hatchback. It's almost-but-not-quite the least expensive hybrid to own, beaten only by the less expensive Prius c and Honda Insight. Consumer Reports agrees. The magazine recently announced its Best New Car Value rankings, which take into account not only road test scores and predicted reliability but also five-year owner-cost data, and named the Prius best-in-class for compacts.
Our pick
2015 Toyota Prius Two
The 2015 Toyota Prius Two is the best choice for most people. At $23,000, it doesn't cost much more than comparable non-hybrid cars and boasts fuel efficiency of 50 miles per gallon. It's also durable, with a 14-year record of reliability and the title of World's Most Popular Hybrid.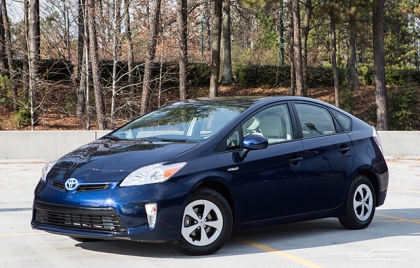 We spent a week driving the Toyota Prius and discovered what might explain why it is the most popular hybrid of all time: it's an all-around great car that just so happens to burn very little gas and really isn't all that expensive. The Prius is great to live with because, regardless of its green credentials, it's an ultra practical package with enough space inside for four people and lots of cargo. It's also been rock solid reliable over the lengthy time it's been on sale in the U.S., and when its battery pack eventually does go (as all battery packs do), there are many options for replacing it. The Prius is also effortless, going about its business of burning so much less gas without asking you to change the way you drive (though if you do, you'll be rewarded). It's officially rated by the EPA at 51 mpg in the city (1.96 gp100), 48 on the highway (2.08 gp100), and 50 combined (2.0 gp100), but you can do better by following some simple tips we'll talk about below.
Despite being the second-most fuel efficient car sold in the U.S., the Prius is still one of the least expensive hybrids you can buy. There are only a few other hybrids with a lower starting price. One is the Prius c and another, the Honda Insight, is being cancelled soon. The third is the Honda CR-Z, a tiny two-seat mild hybrid that manages only 37 mpg combined (2.7 gp100). We recommend the base model Prius Two that starts around $25,00 0   because its price is on the very low end for a hybrid and it already comes equipped with lots of good standard features.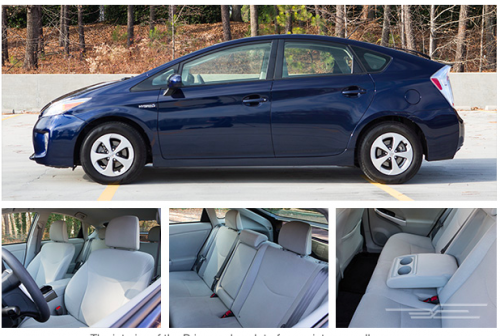 The size and comfort of the Prius really help sell it against larger vehicles. It may look like a small car from the outside, but it seats four people (five in a pinch) just as comfortably as most similarly priced midsize sedans. Rear seat headroom is the only dimension that feels scant, which can be blamed on the ultra aerodynamic exterior shape that peaks in height after the front seats and begins sloping downward. I'm about 5'10" and there's an inch or two of room to spare, so six-footers are probably the max. The sacrifice is worth it, though: the Prius is among the most aerodynamic vehicles ever to be sold. It's 0.25 coefficient of drag (Cd) is just a smidge behind the Tesla Model S at 0.24 Cd and it's still got more rear seat headroom than the Honda Accord and the Subaru Legacy, our top choice among midsize sedans.
The cargo area of the Prius, meanwhile, scored 14 bag bottoms in our patent-pending paper bag test, which means the rear cargo floor has about the same surface area as a midsize sedan (our top pick Subaru Legacy scored 15 bag bottoms). Because of that hatchback shape, though, it has more vertical room behind its rear seats, and folding those seats forward creates a much larger space for bigger stuff than a trunk with a pass-through could handle. Toyota also squeezed in a big storage cubby beneath the floating center console, which makes a useful catch-all for the stuff of life that inevitably gets left behind in our cars.
Lastly, the Prius scores well on safety too, earning four out of five stars in the National Highway Traffic Safety Administration's battery of tests and a coveted Top Safety Pick+ rating from the Insurance Institute for Highway Safety. It achieves that hard-to-get "plus" rating for offering a pre-collision safety system that warns of an impending collision and applies the brakes to lessen the impact or avoid it altogether. Like with most cars, it's an expensive option only available as part of a $4,320 Advanced Technology Package on the most expensive Prius Five model, but at least it's offered.
What trim level should I get?
The base model Prius Two with a starting price of about $25,000  is configured quite nicely with popular features like an automatic climate control system (just set the temperature and it will reach and hold it), a 6.1-inch touchscreen in the dash, Bluetooth for phones and audio devices, a rearview camera, push button start, and what Toyota calls Smart Key, a feature that lets you open the driver's door without removing the key from your pocket or purse. It's our top choice because it comes with these great features without having to spend a penny above the asking price.
Toyota offers four additional trim levels of the Prius: the Prius Three, Four, Five, and Persona Series, each of which adds more features like better upholstery, larger wheels, navigation, collision-avoidance systems, and other luxuries. The most expensive Priuscan cost over $35,000, which gives it a huge range of pricing and features to match more budgets. That's not the case with most hybrids that offer only one or two trims and not a true base model with a low starting price.
We tested a Prius Four for a week that was loaded to the tune of $35,760, but a standard Prius Four with SofTex seating (Toyota's version of synthetic leather that's lighter, vegan, and more eco-friendly to manufacture) and a premium infotainment system with navigation that can be had for under $30,000.
Prius Trim Levels
But it's slow and no fun to drive
There's actually something you can do about that won't void Toyota's warranty or cost you any mpg. Toyota offers a PLUS Performance Package for $3,800 that adds a rear sway bar, lowered suspension, lighter wheels, and a ground effects aero package. Because the wheels are lighter and the ground effects actually improve the car's already excellent aerodynamics, this sharper handling will only cost you extra dollars, not mpg.