Bottom line
The Diono RadianRXT is meant to take children from infancy through childhood. A 3-in-1 design transforms the Radian from a rear-facing seat to a front-facing seat to a belt-positioning booster, and the height and weight limits are the most generous on the market. The narrow profile also makes it a good pick for cramped backseats, but beware: The seat can be a space hog front-to-back when installed rear-facing.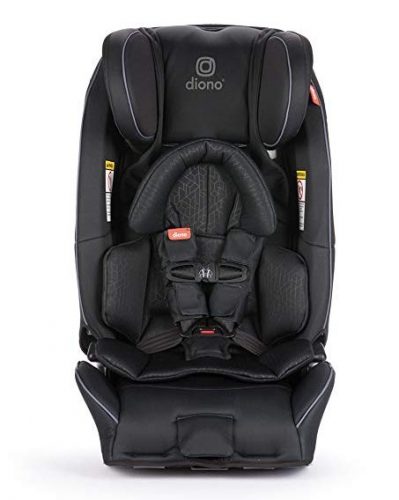 Safety
Safe, without the bulk of other seats. The Diono RadianRXT is a more recent seat that has not been independently crash tested. However, prior Diono seats have earned good scores. Diono also publishes its own crash-test results on its website. The seats are able to maintain a narrow 17-inch base because the frame is made with steel for greater rigidity in a crash. The seat's side-impact protection is bolstered with aluminum rather than plastic, which reduces bulk without sacrificing strength. The seat also offers side-wing head protection to keep children's heads from moving in a crash, and it can be tethered for greater stability both rear- and forward-facing. Like all convertible car seats, the RadianRXT also has a five-point harness with a chest clip.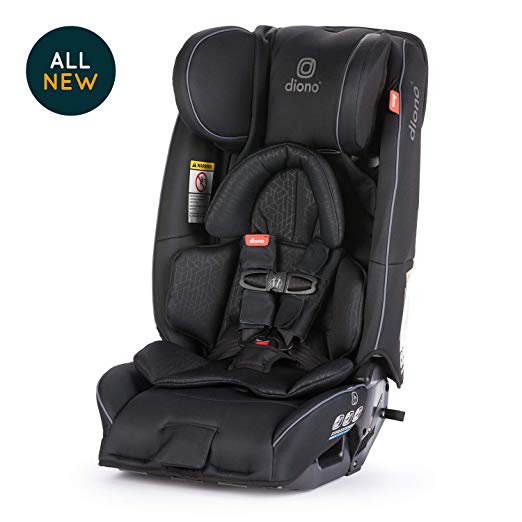 Ease of use
Straps can be tricky to tighten. The Diono RadianRXT offers high-end convenience features like push-button LATCH connectors that anchor the seat to the car, but parents complain about a more challenging installation. The seat has a lower center of gravity overall and a relatively narrow path for anchoring the tethers or the seat belt, and some owners complain that this makes it difficult to route the straps and tighten them, particularly in the rear-facing position. The seat lacks a no-rethread harness-height adjuster, but the harness tension is adjustable from the front. The cover is machine washable, but the harness has to be unthreaded to remove it. The National Highway Traffic Safety Administration (NHTSA) gives the seat only 2 out of 5 stars for overall ease of use, criticizing labeling, unclear forward-facing instructions and tricky conversions between rear-facing, forward-facing and booster use.
Lifestyle features
Seat is narrow but tall. The Diono RadianRXT is compact enough to fit three across in the backseat, an important consideration for families with three children who all need to be in a car seat. However, the seat has a fairly high back that can demand a lot of front-to-back room when it is installed rear-facing. Diono sells an angle adjuster (Est. $12) that parents say does an effective job of alleviating this problem, but Diono cautions against its use until children have full head control and can sit unassisted. The seat has soft foam padding that keeps kids comfortable and absorbs impact, but it doesn't have armrests. It comes with removable padding for better infant positioning. The seat folds up for easier traveling, but at 23 pounds, it might not be worth it. The RadianRXT's high height and weight limits make this a good pick for extended rear-facing use and taller children in general: The seat accommodates kids up to 44 inches and 45 pounds rear-facing and 57 inches and 80 pounds forward-facing. Another big bonus: The seat can then convert to a booster for use up to 120 pounds.
Customer service
Usable for up to a decade. Most reviewers give Diono high marks for customer service, and the Diono website is full of information about its seats' safety. The company markets the RadianRXT as a long-term car-seat solution for children and boasts an industry-best usable life span of 10 years (used with a harness, the seat has an eight-year expiration; booster use adds an additional two years). Like most car seats, the RadianRXT has a limited one-year warranty. It also has an unusual crash exchange program. If you are in an accident with your child in the car seat, the company will send you a new seat in exchange for being able to examine the affected seat. There are limitations, and it's at the company's discretion.
Best compact convertible car seat
ORIGINAL 3 ACROSS: The Radian 3RXT All-in-One Convertible is an affordable ultramodern child car seat that protects and makes traveling with kids as safe and easy as possible. Fit 3 Radians across in most family-size vehicles—FAA-approved for air travel.
Very high weight and height ratings
10
Slim design fits three in a backseat
10
Tether works either rear- or front-facing
10
PROS
Very high weight and height ratings
Slim design fits three in a backseat
Tether works either rear- or front-facing
CONS
Can be difficult to install
Harness, straps can be difficult to adjust
Add your review


Diono Radian RXT Convertible Car Seat