Britax Advocate 70 g3

This No.1-rated convertible has a groundbreaking installation that leaves you with no doubt the seat is safely and correctly installed. 3 layers of side impact protection, a snug harness indicator, an impact-absorbing base and steel frame make for the best protection for your child.
Bottom line
The Britax Advocate 70-G3 is the biggest, most expensive seat in the Britax line. It offers more side-impact protection than the company's other seats and a harness that clicks to tell parents when it is secure — a feature that has caused some controversy. The seat receives mainly glowing reviews, but some dislike the bulk that the seat's side wings add. Others say the straps are tricky to adjust, and that the seat's short shell means tall children may have to ride forward-facing sooner than parents would like.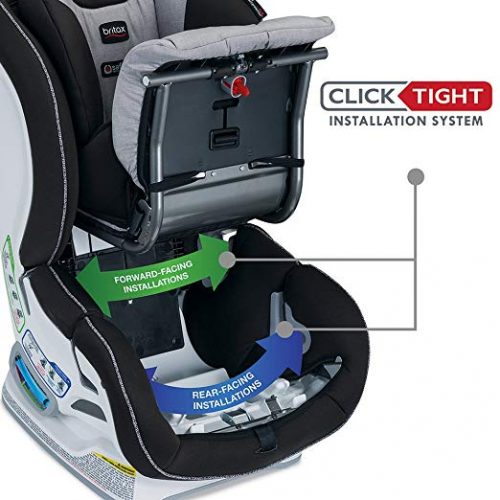 back to menu ↑
Safety
Beefed-up side-impact protection. The Britax Advocate 70-G3 has head-stabilizing wings on its deep, protective sides, a seat base with cells that compress in a crash to reduce forward thrust, and integrated steel bars for greater stability. Large side-impact cushions add another layer of air-filled padding to the top of the seat around the head area. This makes the hard walls of the seat softer for other backseat passengers and acts like a shock absorber for the seat. The Advocate also has a five-point harness that clicks audibly when it has reached the correct tension. Britax says this feature is secondary to parental oversight, but experts counter that it might give parents a false sense of security and urge them to always check the harness themselves. Britax voluntarily recalled Advocates and certain other seats manufactured from June through August 2012 because children could bite off parts of the chest pads, posing a choking risk. The company provided replacement pads to remedy the issue.
back to menu ↑
Ease of use
Some complaints about straps. Like other Britax seats, the Advocate 70-G3 has a no-rethread harness-height adjuster that allows you to change the harness height from the front with one hand while the seat is installed. However, some owners complain that the seat's straps are too short to comfortably accommodate larger children, while others say the chest pads can make the straps hard to adjust. Reviewers say LATCH attachments click on easily, and that the built-in seat-belt lock-offs allow you to install the seat confidently without LATCH connectors. However, they can be tricky to access, experts say. The machine-washable seat cover comes off easily, though some say it can start to slip off while the seat is in use. The seat receives 4 stars for overall ease of use in National Highway Traffic Safety Administration (NHTSA) ratings. Testers say the seat labels are incomplete and installation can be tough for those with larger hands, but praise the clear instructions.
back to menu ↑
Lifestyle features
Side wings can pose a few issues. Reviewers say the Britax Advocate 70-G3 is plush, roomy and generously padded, and like that it reclines in the forward- and rear-facing positions. But the seat's size and weight are important considerations, too. Some say the side wings make loading and unloading rear-facing kids hard, and that some children dislike how the wings limit their view. The Advocate's side cushions also mean the seat takes up more room in the backseat. While other rear-seat passengers may like the seat's soft padding, they may not appreciate the extra space it commands. The Advocate is also quite heavy, experts note. The seat can be used rear-facing for children from 5 to 40 pounds and forward-facing for children up to 70 pounds. It has an overall height limit of 49 inches. However, experts caution that the seat's shell is relatively short, meaning parents may not be able to keep tall children rear-facing as long as they like — children must be turned forward-facing when there is only an inch of shell remaining above their heads.
back to menu ↑
Customer service
Few service complaints. Britax receives solid customer-service reviews across the web. The Britax website offers comprehensive installation instructions for all models, but you must know the date of manufacture to access the information. All Britax car seats have a one-year limited warranty. The company must authorize all returns. The seat expires and should not be used after seven years. Britax recommends seats be replaced after a moderate to severe crash and lists specific criteria on its website.
Easy installation: Patented ClickTight makes car seat installation as simple as buckling a seat belt
Top-of-the-line safety features
10
No-rethread harness-height adjuster
10
Top-of-the-line safety features
10
No-rethread harness-height adjuster
10
PROS
Top-of-the-line safety features
No-rethread harness-height adjuster
High weight ratings
CONS
May be too bulky in some cars
Straps can be tricky to adjust, some say
Short shell means tall children can't stay rear-facing as long
Add your review
|
Read reviews and comments