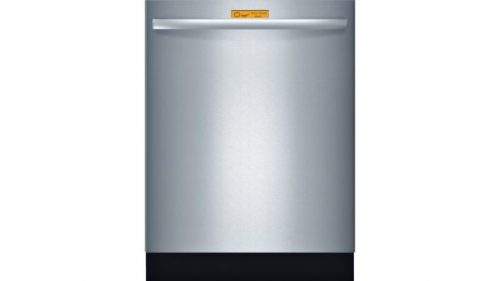 Bottom line
If quietness is your priority, the Bosch SHX98M09UC is the dishwasher for you, according to professional and user reviews. Even users who dislike other features of this model applaud its near-silence. Keep in mind that according to our estimates, the SHX98M09UC costs more than twice as much as our overall top-rated model, the Bosch SHE3AR75UC. Nevertheless, if you need near-silent appliances, this machine may be worth every penny.
Performance
Cleaning performance and energy efficiency earn kudos. The Bosch SHX98M09UC cleans extremely well, according to both professional and user reviews. Even the dirtiest dishes come out clean, with one user noting that it perfectly cleaned a glass baking dish with "rock hard" cheese and sauce from enchiladas. Another reports that dishes with leftover pasta came out "spotless." Reviewers also widely commend this dishwasher's energy efficiency. We found a few complaints, however, that plastics don't come out perfectly dry, electronic components fail and a very small number of owners report leaks or rust.
Ease of use
Nicely designed interior but controls draw some complaints. This a well-designed machine, according to both expert and owner comments. Reviewers applaud the Bosch SHX98M09UC's adjustability, with one user expressing satisfaction that the tines can be adjusted to several different angles and the top rack can be adjusted for height. Another user likes that silverware baskets can be separated and placed anywhere in the lower shelf. One user states that the SHX98M09UC is "the easiest dishwasher to pack with items that we have ever seen." A few users also comment that the controls are simple and the delayed-start option is considered a plus. Overall, we found nearly universal agreement that this Bosch dishwasher is easy to use; one user, however, says the touch-screen controls require a lot of pressure for settings to register.
Noise
Unbeatable noise level. While there is no doubt that the SHX98M09UC draws some complaints, with some users faulting its drying performance and others reporting electronic failures or customer-service issues, noise is the area where this model shines. Owners who have an overall favorable opinion about this machine generally agree that its quietness is among its best features; even the few users whose overall evaluation of the model is negative acknowledge that its near-silent operation is commendable. One user notes, "The claims of it being quiet are not exaggerated, it is!" Another says, "It is so nice and quiet! We can finally watch TV while the dishwasher is running (small apartment)!" A third owner reports being "blown away" by how quiet the machine is, adding that this level of quietness makes the machine "worth the high price tag." We found no complaints regarding the machine's noise level.
Cost of ownership
High priced, but rebates help. The Bosch SHX98M09UC is an expensive model; nevertheless, it is considered extremely energy efficient, both in terms of water and electricity usage, according to professional and owner reviews. The SHX98M09UC's Energy Star rating means it may be eligible for rebates in localities where utilities offer such a program. Additionally, some retailers run rebate programs that reward consumers purchasing multiple Bosch appliances within a certain time frame. Maintenance for this dishwasher involves cleaning the interior, checking the spray arm for debris and manually cleaning the filter, a process that one reviewer would prefer to be automatic. The warranty of one year for labor, two years for parts, five years for electronics and racks, and lifetime coverage against rust coming through to the liner is considered very good, although some users report problems with Bosch's customer service.