After about 40 hours of research and testing, we're not quite where we'd ideally like to be when it comes to picking a "best" sleeping bag for most people. But with the typical camping season ending soon and end-of-season sales ramping up, now's a good time to make a preliminary pick. The $200 REI Radiant is the sleeping bag we like (so far) for most campers and backpackers because it's a classic, proven design that fits most people and sleeping styles. Plus, it has waterproof down (like our other picks), making it a comfortable choice that won't get or stay moist. In a field of otherwise good bags, the Radiant's value makes it great.
1.Kelty Ignite Down 16

Kelty Ignite Down 16 Sleeping Bag
The Kelty Ignite DriDown is a good runner-up pick if you still want a traditional mummy bag, but our main pick jumps in price or becomes unavailable.
The Sleeping Bags We Like (so far)

Kelty Ignite Down 16 Sleeping Bag
The Kelty Ignite DriDown is a good runner-up pick if you still want a traditional mummy bag, but our main pick jumps in price or becomes unavailable.
We know that some people find a mummy bag's fit constrictive—the Radiant's standard 72-inch length, 62-inch shoulder, and 58-inch waist measurements are about in line with what you'd expect from a typical mummy bag. Hell, some of us have never had a perfect night's sleep in a mummy bag. Luckily, there are great bags for those who need more space, starting with … drumroll … the Radiant Long Wide (same product page). It's identical to our main pick, but the added 6 inches of length, 8 inches of girth at the shoulders, and 8 inches at the waist are great for folks over 6 feet and 190 lbs. Similarly, taller sleepers who don't need the extra width can opt for the Long option, which only adds 6 inches to the length.
If the Radiant is sold out and you want a traditional mummy bag fit, go with the $240 Marmot Sawtooth or $220 Kelty Ignite DriDown 16. There are minor differences between them: The Sawtooth has a foot pocket for adding a hot water bottle, while the Ignite has loops on the back for securing a sleeping pad. But at their core, they're virtually the same bags as the Radiant down to the fit—they just haven't been around as long and tend to be a bit more expensive than the Radiant on any given day. They both feature water-resistant down, weigh about 2 lbs. 10 oz., and are still cheaper than competing bags of similar offerings from other big-name brands like The North Face or Mountain Hardwear.
2.Lost Ranger 15
Lost Ranger 15
If you need more space to stretch your legs, the Big Agnes Lost Ranger is a great option. The bag-and-pad weight remains low and it has an impressively roomy cut.
The $260 Big Agnes Lost Ranger 15 is a good choice for people who need to stretch out their legs. It combines the best traits of a mummy bag—light weight and portability—with the best trait of a rectangular bag—a super spacious interior. Adding roughly a foot of extra girth to a typical mummy's dimensions, it comes in at 70 inches at the shoulders, 66 inches at the hips, and 54 inches at the feet—great for sleepers who like to roll around or snooze with their gams spread out. Big Agnes forgoes insulation on the bottom of the bag, instead including a full-length sleeve for an insulated sleeping pad. The design keeps the overall bag-and-pad weight low, prevents sleepers from rolling off their pads in the middle of the night, and allows for the impressively roomy cut. But note that it also means you pretty much always need a sleeping pad (roughly $90, not included) to stay warm and comfy.
3.Backcountry Bed 600 3-Season
Backcountry Bed 600 3-Season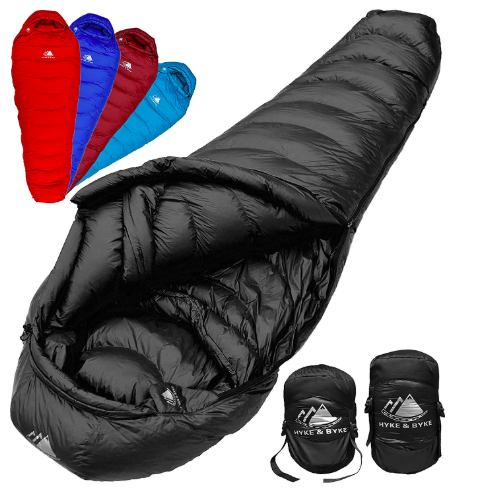 Those who want the most versatile bag should pay up for the the $300 Sierra Designs Backcountry Bed 600 3-Season. Rather than a typical zippered design, it features a wide circular opening over the torso, covered by a quilted "comforter" that you pull over your chest and neck. It might sound like a gimmick, but it's been widely lauded by every major outdoor gear publication and thoroughly impressed one of our testers. The spacious opening allowed him to easily lay both arms out of the bag on warmer nights instead of comfortably extending just one arm, as is the case with zippered bags. And he could just as easily snuggle up, pulling the comforter to his chin when temps dropped. The shoulder girth is a typical 61 inches and the hips are a slightly wide 60 inches, but the flexible design of the comforter made it feel bigger.
You can also stick your feet through the footbox vent to allow your feet to stay cool on warmer nights and even walk around while still in your bag. The idea is that it will feel less like a restrictive bag and more like your bed at home, but your mileage may vary so we definitely recommend trying it out in store or buying from somewhere with a generous return policy before committing.
4.KELTY COSMIC 20
KELTY COSMIC 20 Amazon's Choice
The Kelty Cosmic 20 Degree sleeping bag is ideal for 3-season backpacking and camping. Water-resistant down insulation and an array of features make this sleeping bag a great combination of value and comfort.
5.THERM-A-REST HYPERION 32
6.NEMO SONIC
7.MOUNTAIN HARDWEAR LAMINA 30
MOUNTAIN HARDWEAR LAMINA 30
Thermal.Q synthetic insulation
Why you should trust us
We had two of our most senior outdoor gear writers tackle this one in tandem. Eric Hansen has spent fifteen years filing stories from some of the most remote places on the planet, and he knows a thing or two about outdoor gear.
Andrew Matranga has reviewed gear for ten years as a technology writer and outdoor editor. Between them, they've crashed out in dozens of sleeping bags, ranging from Walmart clunkers to 900-power fill ultralight bags, so they have a good idea of what a sleeping bag should be and how it should fit. Both spent extensive hands-on time with all the main selections. Andrew spent a night in each of the three final bags in order to better judge overall overnight comfort.
Who is this guide for?
In researching this guide, we tried to keep in mind the everyman camper: Someone who spends a few weekends a year in the wilderness, someone who doesn't backpack on every trip but wants the flexibility to do so.
This guide isn't tailored for ultralight backpackers planning a thru-hike of the Appalachian Trail. Nor is it aimed at RV campers for whom weight is no issue. The picks are for the rest of us, and they're light enough to satisfy most backpackers' needs and comfortable enough for even the pickiest luxury campers.
Should I upgrade?
Sleeping bags, like bedding, wear down over time. And while down is extremely durable, repeated stuffing reduces loft, which in turn reduces the bag's insulating abilities. As such, what started as a 20-degree bag several years ago may only be comfortable down to 30 or 40 degrees today.
Typically, a down bag can last as long as 15 years…whereas a synthetic bag will last around five years before needing to be replaced.
Typically, a down bag can last as long as 15 years, depending on how often it's used and how it's stored and maintained, whereas a synthetic bag will last around five years before needing to be replaced. While it may be difficult to say goodbye to a longtime backcountry companion, the fact is, you'll be much warmer and sleep better in a newer bag.
Similarly, if you have a sleeping bag that you just don't like or bought because it was cheap, only to find that you wanted something warmer, lighter, and more packable, upgrading to one of our picks will help you sleep better.
However, if you invested a couple hundred dollars in a new bag within the past few years and are happy with it, there's no reason to get a new one. Not too much has changed, other than the popularization of water-resistant down (which might be worth upgrading for if you live in a wetter climate). Just keep using it until it wears out. Even the occasional tear or leak can be easily and cheaply patched with minimal detriment to a bag's performance.
Our pick

Kelty Ignite Down 16 Sleeping Bag
The Kelty Ignite DriDown is a good runner-up pick if you still want a traditional mummy bag, but our main pick jumps in price or becomes unavailable.
Flaws but not dealbreakers
A couple reviewers and one store clerk complained that the zipper can catch on the nylon if you try to zip it up quickly. The neck baffle lacks some loft compared to the other two bags in the test. There's also nothing in the way of bells and whistles: Glow-in-the-dark zipper pulls, a livelier color, and touches of fleece around the hood would be nice, but it's hard to demand perks when you're already getting more for your money.
Shorter women might find it a bit large despite its unisex design. We will eventually do a women-specific sleeping bag recommendation, but for now, if you're shorter than 5 ft. 6 in., consider trying out the REI Serrana before committing to the Radiant. It's basically the same bag, but a bit narrower around the shoulders and wider around the hips. The regular women's bag is 66 inches long, while the women's long is 72 inches. Both are $20 more than their Radiant counterparts because women sleep slightly colder than men, so female-specific bags like the Serrana require more insulation to achieve similar comfort ratings.
If our top pick is sold out, and you prefer the tight fit of a traditional mummy bag, both the $240 Marmot Sawtooth and $220 Kelty Ignite DriDown 16 are good alternatives. They're virtually the same design as the Radiant with minor differences in features and just a bit more expensive (usually, though sales can change this). We didn't spend a full night in either of these because they were so similar in design to the Radiant, but there's sufficient editorial and user review data backing both to warrant a runner-up designation.
The Sawtooth has a very similar fit to the Radiant, give or take an inch along the shoulders and hips, but uses slightly higher-grade 650-fill water-resistant down (though the whole package still weighs the same, so it's not really a selling point). The only main differentiating feature is that there's a pocket in the footbox for a hot water bottle when it gets really chilly. OutdoorGearLab took a look at the Sawtooth in their most recent roundup of backpacking sleeping bags and concluded, "We recommend the Sawtooth to budget conscious backpackers who are looking for a warm sleeping bag."
While it didn't earn their best buy award, the $160 Kelty Cosmic Down 21 they chose uses lower-quality, non-water-resistant 550-fill down. That makes it less versatile than our pick and the Sawtooth as well. In other words, it's cheap, but that's only because it's not as good. The Sawtooth is well-liked by customers as well, garnering a 4.8-star average rating on REI across four reviews.
The $220 Kelty Ignite is again very similar to the Radiant. It has the same cut and the same 600-fill down insulation—the only major point of differentiation is a set of straps on the back for securing a sleeping pad. It received Outside's prestigious Gear of the Year award in 2013 for its combination of affordability and quality of materials. They wrote, "Two hundred bucks for an ordinary down sleeping bag would be a killer deal. It's even better when that bag is made of water-resistant down, weighs less than three pounds, and packs to the size of a football. That, in a stuffsack, is why the Ignite DriDown is our favorite bag this year."
We'd take the football-sized packing with a grain of salt though. Other reviewers, like the Gear Institute, cite the Ignite's compressibility as one its major drawbacks. They still picked it for their value pick of 2013 though, saying that, "Every member of team praised the fit and comfort of the Ignite, and all thought it one of the warmest in this class." It's also one of the most popularly reviewed bags on REI, garnering a solid 4.6-star average over 24 reviews.
For more legroom
Lost Ranger 15
If you need more space to stretch your legs, the Big Agnes Lost Ranger is a great option. The bag-and-pad weight remains low and it has an impressively roomy cut.
The Big Agnes Lost Ranger 15 has been around for a while as a part of the Big Agnes "Classic Series," and by all accounts, it appears to have earned its keep—some of the positive reviews date back seven or more years. The main thing that sets this sleeping bag apart is that hugely generous fit—70 inches of girth at the shoulders, 66 inches at the hips, and 54 inches at the feet for the regular, compared to a typical mummy's mere 62, 58, and 40 inches. At the very least, it's enough for anyone to lay their arms at their sides without touching their body.
To create that fit without upping the weight, Big Agnes trades an insulated bottom (which usually gets flattened and doesn't do much to keep you warm anyway) for an uninsulated sleeping-pad pocket. This design not only cuts weight, but allows you to increase or decrease the bag's warmth by buying a thickly or thinly insulated sleeping pad. You can use another company's pad, like Therm-a-Rest, or you can use one of the nine 20-inch-wide rectangular pads from Big Agnes, most of which are between $80 and $140—not cheap, but not exorbitant either. The pad sleeve also ensures you never, ever fall off your pad in the middle of the night and wake up cold.
The regular bag ($260) and the long ($290) are packed with 650-fill, water-resistant DownTek, which leads to weights of 2 lbs. 11 oz. for the regular and 3 lbs. 1 oz. for the long. That's just a couple ounces heavier than the Radiant.
Eric loved the ample room, calling it a revelation.
Since there is no insulation on the bottom of the bag, EN tests cannot independently confirm the temperature ratings. But given Big Agnes's great reputation and the fact that reviewers have been happy with it for years, we'd be surprised if the claimed 15°F rating wasn't accurate. (We'll keep testing through the fall.)
Eric loved the ample room, calling it a revelation. He was quick to recommend this bag for folks like him who don't naturally sleep like King Tut but prefer to stretch out their gams or sleep on their sides.
Because of the full sleeping pad pocket locking in a fully inflated pad, Andrew naturally found himself rolling up against the side of the bag at few times in the night, a much better problem to have than constantly re-adjusting a sleeping pad that's sliding all over the tent. With a normal bag and a separate sleeping pad, like the Radiant, you just flop off if you're not using pad straps. That said, when it comes to overall spaciousness, this bag had it in spades and was easily the largest in this price range. If you've always wanted the insulative value of a mummy style bag but treasure room to wiggle, this bag will fit the bill.
…when it comes to overall spaciousness, this bag had it in spades and was easily the largest in this price range.
As for other differentiating features, this bag nails 'em. It has a built-in pillow pocket that can hold balled-up clothes or a camping pillow. Unlike our other picks, the baffles (the stitched tubes that are stuffed with down) run up and down the bag, as opposed to side to side, ostensibly allowing heat to flow from your core to your feet and head, but we didn't notice any big benefit. It's definitely nice that you can pick which side you want the zipper on when you buy it. Many unisex bags, like the Radiant, are sold with the zipper on just one side, usually the left. Many women's bags come with the zipper on the right. So the ability to buy the Ranger with a zipper on either side increases the odds that you'll be able to mate it to another bag.
Also, for those who like to use a sleeping bag liner to extend the life of their bag or add extra warmth, the Lost Ranger has loops inside that allow you to attach the liner to the bag, thus preventing the liner from wrapping around your body. Like in the Radiant, a full-length draft tube lines the zipper, while a draft collar seals in warm air around the hood opening.
Five years ago, Backpacker raved about the "serious space–great for XL frames, restless sleepers, and storing extra winter clothes–without extra weight," and noted that it was a "staff favorite [that] has a tapered rectangular shape, yet it's rated conservatively. The 15°F bag kept our cold-sleeping gear editor warm when temps dipped below freezing."
Back in 2002, Outside praised the warmth-to-weight ratio while also giving high marks to the (then) innovative sleeping pad sleeve and the compressibility that left plenty of pack space and reduced bulk. A few years later, Outside recommended the Lost Ranger for those that want more girth in a bag.
For more sleeping freedom
Backcountry Bed 600 3-Season
The Sierra Designs Backcountry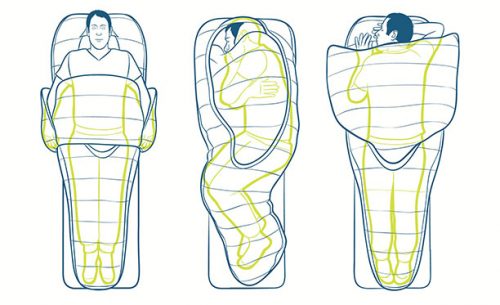 The $300 Sierra Designs Backcountry Bed 600 3-Season turned out to be the sleeping bag that Andrew, a fidgety sleeper, had long sought. And he's not alone. The Backcountry Bed has earned awards from just about every mainstay outdoor publication including Outside magazine, Men's Journal, Climbing magazine, Backpacker magazine, Gear Institute, and Gear Junkie. Instead of your typical zip-up design, the Backcountry Bed has a large opening over the chest. Attached at the bottom of the opening, near your waistline, is a "blanket" that extends to the hood. The result is a sleeping bag that feels about as restrictive as your bed and comforter at home and can double a comfy blanket either on trail or around the house.
The bag comes in three sizes, each a tweaked version of the classic mummy bag silhouette: a longish men's regular (80 inches long, 61 inches at the shoulders, 60 inches wide at the hips, 42 inches at the foot; $300), a very long men's long (86 in. long, 65 in. at the shoulders, 64 in. at the hips, 44 in. at the foot; $320) and women's regular (76 in. long, 58 in. wide at the shoulders, and 40 in. wide at the hips; $340). These are fairly standard widths, but the blanket-style opening on top makes it sleep much wider than it actually is. It's comfortable for all sorts of sleeping positions but especially good for face sleepers, who will appreciate not being suffocated in a traditional mummy bag's hood or having their arms pinned at their sides by a traditional bag's single-sided opening.
Andrew noted that the innovative features were also good for maintaining a comfortable temperature. Early in the evening, when temps were still in the mid 60s, he folded down the quilt-style blanket, leaving the egg-shaped opening exposed and venting the upper section of the bag, while his feet stuck out of the open footbox. "One quirk I have is that my feet are very active at night, and often a classic mummy keeps me boxed in and really uncomfortable," he said. "This feature, odd at first, turned out to help me immensely as I tried to pass out." When temps dropped, he slipped his feet into the bag and hands into the insulated hand pockets of the blanket, keeping his extremities warm and his chest open to the air.
Once temps hit their low in the mid 50s, he drew the quilt over his head. "With my old mummy bags, I'd fiddle with drawstrings and neck baffles to keep out drafts," he said. "But with this design, I'd tuck my hands in and then secure the quilt under the tension of the hood–and I experienced no major draft." In the morning, as he woke, he was able to comfortably exit the bag, happy to avoid any zipper fiddling. EN rated it for 28°F for comfort with a 17° lower limit.
The sleeping pad sleeve on the regular bag supports a 20-inch sleeping pad. Andrew used the Big Agnes Air Core Insulated pad, which fit snugly into the sleeve without stretching the bag too tight across the chest.
Eric (call him Bigfoot) didn't appreciate the narrow bottom of the bag, which kept his feet tight together, and found it harder to roll onto his side than in the Lost Ranger. He also missed the ability to mate it to another bag. But all in all, he had to agree with Andrew and the editorial reviews. The Backcountry Bed was a rare innovation in time-honored mummy bag design and proof that novelty can sometimes trump tradition if executed thoughtfully and properly.
Five reviewers on REI give it an average of 4.8 stars, and three reviewers on Amazon give it a 4.7-star average, calling it a "gem."
Care and maintenance
REI has some important tips and tricks aimed at keeping your bag in good form. They cover how to sleep in it, clean it, treat it, and store it. We'll break down the basics for you here as well.
When on the trail, try to sleep as cleanly as possible to keep dirt and body oils from collecting in your bag, necessitating more frequent washing. This is harder to do on long expeditions, but it can be done. Even on a four-week backpacking trip, our tester was able to bring a sleep-specific set of shorts and shirt and wash his hands, feet, and head to minimize the amount of dirt and grime rubbing all over the inside of the bag. Certainly avoid eating in your bag and your tent, especially in bear country.
A sleeping bag liner not only keeps your bag clean but also adds warmth. Whether you use a liner or not, make sure to fluff your bag after it has sat compressed at the bottom of your pack all day. This helps you get all the loft, and therefore warmth, you expect.
When you're not using it, store your bag unstuffed or in the oversize sack that comes with the bag. This will help it maintain its loft and last longer.
The safest way to wash a down bag is by hand in a bathtub, or you can use a front-loading washer (top-loaders will rip the stitching and should be avoided). Air dry your bag when done, or insert a couple tennis balls and dry it without heat in your clothes dryer—standard practice for down jackets and anything that shouldn't be treated with fabric softeners, which can strip the natural oils of the down and reduce insulation value.
As for re-treating your down bag's DWR repellent, there are many products, like Nikwax Down Wash, that are made for just that task.
How we picked and tested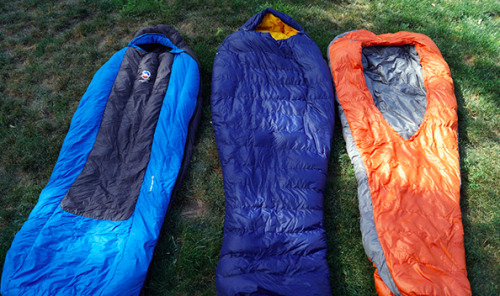 After doing our initial research, it became clear that we didn't have to call in every bag under the sun and compare them head-to-head. Objective, lab-measured EN temperature ratings, once rare, are now standard, so the info they've compiled about a bag's warmth is better than any tests that we, or virtually anyone else outside of MIT, could design. Same with a bag's dimensions. Most manufacturers list the bag's shoulder and hip widths and its compressed size and weight. Even a sleeping bag's features are pretty easy to read up on.
The big challenge was deciding what traits mattered most to most people. To figure this out, we spoke with quite a few experts—the editors of Backpacker magazine's 2014 and 2013 gear guides Will Rocheford and Kelly Bastone; Sam Moulton, the executive editor of Outside magazine, who has written or edited their sleeping bag reviews for over a decade; Richard Bangs, the founder of esteemed, four-decade-old adventure-travel outfitter Mountain Travel Sobek; Ben Cargill, an employee at the AMC Huts in New Hampshire's exceedingly popular White Mountains; and others.
Except for one person, they all recommended down due to its being lightweight, warm, compressible, and durable. Down does lose the ability to trap heat when wet, but few people knew anyone who stayed out camping after a deluge. And anyway, the recent introduction of water-resistant down—most bags use DriDown from American Recreation Products and DownTek from Down Decor—means that down bags repel dew and light moisture for hours, making them suitable for every excursion short of consecutive soakings in, say, the Pacific Northwest.
Bangs favors the synthetic North Face Cat's Meow that he has used for years, but recent reviews discount it, so we did too. (OutdoorGearLab also used to love the Cat's Meow, but they hate this year's version: "The North Face Cat's Meow is an ultra classic and over priced synthetic bag that walks the car camping/backpacking line," they say.)
Experts also noted that even though the price of down has spiked, it's still a good value compared to synthetic bags. Take the 15-degree Montbell bags. The $280 down version weighs 2 lbs. 14 oz. and supposedly compresses to 8.6 liters. The $185 synthetic version weighs 4 lbs. 2 oz., more than a pound heavier, and compresses to only 13 liters, making it the size of a small daypack. If you're hitting the trail with the synthetic bag, that means you might be tempted to leave behind that cushy camp chair or tasty fruit or proper first aid kit—no fun. Add the fact that the down bag will last many years longer, and the $90 cheaper synthetic bag is no real savings. Down is clearly what most people want.
Experts also agreed that a three-season bag was the most comfortable in the widest range of temperatures and thus the essential bag. So for the most part, each bag had to have an EN lower limit rating of at least 25 degrees for men and 30 degrees for women—a pretty standard cutoff for a three-season bag. The reason for the male-female temperature difference according to Scott Kaier, public relations manager at American Recreation Products, is that "women traditionally sleep colder than men, so we add insulation and rate differently to help ensure everyone is most comfortable."
Third, we looked for a comfortable fit in a mummy-style sleeping bag. Sleeping bags come in different shapes and sizes, usually mummy or rectangle, but Will Rochford, Backpacker magazine's current sleeping bag test director, said, "If you're going to go backpacking at all, get a mummy." Why? Because a shapely mummy bag can be comfortable to sleep in and carry, but a rectangle bag will never be less than huge and heavy, no matter how comfortable it is. The NEMO Strato Loft rectangular bag probably comes the closest to a mummy in weight and compressed size, but is still a pound heavier than the humble REI Radiant mummy bag, roughly three times the size when compressed, and $370 instead of $200. A mummy clearly offers the most versatility and value. That said, within the mummy design, we preferred roomier dimensions. We figured that space to wiggle and turn is more important than a couple ounces of weight savings.
The fourth criteria were the size, weight, and extra features, like glow-in-the-dark zippers, chest zip pockets for headlamps, foot boxes that unzip for ventilation, and the availability of women's versions.
So our criteria for choosing the best three-season bag came down (no pun intended) to this list:
All regular size (up to 6-foot length)
Street price
Temperature rating
Fill power
Weight
Stuffed size
Dimensions: shoulder x hips x footbox
Zipper length and/or mateability
Zipper baffle
Collar yoke
Sleeping pad sleeve
Women's version
Extras: waterproof down, glow in the dark zippers, choose left or right zips
Setting a $300 price limit, the most we figured a casual outdoorsperson would want to spend, we considered 20 three-season down bags featuring various editorial reviews from the last two years, plus comments from eight websites (Amazon, OutdoorGearLab, REI, Sierra Trading Post, Campmor, EMS, Dick's Sporting Goods, and Moosejaw). Based on that, we placed them roughly in order of best to worst. Then we cut them for one reason or another (price, material, old model, too warm/cold). Not surprisingly, the best values were coming from REI, The North Face, Marmot, Big Agnes, and Kelty, with prices ranging from $170 to $250.We were more concerned with the fit and other features, acknowledging that nearly every bag would be subjected to the same standards in rigorous lab tests in research labs like one found at the Institute for Environmental Research at Kansas State University, a leading facility that uses thermal mannequins and conducts military-grade thermal insulation tests, and that the down within the bag would meet down and feather industry standards for loft and fill power.Eric filtered through the criteria to select three final bags to highlight (e.g., the Eddie Bauer First Ascent Karakorum 20 was eliminated because of its extremely narrow 33-inch footbox; the Millet Dreamer Composite was very hard to find in stock in the US), and then he visited two REI stores to see if there was something that the specs didn't capture. At both stores, he compared roughly a dozen models side-by-side to make a rough check of the dimensions and then rolled them out, unzipped them on REI's sleeping platform, and fake-slept in them. There were a few small surprises (e.g., the Marmot Sawtooth, supposedly just an inch narrower through the hips than the Radiant, felt tighter than that), but most of the bags were as described in the specs, differing most significantly on price.Once we picked the final bags, Andrew spent a few nights in each bag to understand overnight comfort and fit on a pad, which is the basic use for these bags. The general testing conditions were overnights in the high 50s on Colorado's Front Range, and he used a regular-sized (20 by 72 by 3.25 inches) Big Agnes Insulated Air Core Sleeping Pad. Each night was in a three-season tent, and as a control for apparel and since it was late summer, he wore a pair of non-cotton boxer shorts and a non-cotton t-shirt.
TOP 10 The Best Backpacking Sleeping Bags to Buy on Amazon aug. 2019
The best lightweight sleeping bags
All-rounder warmth rating
10
PROS
Super light
All-rounder warmth rating
Add your review


TOP 10 The Backpacking Sleeping Bags to Buy on Amazon aug. 2019