The Incase DSLR Pro Sling Pack is an absolutely phenomenal bag. It's perfect for people who have a lot of gear to carry around and want to do it in style. The Pro Sling Pack has a street price of around $160, and is comfortable, stylish and holds all your stuff with ease.
It's a companion piece to the Incase DSLR Pro Pack, a backpack version that's stylistically similar, but with two straps and greater capacity.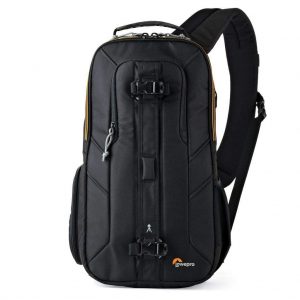 You have to applaud Incase for designing a bag that not only looks great but is really functional. Gizmodo called the entire Incase line "techie and stylish," and the fact that you can buy the Sling Pack from the Apple store should speak for its design chops. Its heathered black color is more stylish than plain black and despite its size it's not ungainly. I really should stress, this is a big, big bag. It's designed to hold a 15-inch computer, an SLR or two, and a bunch of lenses, with enough additional padding to keep them safe. If you're not carrying that much gear, Incase offers smaller alternatives.
The design is also subtle enough to not scream "camera bag," making it a slightly less obvious target. (That's assuming you don't have your tripod strapped to the outside.)
The Pro Sling Pack is, as you'd gather from the name, a sling bag, so it rests entirely across one shoulder. Thankfully, ample padding keeps it comfortable over long periods of time. Once you have your gear loaded into the main pocket (which comes with adjustable inserts), you simply sling the bag around your front and access much of the contents via a side panel, including the full-length laptop pouch.
Unfortunately, it's only designed to go over your left shoulder, so you can't shift sides and left-handed users may find it awkward. However, the padding is really phenomenal and does an excellent job of distributing the weight. There's also a stowable hip strap to use if you're really carting around heavy stuff. If you check out the video embedded above, you can get a feel for tightening/loosening the shoulder strap. That's something that wasn't immediately intuitive but you get the hang of it mighty quick.
As an alternative choice, the DSLR Pro Pack goes over both shoulders and can handle more gear, even if it's a little harder to get to. Fully loaded, you'll really notice the difference of having the weight spread over both shoulders.
The Pro Sling Pack doesn't offer as many extra pockets as some other bags do, but it's generous enough: There's one on the side, a few on the top flap, and a few more hidden inside the main pouch. The bag includes a waterproof rain fly to protect your gear when the weather turns foul — but the cloth of the bag seems capable of beading off at least some of the water.
Andy Hendriksen of The Phoblographer gave the bag a proper going over for a couple of weeks, and he was impressed: "It lived up to every one of my expectations. It is exceptionally comfortable, and despite having stuffed it with loads of gear, I was never experiencing any fatigue while carrying it. Access to my cameras and lenses is quick and easy, especially when using the quick-release buckle on the sling strap."
Unfortunately, you're paying for all that style. $160 is a lot of money for a camera and gadget bag and even though this case is unlike most others out there, you're paying probably an extra $50 for all that mad style. If you're looking to save money, there are plenty of bags for $100 or less that do an excellent job, like the Tenba Small Messenger Photo Bag or the Tamrac Zumba 5. The Tenba is an excellent choice for a bag that easily switches from camera bag to computer bag, and the Tamrac will serve you well as a hardwearing and incredibly cheap (if plain) alternative.