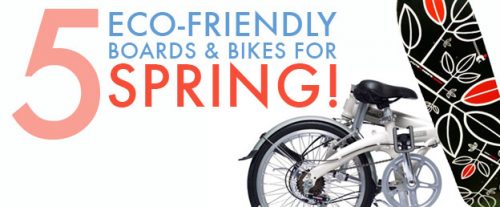 To celebrate the onset of longer days and warmer weather we've rounded up 5 eco-friendly boards and bikes that will take you from the park to your favorite outdoor market in a matter of minutes. From chic bamboo boards to folding bikes and electric cycles, read on for our favorite green rides that will help you cruise through spring and into an endless summer.
Calfee Design Bamboo Bikes
Nothing says spring like a tandem bicycle! Craig Calfee has been building high-quality bikes for over 20 years and started a bamboo line back in 2005. This tandem bamboo road bike is made from smoked and heat-treated bamboo, features hemp fiber lugs, and comes with a 10-year warranty. In 2006 Calfee also started a cooperative in Ghana that employs Ghanaians to build and sell their own bamboo bikes using native natural resources.

Arbor Collective PIN Bamboo Longboard
Longboards are a fun way to get around town when the weather is nice. Arbor Collective has been a leader in the longboard space for years and has made a serious commitment to sustainability in all their boards for the street and snow. This pin longboard is made of six-ply sustainably-sourced hardrock maple and single-ply bamboo. All the wood byproducts created during production are reclaimed for future Arbor products, and all the hardware is either recycled or made without the use of chemicals.

Dahon Eco C6 Folding Bike
Folding bikes are a practical and environmentally-friendly way to get around – and they can be conveniently collapsed to store at home or office. The Eco C6 is well-priced at around $380, has six speeds, and is an ideal urban utility bike, folding down to a manageable size for a car trunk or bus compartment in a matter of seconds. The majority of the C6 bike is composed from lightweight aluminum and steel.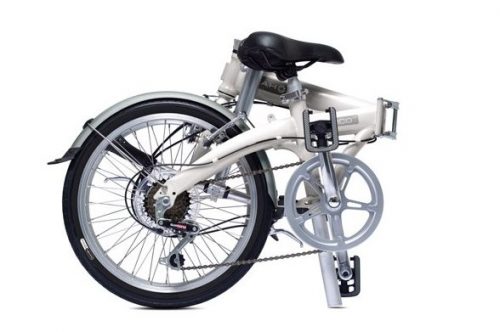 Bamboo Sk8
Skateboards account for a tremendous amount of the world deforestation, but Bamboo Sk8 is an innovative company we've covered before that is tackling the problem head-on. This 70% bamboo, 30% maple hybrid skateboard deck is a great go-to board for someone who skates regularly. The bamboo-maple mix provides a tremendous amount of strength and pop without sacrificing durability, and all Bamboo Sk8 decks are produced using water-based glues, which are better for air quality.