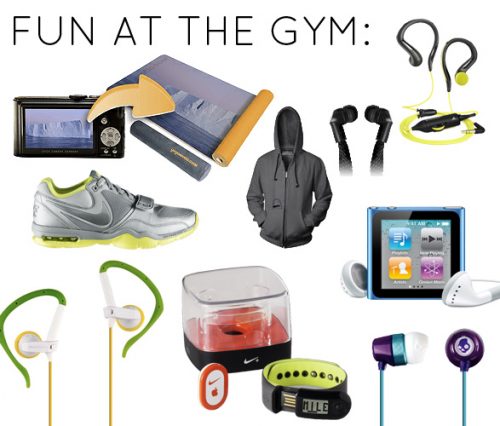 There endless theories about the best way to put healthy routines in place. I'm here to advocate the "make health fun" route. It sounds childish, but it's so worth it. Luckily there's a lot of support out there in tech world for anyone trying to get in shape and change their habits.I have a very low tolerance for the pain of exercising and rarely exhibit self control when faced with unhealthy choices, but I do love tracking progress obsessively, and I find the novelty new gadgets almost as irresistible as slice of pizza. Several new activity monitors have hit the market recently, and what I love about these gizmos is how effortless they make tracking your health data. They are small, compact devices that are comfortable to wear and almost undetectable, and within moments you can see all of your fitness data on the computer screen for instant visual motivation.
The fear factor involved with logging actual time spent in the gym is often the biggest obstacle. With so many awesome workout apps available, you never have to stumble around the machines or slog through the same routines ever again.Workout apps aren't just great for gym rats, either; for those of you who don't have access to a gym, the tutorials and planned routines are perfect for providing consistency and support in the privacy of your own home.Also be sure to invest in your workout gear and clothing. Dressing for success is not a phrase commonly applied to workout wear, but it should be. The right shoes, good headphones and breathable comfortable clothing will help motivate you and keep you going. I spent a year passively making it through my elliptical routines in ratty tees and worn out shoes. As soon as I upgraded my gear, I noticed a shift in my attitude where I took the whole process more seriously, and saw results.
Healthy habits can be a drag if you're relying on the "it's for the best" mentality to see you through. Investing in the tools and gadgets that keep you comfortable, actively engaged, and having fun is a decision you won't regret. Here are twenty of my favorite gym accessories, workout tools, and fitness gadgets, all designed to help you meet your goal and look awesome doing it.I'm always on the lookout for great new gym gear, but I know that some great stuff may have slipped under my radar. I want know–what are your favorite tech accessories for the gym?