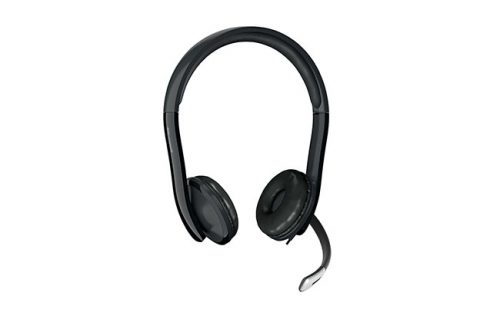 So: you sit at a desk making a ton of calls over Skype, Lync, or some other VoIP client all day, and you want a USB headset that will help your callers hear you better. But you also would like to be able to enjoy music while you work, so the sound quality has to be decent. And to top it off, the headset has to be comfortable and light. For the money, your best buy is the Microsoft LifeChat LX-6000. It sounds fantastic, has some great features (including the best-sounding mic in the field) and is under $40.
f you're willing to put up with a slightly worse-sounding microphone with slightly worse noise-canceling in the name of saving a few bucks, the $25 Plantronics Audio 478 Stereo is your best bet. And if you want to add Bluetooth so you can connect to your phone as well, the ~$120 Plantronics C720 can do that and was the best-sounding when listening to music. It has a battery so you can walk around while taking cellphone calls, but the cord isn't removable so you'll have to tuck that in your pocket or on the included clip when you're not plugged into a USB port. Finally, if you must have one wireless handset to do everything (including landlines), the $230 Plantronics Savi W720 Multi-Device Wireless Headset System is your best bet. Just be aware that this is best suited for work only—USB wireless audio isn't really good enough quality to listen to music.

Why a USB headset and not simply use the in-line mic on your usual headphones? In a word: clarity.
Unlike in-line mics that don't have enough power to actively cancel noise that a mic might pick up, a USB headset can have active noise control. In addition, a boom mic can can be positioned directly in front of your mouth, blocking out external noises while also avoiding the need to shout. The mics themselves should be of a higher quality and have wider frequency response to more accurately capture your voice than in-line mics on headphones.
What makes a good headset?
Boom mics on a good headset should be able to to swivel out of the way when not in use. A swivel feature enables you to use the headset as headphones when not in a call.
Headsets should also offer in-line remotes that enable one to control volume, answer calls and mute the mic without having to fumble with menus. All the headsets we brought in for testing had these features, but not every headset on the market has all of these available.
Higher-end headsets may also have extra features: indicator lights to alert others that you are actively in a call, wireless capabilities and the ability to connect to other devices than just your PC. As a result of all of these features combined, you can focus on your call without distractions, knowing that the person on the other end is able to hear your every word.
Where are the headsets with ⅛" phone jack connectors?
They haven't been made yet—at least not with all these features. Here's the deal: running the features on these headsets take a little more power than your average pair of earbuds. In theory, this can be more than a ⅛" jack can offer, so companies use the USB power to compensate. Honestly, we'd love to see a ⅛" phone headset with a little battery pack akin to what powers active noise cancelling in headphones. That could power the noise-cancelling mics in headsets, while allowing for maximum (tablet, mobile phone, etc) versatility. Gaming headsets offer this option already (as do a few very expensive headphones) but none of these are suited to the business professional and none are portable.
Incredibly, there are very few pro reviews of these kinds of headsets. So I started from scratch. After reading all the professional reviews I could track down, I looked into what consumers had to say. I read Amazon reviews, Skype store reviews, Best Buy reviews and OfficeMax reviews. I kept a list of everything I found. In all, I considered 82 different headsets. Any headset that had consistently good end-user reviews got pulled in for testing.
The testing process
The testing process involved several stages.
First, listening to music: how pleasant is the headset to listen with?
Second, trying the mic: I Skyped with several people, swapping between mics, and asking their opinion. I added and removed ambient noise to see how that affected the noise cancelling. Then I traded positions, with me listening to the mics in use, so I could hear the differences.
Third, the features: do the toggles work the way they say they will? Is there software that needs to be downloaded? How good are the wireless options? I did hours of calls with the headsets to really get a feel of how they well they function. And lastly, is the headset comfortable? Can one truly leave it on all day and still be comfortable?
After putting all the headsets through their paces, I took price into account and finally named the winner.
Our pick
…the LX-6000s sound surprisingly decent when listening to music (that's high praise coming from me).
Not only did the LX-6000s sound surprisingly decent when listening to music (that's high praise coming from me), the mic was the most clear and balanced-sounding of all. All of our testers chose it as the favorite in this category. Best of all, it retails for under $40, yet it can compete with (and even beat out) models costing twice as much.
The noise cancelling aspect of the mic worked well (it managed to compete with a very loud window air conditioner without problem). Despite the background noise, voices came through clear and crisp with the background noise greatly reduced. The mic sounded more full and mellow than other mics in the range, which made the spoken voice sound more natural and authentic than the others we tested, even compared to a few more expensive models.
And it's very light and comfortable. I wore this headset for several hours with no issue. The earpads are smooth leatherette over foam, and the headband also has the same materials lining the underside to cushion your head. The overall build feels sturdy and of quality unlike some less expensive models, like the Cyber Acoustics AC-850, which can have a cheap and breakable plastic feel.
Plus it has some nice extra features. There's an LED indicator that glows blue when you are on a call allowing coworkers to know that you can't be disturbed. The in-line remote allows you to mute the mic and toggle the volume easily. There is also a "call answer" button, but it doesn't work with the Skype software at this time—keep in mind that despite it being Skype Certified, you will need to actually click with your mouse to answer Skype calls. And unlike some other headsets, it requires no drivers to be downloaded in order to use, so it's completely plug-and-play.
A step up wireless pick for both your computer and cell phone

If you work in a home office like me, you constantly switch from computer to mobile phone and back again. In this situation, the ~$120 Plantronics C720 is for you. A hybrid "wireless" option, it connects to your computer via wired USB and to your phone via wireless Bluetooth. If you are on a mobile call, and want to walk around, you can disconnect the remote from the USB cable. While not truly wireless, the remote has a little clip to hook it to your shirt, and I found it unobtrusive.
Other features unique to the C720: the remote itself lights up to show whether the headset is muted and what it's connected to, and power and mute commands are verified by a pleasant female voice speaking in your ear.
It works really well. Music sounds great through both the USB and Bluetooth options. Of all the headsets we tested, the C720 had the best headphone sound when playing music. The mic sounds clear and crisp. It's a bit more treble heavy than the Microsoft, but still sounds natural and warm. Switching from PC to mobile calls is as easy as pushing a button on the remote, which also controls volume and can mute the mic. Battery life is displayed in your PC tray or on your phone's menu bar.
Also nifty is the motion based "smart-sensor" feature. When a call comes in and the headset is laying on a table, picking it up will cause your call to be automatically connected. Listening to music? Take the headset off, and the track will auto pause. Again, a feature you'll only find on the C720.
Also nice is the dynamic EQ that senses whether you are on a call or listening to media and adjusts the headphone's sound response accordingly. On voice calls, there is a noticeable boost in the vocal range, but when listening to music, the EQ evens out. And like the other higher-end models, there is a light on the earpiece that indicates when you are on a call, as well as a zippered medium-hard carrying case. It works both with Mac and PC after a quick download/install of the free Plantronics Spokes software.
And perhaps most importantly, it's comfortable. The earpads and the headband are wrapped in leatherette, and the plastic chassis is flexible and light. I wore this headset for a full work day, and was happy to find my ears didn't hurt at the end of the day.
Overall, while writing this piece I found myself going back to the C720 as my personal favorite. I do have a Bluetooth earpiece, but I generally keep it in my car. And the C720s block external noise better than my single-ear earpiece, and the mic is better than the one on my headphones. At $123, it's an investment, but if you work in a field that values communication (or you telecommute or freelance) it's money well spent.
If you need to get the job done as inexpensively as possible, the Plantronics Audio 478 Stereo is the best budget option at $25. It has digital signal processing that helps eliminate noise and echo; the remote answers calls, controls volume and mutes; and the headband collapses for easy portability in the included pouch. The mic has a narrower frequency range than the Microsoft or the C720, however, so it lacks the warmth of the more expensive options. While the noise cancelling works rather well at dimming the background hum, it isn't quite as good as the Microsoft or the C720.
For an inexpensive headset, it sounds really good when playing music. In terms of sound quality, the 478 far surpasses the wireless Logitech H820 or the Plantronics Savi W720, or even the similar-but-more-expensive Plantronics C520. For reference, the headset has similar sound quality to the surprisingly decent Apple EarPods (though it's worth mentioning that these sit on-ear and not in-ear). The 478 is more for short-term use, as the build quality makes it a bit less comfortable than its more-expensive counterparts, and the exposed foam on the earpads will have a short lifespan if used regularly. But at $25, the 478 is still a great entry level for a casual user.
Like the Microsoft Lifechat, despite Skype certification, the "call answer" button won't answer calls in Skype out of the box. You will need to install some software and mess with some preferences to get it to function in Windows. Mac users completely are out of luck, as Skype call answering isn't available at this time. But the button will work with other VoIP-hotkey-enabled programs.
Landline, USB and cellphone multi-function headset
If you want everything routed through one headset, the Plantronics Savi W720 Multi-Device Wireless Headset System is the best option available, but you'll pay for that convenience. ($231 to be exact.) But if you're a big-time exec who has cash to spend, landline, USB and wireless calls can all be sent to the headset, which docks and charges in a stand. Again, the audio quality is an issue in that it is very "phone" sounding. This system is all work and no play. But the range is fantastic and swapping between calls is easy. Contained in the headset itself are mute, call answer and volume buttons. It's light, and it does what it promises. I had no issues with dropped calls, and the system was simple to set up and use, which jibes with the near-universal 5-star Amazon user reviews. The system is available in various headset options: dual ear (what we tested) or single ear with- and without- headbands; all sold separately.
What else did we look at?
Also brought in for testing were:

Cyber Acoustics AC-850 Internet Communication USB Stereo Headset – while inexpensive, the sound and build quality wasn't on par with our other budget offering.
Koss CS100 Speech Recognition Computer Headset – the least expensive of the bunch ($13), but the headset feels like it. We'd spend the extra $10 for the better sound of the Audio 487.
Koss SB-45 Communication Stereophones – they work well enough, but the size was too cumbersome for office use.
Logitech USB Headset H650e – beautifully built, they actually cancel noise better than the Microsoft LifeChats, and the linguine anti-tangle cable is a great touch. The greatest fault is the $89 price tag. We just can't justify the $40 price difference for the details.
The Logitech Wireless Headset Dual H820e is unique in that it has an AC charging stand that connects to the computer via USB and a fully wireless headset that has all the function buttons contained within the headset itself. It also has an impressive claimed range of around 300 feet (I wandered off about 100 and still had great reception through walls). That said, considering it retails anywhere from $150-$199 depending on where you shop, and you can't really listen to music due to the audio quality issues found in all wireless (non-Bluetooth) USB headsets, it's probably not worth your money.
Plantronics C520 – didn't sound as good playing music as the Microsoft LifeChat or the comparably priced Logitech H650e, and at $75 we'd choose the lower priced LifeChat or the bigger features of the Plantronics C720. That said, if you only use Skype, with a few minutes in preferences, you can program the call answer button to function in Skype.
We also looked at several that we eliminated without testing for one reason or another.
Brainy Trade Noise-Cancelling Boom Headset – 3 stars on Amazon with comments on poor sound quality
CAD U2 USB – Complaints of build quality, comfort issues, and design won't work in an office environment
Frisby Computer PC Headset With Mic – 3 stars on Amazon—uncomfortable, terrible mic quality
HP Premium Stereo Headset – 3 stars on Amazon—problems with build quality, difficult to install
Jabra Pro 9465 Duo – 3.5 stars on Amazon—problems when working in Skype, issues with connectivity/range, sound quality with music is terrible
Logitech B530 USB – No longer made/supported by Logitech
Logitech H530 USB – No longer made/supported by Logitech
Logitech Wireless H600 – 3.5 stars on Amazon—battery drain/recharge issues, inconsistent performance
Plantronics .Audio 655 – 3.5 stars on Amazon—uncomfortable, easily breakable
Sennheiser PC131 – 3.5 stars on Amazon—uncomfortable, ear pads deteriorate with use, not fantastic sound
TekNMotion Universal PC/Stereo Headset – too bulky to be work in an office environment, not comfortable for larger heads
Wrapping it up
Overall, the headset that will fit the bill for most people is the Microsoft LifeChat LX-6000 for business. It's easy to use, has great sound within its category and is comfortable and light. With a price tag of just under $40, it's a great fit for your budget too.