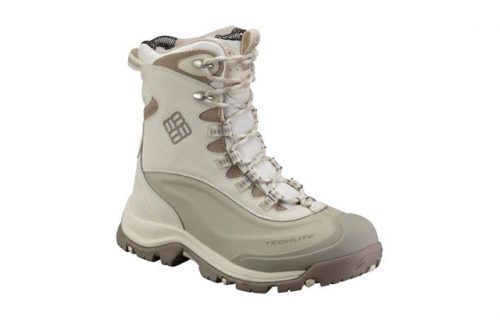 The athletic, hiking-boot aesthetic of the Bugaboot Plus II may not be everyone's cup of tea, but some seriously good insulation makes these boots warmer and more comfortable than the others we've tested over the past two winters. The Plus II is available in a wide range of sizes and widths, and its stiff construction makes cold-weather walking feel more stable than it would in soft-sided boots.
1.Columbia Women's Minx Mid II Omni-Heat Winter Boot (Apparel)
Columbia Women's Minx Mid II Omni-Heat Winter Boot (Apparel)
https://images-na.ssl-images-amazon.com/images/I/81gDj13-JoL._UY695_.jpg
back to menu ↑
2.Columbia Women's Minx Mid II Omni-Heat Winter Boot (Apparel)
If the normal Bugaboot Plus II is sold out in your size, or if you have cold feet and could use a little extra insulation, look into the Bugaboot Plus II XTM. It's almost exactly the same boot, except for that added insulation. While this model was noticeably warmer in our controlled testing for the men's version (the temperature in the XTM fell about 2 degrees less than in the normal Plus II model), we didn't find a functional difference in perceived warmth in real-world testing while walking around on the streets of Buffalo, NY.
It is worth mentioning that this year one of these boots actually did start leaking a little bit about 5 minutes into our testing. But this was abnormal for us and this boot model: The other five pairs of Bugaboot Plus IIs we tested over the past two winters did not leak, plus most other boots we considered leaked within seconds of stepping into the testing vat. The men's variant of the Bugaboot Plus II that we tested this year did not leak, and most notably, only one of the two women's boots leaked. As such, we suspect manufacturer defect for that boot, and we still stand behind this recommendation as a runner-up for women.
If your lifestyle sees you putting on and taking off your boots multiple times a day; you dislike laces for aesthetic reasons; want to be able to tuck your pant legs into your boots with ease; or are simply not interested in having to mess with laces every time you want to step out your front door, the $160 Bogs Juno Tall Women's Insulated Boots are a great option. While they don't offer the same stiff ankle support, traction, or comfort as the Bugaboots do, the Juno Tall proved waterproof and warm in our testing and can be slipped on and off without ever having to deal with a knot.
Who is this for?
If you're looking for high-performance boots designed for a particular outdoor activity, this guide isn't for you. There are plenty of sites out there that provide expert coverage of specialized footwear designed for snowboarding, snowmobiling, ice fishing, and arctic trekking. If you're looking for a starting point for that sort of thing, I suggest checking in with our friends at Gear Junkie.
On the other hand, if you're after a great pair of winter boots that you can wear during your daily commute, or while shoveling out the driveway, walking the dog, or taking the kids tobogganing, you've come to the right place.
How we picked
Before we could figure out which boot you should buy, we had to spend some time sorting out what a great winter boot designed for everyday use should include. We started by trawling the web for guidance. When we produced the first version of this guide last year, there weren't a lot of guides about winter boot performance out there. Not a lot has changed since then.
Most "reviews" of women's winter boots are simply roundups of whatever new models publicists happened to have sent to the writer—or, worse yet, fashion slideshows replete with leaky, high-heeled patent-leather nonsense. The closest thing we could find to a comparative review for women's boots was a piece in the Chicago Tribune, which had testers wear eight different models and comment on them. However, there was no apparent standard set of criteria for what makes a good boot. Another review at OutdoorGearLab looked at nine different models of women's boots, but it wasn't clear why the reviewers chose the boots they did or if the testing was conducted using any controls to ensure consistency.
In order to make up for this lack of actionable, in-depth boot coverage, we talked to several experts about what makes a good winter boot. Thanks to the recommendations and input from experts like podiatrist Jenny Sanders, Gear Junkie's Stephen Regenold, and custom boot builder Peter Limmer, and after sifting through online shopping sites like Amazon and Zappos.com to find out what makes folks happy with their boot purchases, we came up with the following list:
Obviously, a winter boot should be well insulated to keep your feet warm and well guarded from the subzero temperatures that most North Americans have to deal with for months on end every year. That said, you don't want them to be over-insulated: Having sweaty feet can leave you as cold as having no insulation at all1. Thinsulate is one of the best-known insulating materials used in cold weather footwear, and PrimaLoft is another popular material. There are also a number of other proprietary boot insulation technologies out: L.L.Bean has TEK 2.5, Salomon uses ClimaTherm HD. Pretty much everyone uses EVA foam in their boots to provide a little bit of extra padding and warmth. Unfortunately, none of them are perfect.2
It's important that they fit well for a number of reasons3. A winter boot should be true to size4, and fit your foot and lower leg well enough so that your feet don't slide while you walk and your toes don't feel cramped or pinched. Support is vital on the boot's bottom as well. Peter Limmer, fourth-generation boot maker and head of Peter Limmer and Sons custom boot makers in Intervale, NH, said insulating insoles can get compressed if a boot doesn't offer firm support, and soft-sided boots let feet swell, also compressing the insole. You don't want a compressed insole because compressed insulation doesn't hold heat as well as fluffy insulation; there aren't any pockets of warm air to keep heat in. To ensure maximum warmth and stability for your ankles while walking over ice or uneven surfaces, you'll likely want your boots to come equipped with laces too. This allows the wearer to tie them tight and provide a customized fit.
They should be waterproof5 and tall enough that the wearer can stride through slush puddles and step in sidewalk potholes without worrying that water or slush will find their way in through the top. Water-soaked boots get cold fast; water is an excellent heat conductor, and wet boots will conduct all of your foot's heat right out the bottom of your boot. Even if your feet stay warm, once they're wet they'll feel awful, and moist skin is more prone to developing blisters. No one wants that.
Any boots you wear in the wintertime should have soles that provide enough traction to give you more than a fighting chance against icy sidewalks, wet roads, and sidewalks, and while walking on freshly plowed paths or in deep snow. In the case of the latter, the soles should also be designed to shed snow as you walk, so that the boot treads don't become compacted with snow and lose traction. (If your morning walk has turned into a skating session, even the sturdiest boot sole won't help you. Look into getting traction cleats.)
Ideally, the boots you buy shouldn't be too expensive. The top-rated waterproof winter boots on sites like Amazon and Zappos start at $80 for low-end Sorels, with prices rising up to $160+ for boots intended for outdoor winter sports in severe weather (snowshoeing, ice fishing, dog sledding, and so on). For this guide, we looked for boots that fit our criteria and could be bought for less than $200.
They should be readily available. I'm not going to lie to you: When the weather turns cold, winter boots become hard to find. But finding a decent pair of boots to keep your feet warm in snowy weather is a lot easier if what you're looking for is made by a company that sells its shoes in large quantities online and in stores around the country.
Using these standards, we set out to find a new crop of boots to test. Luckily, as style is a constantly changing thing, there was no shortage of new boots to consider. We paid close attention to what the experts at sites like Gear Junkie and OutdoorGearLab liked, as well as what was popular with online shoppers, based on their reviews and the star ratings they left for the boots they bought, at sites like Amazon and Zappos.
We also paid a great deal of consideration to the brands and boot models suggested to us by our readers in the time since the last version of this guide was released.
Any boot that wasn't at least advertised to be waterproof was immediately eliminated from consideration. The same can be said for any boot that scored lower than a 3.5-star rating on Amazon or Zappos: We don't expect any boot to be perfect, but there were better options available to test.
How we tested
To test whether boots were actually waterproof and evaluate their insulation and breathability, we wore the boots for up to 10 minutes in ice baths consisting of tubs filled with 4 inches of a solution of water and calcium chloride salt (10 percent by weight)—basically ice melt. Thanks to the wonders of freezing-point depression and East Coast winter weather, the testing solution for our boots stayed in the 23°F to 25°F range throughout the 10-minute testing periods, as measured with an instant-read thermometer.
Over the past two years, we've been surprised at how many of the so-called waterproof boots leaked. We expected to be evaluating how much sweat accumulated inside these boots, not whether there were puddles of ice water around our feet. Tests were quickly halted once there was a stream of frigid water pouring into the boots.
We inserted iButton temperature and humidity sensors in the toes of the boots to record changes during the ice water test. During the test, we stepped and shuffled our feet to simulate walking. For the women's boots, the tester wore plain mid-weight cotton socks to simulate the sort of socks office workers would wear while commuting. Feet were allowed to rewarm between tests.
To evaluate how well the boots could grip snow and ice, our test subjects (The Sweethome's Meg Muckenhoupt and friend of the site Lizz Schumer) wore them while walking on pavement, snow, inclined pavement, and flat sheet ice at an ambient temperature of 20°F to 26°F.
We also qualitatively evaluated how the boots fit: Were they especially wide or narrow? Were they stiff or soft? How easy were they to put on and remove? We also measured the heel-to-toe interior length to try to establish how far the boots diverged from standard sizing. We tested to see if they rubbed against our skin, a good way to get blisters and bleeding.
We found that Columbia's Bugaboot Plus II Omni-Heat, our overall winner in last year's edition of this guide, once again proved itself to be the best winter boot for most women. They earned the top marks in both our temperature and waterproofing tests, and were one of the only pairs that didn't leak at all in our icy leak tests. On the qualitative side of things, our test subject reported that they were comfortable to wear and easy to clean.
The Plus II is a mid-height boot, with a 7-inch shaft that comes halfway up the wearer's calf—high enough to protect against minor snowdrifts and deep puddles, but not so tall as to feel overly restrictive. The boot's exterior is made of waterproof leather and stiff synthetics, creating a semi-rigid structure that supports your ankle while you're out walking on slippery or uneven terrain. This material stiffness might feel a little odd to anyone who's never worn a hiking boot before, but the structure of the boot will help protect you against twisting your ankle if you lose your footing on slick surfaces like ice or compacted snow on a city sidewalk.
That's not something that a soft-sided boot like the Bogs Juno Tall or Patagonia Women's Wintertide High can claim. They might look good, and in the case of the Juno, be waterproof, but we wouldn't trust them to save an ankle from a sprain. It also makes it easier to slide your foot into the boot. There's no wrestling past folds of material: Just point your toes, grab the loop on the backstay of the each boot, and pull them on. And while we're on the topic of that backstay loop, it's worth mentioning that it's wide enough to help you yank your boots off even while wearing gloves.
The interior of the Plus II is similarly well-designed. The foam rubber insole provided enough cushioning to be comfortable on an hour-long walk over snow-covered concrete and asphalt. Commenting on her experience wearing these boots this year, Sweethome tester Lizz Schumer said that while they weren't as comfortable as other brands like UGGs, which push plush comfort as a major selling point, she found the Plus IIs to be "roomy enough that my toes did not feel squished, and [she] did not get blisters even after wearing them all day working outside. [Her] feet stayed warm and cozy too, but did not get sweaty because the fabric is nice and breathable.
What's more, the insole of the Plus II is removable, making it possible to replace it with a different insole or a custom orthotic if need be. Columbia tops off the comfort here with an insulated tongue that's well padded to help keep the boots comfortable even when they're tied up tightly, and a gusset with ample fabric to keep the elements out while still allowing for enough movement for easy foot entry and exit. A lot of boots designed to be waterproof come with a gusseted tongue, but the gusset often isn't ample enough to allow the foot to slip in and out of the boot as easily as it should. The Aetrex Berries Bungie Boot, which we tested last year, is a good example of this design flaw.
Let's talk about waterproofing. Given the amount of ice-cold slush, water, and snow that most people are forced to traverse a few times a day in the winter, having boots that'll keep the elements out is kind of a big deal. For the second year in a row, we had our tester walk in place through 4 inches of ice-cold salt water for 10 minutes without any leaking issues.
That's more than we can say for most of the women's boots we've tested over the past two years. For the first iteration of this guide, of the nine pairs we inflicted our salt water submersion test on, four pairs leaked. This winter? Only two out of the nine sets of women's boots we tested proved to be waterproof. After both rounds of testing, the women wearing the Bugaboots Plus II came out of our 23°F salt bath with feet that were bone-dry.
Additionally, those dry feet remained warm: In our 2014 tests, the sensors placed inside of the boots registered only a slight drop in temperature. This year, the Plus II's 200 grams of Omni-Heat insulation, which is rated to retain heat in temperatures as low as -25°F (not that this always means much6) impressed us with its ability to retain heat once again.
Only two pairs of the boots we tested this year proved waterproof, and of those the Bugaboots Plus II boots were the warmest.
During our 10-minute salt water submersion test, the sensors inside of the boot registered a minor 4.5-degree decrease in temperature, despite the frigid conditions outside of the boots. With this being the case, we feel confident that most people's feet will remain warm and comfortable in these things.
As far as fit goes, it can be hit or miss, so it's best to try them on in a store if you can, but the Bugaboots should be mostly hit, if you go up a half to full size from your normal shoes—depending on whether you plan on wearing thick socks. (Columbia's website comes right out and says that the Bugaboot Plus II fit slightly small.) Schumer has size 9 feet and tested the boots as a size 9 and said that she found them comfortable enough when wearing normal cotton socks, but noted that they got a bit tight with thicker socks. In last year's testing, Meg Muckenhoupt found that her narrow ankles and calves led to some heel lift when testing boots that were her correct size. So people with narrow or shallow feet should probably order their normal size.
Traction is just as important as comfort and water resistance when it comes to navigating icy paths. So it's a good thing the Bugaboot Plus II is so grippy. Last year, both our male and female testers noted that the footing felt secure when walking outside on shallow snow and shoveled and plowed surfaces. They also found that the double-density rubber sole of the boot is stiff enough to provide support on varying terrain, but still provides enough flexibility at the midsole and in the toes to make walking in the boots feel like a familiar experience. As for Schumer's experience with the Plus II's traction this year, she told us, "They had excellent traction, even after walking on some slick parking lot spots, but not so much that I felt like I was wearing ice picks on my feet. I definitely felt a connection with the ground. I also liked where they ended, right above my ankle, which gave me adequate foot support, without restricting movement.? The Bogs, which were the only other boot to pass our leak test this year, are taller at 10 imches, but lack the stiffness of the Bugaboots. This made them downright slippery by comparison—especially on ice.
Beyond acing the basic requirements, the Bugaboots are also among the lightest boots we tested. Trudging through heavy, wet snow is enough work without having your boots weighing you down. The Bugaboots weigh in at 23 ounces—not ounces per boot, but per pair. Granted, this year's runner-up, the Bogs Juno Tall boots weigh only 2 ounces more, but by way of contrast, the pair of Sorel Caribou II boots, which were easily the heaviest boots we tested last year, weigh 34 ounces. Ten ounces might not sound like much of a difference on paper, but when that weight is laced to your feet and you're plodding through snow in subzero temperatures, it can make a huge difference in your comfort and physical energy level.
Once you're ready to return to the great indoors, you'll be happy discover that the Bugaboot Plus II boots are a cinch to clean. After spending 10 minutes standing in and tromping around our freezing-cold mix of briny salt water and then hiking around town in them, Lizz Schumer reported that the boots were covered in salt stains and mud. But after letting them dry, she was able to scrape the mud off in chunks. Then, "taking a wet, soapy cloth to the fabric,? she explained, "I got them shiny and new again, which was a lot better than I expected. With them being light-colored, I was skeptical about their durability long-term, especially since I'm your stereotypical chick and I like my shoes to look nice. After just some light cleaning, they were back in public-appearance shape. Definitely exceeded my expectations.?
Who else likes them?
There isn't a lot of editorial love out there for the Columbia Bugaboot Plus II Omni-Heat from trusted sources, but we did find a few examples. We weren't able to find much editorial love for the XTM version of the Bugaboots from trusted sources, but OutdoorGearLab awarded the Plus II iteration of the boot its site's top award, citing the boot's comfort and water resistance as big selling points.
Outdoor recreation journalist Lawrence DiVizio took the boots for a spin back in 2011 for Examiner.com and noted, "In my testing I have worn the boot in snow, slush and everything in between. I have walked through water puddles on the trail and made sure snow piled up on the toe of the boot to see how well the insulation worked, which it did extremely well … If you are looking for a warm, reasonably priced and extremely well made winter boot, then definitely take a look at the Bugaboot from Columbia.?
The Chicago Tribune called the women's Bugaboot the "best overall? of their boot samples, but they did note their stiffness—but that's a feature, not a shortcoming. These are boots designed to stabilize your ankle as you walk over uneven terrain or on slippery ice. You'll be happy for the extra support.
As far as user reviews go, over on Amazon, the women's version got 4.5 stars average, with 125 five-star ratings across 185 customer reviews. The men's version of the Bugaboot Plus II boots (which are virtually identical to the women's version) was similar with a 4.4-star average rating and 443 five-star ratings across 669 total reviews. Users who bought them from Gander Mountain awarded the boot four stars out of five for both the men's and the women's XTM model, and at Backcountry.com, the men's version of the boots got positive feedback as well.
Flaws but not dealbreakers
As great as the Bugaboot Plus II is, it isn't for everyone. We all have different feet, and a single kind of boot isn't going to make the whole world happy.
Few of the boots that we tested for this piece matched the ideal length for size as laid out by our friends at Zappos, and the Bugaboots are no exception. When the men's version of the Bugaboot Plus II was tested, it was slightly longer than it should have been for a men's size 10. That said, as previously noted, the Plus II seemed to fit smaller than they likely should for their size. But Lizz Schumer didn't mention any of this when she reported in on her experiences with the boots.
While the boots proved to be both waterproof and warm, not everyone likes the stiff feeling that comes with walking in a hiking boot. But in our experience, it's worth it to get used to walking in a well-structured winter boot like the Bugaboot Plus II Omni-Heat. The stiff shaft of the boot provides extra support for your ankles and can reduce the risk of a sprain if you happen to lose your footing in slippery conditions.
Of course, like any well-insulated waterproof boot, the Bugaboot isn't going to win a beauty contest. But despite its beefy appearance, the Bugaboot is available in three different color combinations for men and women and looks decent enough. If we had to make a comparison—with the cuff of your pants pulled down over top of the boot shaft, these look like a pair of slightly bulky cross-trainers or a set of police duty boots.
A slightly warmer runner-up
Also Great
If you live in an exceptionally cold part of the country or if you plan on spending a significant amount of time outside on a regular basis, you might want to consider going with something a bit warmer, like the more-insulated $140 Columbia Bugaboot Plus II XTM.
Almost identical in design and function to our main pick, the XTM comes with an additional 400 grams of the company's proprietary Omni-Heat insulation.7 We liked the XTM well enough to choose it as our main pick for our men's boot guide this year, not because it is better insulated than the regular Plus II, but because it is often significantly cheaper on the men's side. As we wrote in that guide: Capitalism's crazy sometimes.
The boot's additional insulation makes it warmer and more comfortable than any of the other men's or women's boots we tested this year (more on this at the end of this section). The XTM comes in a number of sizes and, as it is available in a wide variant, can fit a wider range of feet than many other brands. Like our main pick, the XTM's stiff construction makes cold-weather walking over uneven ground or on ice more stable than in soft-sided boots.
It bears mentioning that in this year's testing of the Bugaboot Plus II XTM boots, one of the two boots failed, leaking at 5 minutes, 52 seconds into the test. We suspect this is due to manufacturer error, given the fact that we have tested four pairs of the Columbia Bugaboot Plus II XTM, three pairs of the Bugaboot Plus II, and a pair of the Bugaboot Tall over the past two years—of all of these, only one boot from one set leaked. And, it's important to note that the very same pair that we tested for our men's boot guide this year did not leak. The success we've had with all of the boots we've looked at in the Bugaboot line leads us to believe this was a fluke; if you run into this issue, please let us know.
One thing to note: Given their higher price (which we've seen go as high as $170,) you should likely think about whether you need the extra insulation these things provide before forking over any cash for them. In the men's testing this year, we found that the temperature of feet inside the XTM during the ice bath test fell by only 0.9˚F whereas feet in the normal Plus II fell by 2.7˚F. That sounds like a lot, but sloshing through 4 inches of below-freezing salt water is really a worst-case scenario that you won't ever encounter in real life in urban, or even suburban, settings. Indeed, it was hard to notice a difference in warmth between the XTM and non-XTM version during real-world testing on the streets of Buffalo, NY, this winter. Nor was it noticeable last year while hiking in -2˚F weather in Ontario's Grey Highlands. Basically, it's probably not the main reason to buy these boots. But if they happen to be cheaper (as is the case with the men's version as of this writing), it won't hurt either.
If your lifestyle sees you putting on and taking your boots off multiple times a day, you dislike laces for aesthetic reasons, want to be able to tuck your pant legs into your boots with ease, or are simply not interested in having to mess with laces every time you want to step out your front door, take a look at the $160 Bogs Juno Tall Women's Insulated Boots—the only other pair of women's boots that came out the other side of our salt water submersion testing bone-dry on the inside. But you should know that they're not as warm as our main picks are, don't offer as much support for your ankles on uneven terrain, and have a tendency to suck your socks off when you try to remove them.
The Juno Tall's exterior consists of a waterproof leather upper and rubber bottom that managed to keep Lizz Schumer's feet from getting wet over the course of 10 minutes of walking in place, standing, and sloshing around in 4 inches of ice-cold salt water. Upon taking these boots out for a hike and while wearing them on her daily commute, she also found that their ability to keep salt water from seeping into her socks also extended to the slush and ankle-deep snow she encountered during the course of her day. And beyond being made of waterproof materials, their 10-inch shaft is tall and tight-fitting enough to keep snow and slush from splashing into the top of the boot—the same can't be said for the men's version. Despite being tight enough to keep splashes out, there's still enough room for tucking your pant legs into so that the cuffs of your jeans stay as dry as your feet.
During the course of our testing, we found that the Juno Tall was not as warm as our main pick, but still warm enough that most people should find it comfortable to wear outside for extended dog walks, shoveling snow, or waiting for a bus to take you to work. During our 10-minute submersion test, the Bogs allowed for a total heat loss of 5.4 degrees: that's 0.9 degree more heat than the Bugaboots II allowed to escape. Bogs's website claims that the boots are rated for temperatures as low as -20°. But, of course, this is subjective at best: We all feel the cold differently. While the Juno will definitely keep your toes from turning into blocks of ice, some folks will find them less warm than others do.
Lizz Schumer reported that the traction offered by the Juno Tall's slip-resistant outsole was good, but not great. "I didn't slip on the snow,? she explained, "but these didn't hold up as well against sheets of ice as the Bugaboots. They kept me upright, but my footing felt tenuous at best, and I wouldn't have felt safe wearing these in super-slick conditions. They were awesome in water, and kept me dry and secure in the slushy mess that was my office parking lot, but I'd never wear them somewhere I had to walk on uncertain terrain.
The Bogs Juno Tall boots were not widely reviewed online, but Bogs in general have an excellent reputation for quality and dependability with professional reviewers and regular folks alike. The Bogs Ultra Mid, for example, received an Editor's Choice Award last year from OutdoorGearLab. The site also awarded high marks to the Bogs Classic High boot. And while they didn't go into the details of whether or not they tested the hardware, Outside Magazine recommended the Bogs Classic Winter Boot, saying its "roomy toe box and supportive arch ensure all-day comfort.? Both of these are traits that you'll find in the Juno Tall.
But despite our finding that the Juno Tall is warm and waterproof and offered adequate traction, Schumer did have a couple of complaints. These boots kept her feet warm enough on her commute, but they were also warm enough that her feet sweated in them as she sat at her desk. It's a minor complaint (and, honestly, these are boots meant to be worn outside) but it bears mentioning. A larger, more significant issue with the boots was that the Bogs were hard to put on and take off and refused to stop eating her socks.
"Remember when you were a kid and had to grab your mud boots by the top to wiggle your feet all the way in? My socks usually came off somewhere along the way, and it was one of the most frustrating times of my young life, trying to winch my fingers in to pull my socks back up, just to have them end up back around my toes, one short snowball fight later. The Bogs brought all of that back. While I'm happy to report I had the presence of mind to wear knee socks with them, they can only be pulled on by grabbing the handles on the sides, and pulled off by yanking the toe. I'm too old for that stuff.? It's arguable that this kind of frustration negates any benefit you might gain by not having to deal with laces, making buying them over the Bugaboots Plus II boots more an issue of style than function.
Care, use, maintenance, and repair
All boots last longer and stay warmer if they are thoroughly dried between uses. The Columbia Bugaboot Plus IIs are essentially hiking boots, and REI has good instructions on how to care for hiking boots. The key points are to take any insoles and inserts out of the boot before drying, and DO NOT PUT THE BOOTS ON DIRECT HEAT. You could melt off the boots' waterproofing or unstick the glue that holds the boot top to its sole. No radiators, stoves, microwaves, or laser death rays, please. Dry your boots at room temperature. If you need them to dry faster, put a fan in front of them to blow air on them or stuff your boots with crumpled newspaper to absorb liquid.
The competition
Choosing which boots to pass on for this year's edition of this guide was easy: All but two of the boots that we called in to take for a spin leaked when we subjected them to our negative-temperature salt water submersion test.
The $165 North Face Zophia Tall could have been our pick for a stylish, leather alternative had it been waterproof, but it's not. In the ice bath testing, there were leaks in the left and right boot almost immediately through the second and third lace eyelets. Having said this, it's important to note that we take our waterproof testing seriously. The leaks occurred in 4 inches of saltwater—if you encountered that while walking around your hometown, it'd be a pothole for the ages. More likely than not, most people will never step in a divot that deep. So while wearing these things is far from a sure bet for keeping your feet dry, if you take care to not go bombing down the street without watching where you step, you'll likely be okay. With it available in three different colors, it's likely that you'll be able to find a pair that'll work for you if you're more concerned about looks than getting wet feet.
Columbia's Women's Minx Mid II Omni-Heat Winter Boot didn't even last that long: At the 2-minute mark, Lizz Schumer noted that water poured into both boots through the laces, making for some cold, miserable feet.
The Patagonia Woman's Wintertide High boots failed too, letting in water to the right boot through its fourth and fifth grommets at the 43-second mark. What's more, we discovered shortly after calling the boots in for testing that this is the last year that Patagonia will be offering these boots or any other. According to the company's PR, they're getting out of the footwear game.
The Merrell Polarland did even worse, failing to keep the wet out at the 17-second mark between the third and fourth grommets on both boots.
As popular as UGGS are, we're sorry to have to report that their Adirondack II boot leaked 30 seconds into our test, allowing both boots to fill with water. Considering that these things cost $220, we expected more from them. That being said, they do have the signature UGG shearling lining, which means they can be worn without socks if so desired.
Finally, The North Face Nuptse Purna, which we initially liked for its long shaft and fur-fringed top, and soft, cushy interior, proved to be less than waterproof, leaking at just over a minute and a half into our tests.
Last year's competition
The $150 Women's L.L.Bean Wildcat Lace-Up Boots were our runner-up last year. They are thoroughly waterproof and grippy on ice, but they weren't quite as warm as the Bugaboot Plus IIs. During our salt water submersion test, they dropped 2 degrees lower than our main picks did. Add to this the fact that they don't come in a wide variety of sizes and the fact that they were not widely available at the time of research and writing, we decided to forgo them this year.
We wanted to like the women's Aetrex Berries Bungie Boot. It is waterproof, laces down to the mid-foot for a good fit, is mildly stylish, and comes in red. However, even though a Chicago Tribune reviewer said this boot was "the warmest of the lot,? in our tests it was the coldest, with its interior temperature plummeting from 67°F to 46°F in 19 minutes in the ice bath test. It was also the tightest-fitting boot of this sample; even when Meg Muckenhoupt wore only thin, nylon socks, this boot felt toe-crampingly short and narrow. The stiff heel gave Muckenhoupt visions of future blisters, and the sole's poor traction made her slip four times on the ice sheet. Get these boots if you spend winter on rainy sidewalks, not on ice–and order them at least a half size bigger than your normal shoe size.
The Timberland Women's Earthkeepers Mount Hope Mid Waterproof Boot lived up to its name: It is waterproof. However, it isn't salt-proof. After 10 minutes in the ice bath, the pale "wheat/blend? Mount Hope boots we tested developed dark brown stains all over the area that sat in the calcium chloride ice bath, most prominently on the toes and heels. The stains faded over the course of two days, but they never entirely disappeared. (And if you're thinking you'll never walk through a salt bath, just think of how much salt is dumped on the roads in your city or town during the winter that gets mixed into the slush.) These boots were also cold, matching the Aetrex Berries Bungie Boot in descending to 46°F in 10 minutes. Although the boots' sizing is easy to adjust down to the mid-foot, thanks to quick-tying laces, it suffers the women's boot curse of a fashionably narrow toe cap that will never stretch. The soft furry lining is attractive, but if you want warm toes, you need to stick to a boot that doesn't constrict your blood vessels.
We also looked at the $170 Steger Mukluks. Last year, Meg Muckenhoupt found that the Stegers were the most comfortable women's boots out of everything she looked at. They feel like tall moccasins—soft and squishy and warm if you tie them loosely, stiffer and supportive if you tie them tightly. The soft-sided moosehide upper contains a wool boot liner, making the entire boot cushioned and soft, and the sole is flexible for easy walking. The Mukluks—which make no pretense of being waterproof—performed just as well as the purportedly "waterproof? Sorels in our tests, leaking catastrophically about 1 minute, 15 seconds into the testing. But in order for them to perform even that well, you'll need to routinely coat them in Steger's Snow-Proof, a silicone-based water repellent meant to slow down the inevitable leakage. While we recommended them last year as a comfy alternative, with the new, lower maintenance options we've discovered, we can't suggest them again.
The Baffin Women's Iceland Boot, the Sorel Women's Alpha Pac Boot, and the Sorel Women's Caribou all leaked at the seam between the boot and sole within 90 seconds of entering the ice bath test; the Sorel Women's Caribou leaked within 30 seconds. The Sorel boots were both supposed to have "seam-sealed waterproof construction,? while the Baffin Iceland boot has a synthetic rubber shell. None of the boots were terribly adjustable. Their laces stop at the ankle, not at the mid-foot as podiatrist Jenny Sanders recommends, so if you have narrow heels or feet, you're out of luck; your feet will swim around in these boots. There was no way to adjust to keep your feet from falling forward inside the boots when walking down inclines, which can make the boots irritating to wear and much less stable on slippery surfaces. The inner boot liners all felt tight at the toe, but Meg Muckenhoupt didn't wear any of them long enough to find out if the liners would stretch with use. If your feet happen to fit in these particular boots and you don't anticipate ever walking near any puddles or wet snow or being outside during a "wintry mix? storm, we suppose you could try them, but we don't recommend it.
The women's version of the Sorel Caribou II boots sprung a leak near the heel 30 seconds into her salt water test. We looked on Amazon to see if anyone else had suffered similar failures, and found several complaints about the durability of recently made Caribou boots versus ones that were made over the past decade.
What if you had the perfect pair of shoes and you could just slip a boot around them? That's the idea behind the NEOS Navigator 5 Overshoes, insulated, waterproof coverings that pull on over your shoes and adjust to keep water out with Velcro and snaps. We love the idea of being able to simply toss them on over another pair of shoes—they'd be perfect for a commuting office worker. Approved by the US Postal Service for their carriers and recommended by master boot maker Peter Limmer, the NEOS Navigator 5s looked promising … until we got them out of the box. Within one minute of entering Meg Muckenhoupt's household, one of the snaps that holds down the upper boot sleeve simply snapped off and disappeared under the couch.
Although the NEOS Navigators performed well in Muckenhoupt's ice bath test, they weren't consistently comfortable for walking. When Muckenhoupt tried them while wearing Brooks Adrenaline GTS 13 running shoes, they felt fine; the sneakers' soles acted as a spacer between her foot and the NEOS Navigators. When she tried them with a pair of thin-soled New Balance Women's WT1010 Minimus Trail Shoes, her foot and leg were much closer to the NEOS Navigators' heels. She became painfully aware of a tall, stiff heel counter gouging into the back of her leg with each step. She had intended to wear the NEOS on a mile-long walk through melting slush that morning; instead, she discarded them before she reached the end of the driveway.
Wrapping it up
For a truly waterproof, genuinely warm winter boot that will keep your feet safe and comfortable, choose the Columbia Bugaboot Plus II Omni-Heat. This winter boot has won us over two winters in a row. And for anyone who would rather go lace free with a boot that'll let you tuck the cuff of your pants inside, a pair of waterproof Bogs Juno Tall Women's Insulated boots is the way to go.