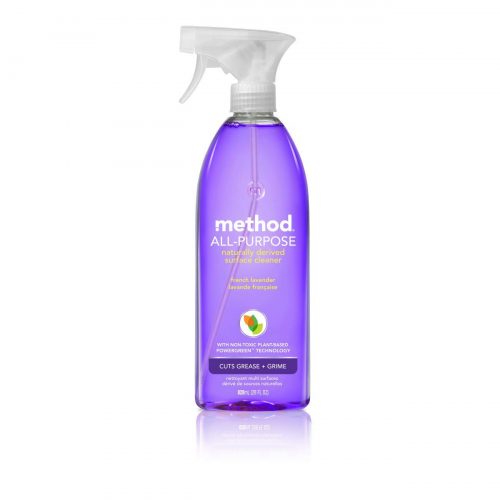 Method's All-purpose Window Sleaning Spray is our favorite general cleaning product for all kinds of surfaces, saving you from having to cart around different sprays for glass, countertops, and so on. Cook's Illustrated found it beat out eight other top-selling cleaners in their tests.
When you're living in a small space, having a different cleaning product for each surface—glass, countertop, toilet, etc.—seems like overkill. Instead, we recommend Method All-Purpose Cleaner in French Lavender, which cleaned up in Cook's Illustrated's spray cleaner test, beating eight other top-selling cleaners in tests that included porous butcher-block wood, Corian, stainless steel, and "greasy stovetops, [and] tomato sauce-splattered microwave interiors." They said Method "cut through grease and food splatters quickly and efficiently and didn't leave a cloying smell, streaks, or residue." It's $24 for eight 28-ounce bottles—nearly enough for your whole college career. Plus, Method is biodegradable, so you can feel good about using it.
Amazon reviewers agree: They love its fresh, lavender-y scent (Cook's Illustrated even did a scent test to make sure they were picking the best, least-cloying scent). It cleans tough jobs like grimy tiles and stoves with "stuck-on greasy gunk" equally well, and users say it's solved some of the problems they had with other cleaners, like dry and itchy skin after use.