Nvidia's booth tour leaves us jonesing for a SHIELD handheld gaming device.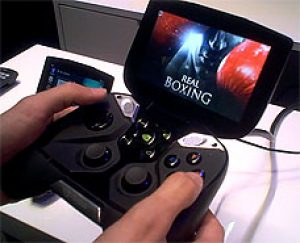 As busy as the last few days have been, one company that really stood out was Nvidia. The GPU maker came to the Consumer Electronics Show (CES) prepared and ready to dazzle with its spin on mobile gaming, and folks, we're officially excited about what's in store for 2013. Join us as we tour the Nvidia booth and take a close up look at Project Shield and the GeForce Grid.
Starting with the former, Deputy Editor Gordon Mah Ung was able to spend some hands-on time with Nvidia's mobile gaming device. In the video below, you can see how well Shield streams content from a nearby PC — in this case, a Falcon Northwest running a GeForce GTX 680 and hooked up to a wireless access point. It's more than just a simple streaming device, however, as it supports Valve's Steam platform and Google Play. Take a look:
Online Editor Jimmy Thang also spent some time examining Nvidia's Shield device. It's powered by a Tegra 4 processor and looks like an Xbox 360 controller with a 5-inch display attached. One thing Nvidia really stressed is the sound quality, claiming that the built-in speakers, developed in-house, pump out better audio than most notebooks.
In addition to Project Shield, Nvidia announced its GeForce Grid platform. The Grid is a server rack armed with 20 modules and over 240 Nvidia GPUs. All that power translates into 200 TFLOPS of performance, which is the equivalent of 700 Xbox 360 consoles.
Why make the comparison? Well, the Grid is a cloud-based gaming system. 3D rendering is handled in the cloud. Gamers tap into the Grid through a mobile device, like a tablet. Let's say your PC goes down for whatever reason. Using Grid, you could fire up Battlefield 3 on your Nexus 7 and pick up where you left off. Impressively, we didn't notice any lag or major compression issues.
You can take a look at the Grid in action, and be sure to check back often throughout the week for more CES coverage and videos. You can also subscribe to our YouTube channel at