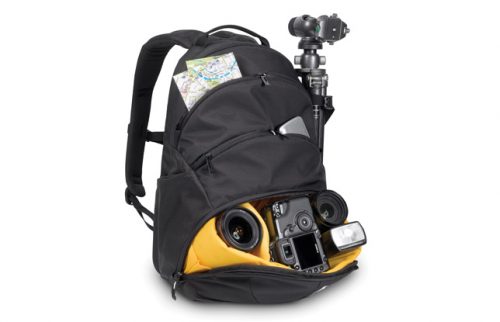 What the Kata DR-466 lacks in an attractive name, it makes up for by being a compact convertible bag that can easily swap between carrying a bit of photo gear to whatever else you may need. With a comparatively reasonable price tag of just $100, it features four separate bag sections, one of which houses a modular camera gear divider which can be pulled out for use as general storage space.
It's certainly a bizarre design — you have one main section with a laptop pocket taking up about half the bag's space. The other half is primarily for camera gear and is accessed through an outer zipper near the bottom of the bag (though you can remove the gear inserts if you want). In between these are four small pockets on the outside for storing various bits and pieces.
It's not a particularly fancy bag, but that can be overlooked given its reasonable price. It functions well as a jack-of-all-trades, with its light weight and convertible storage. It's versatile enough that you can use it for a DSLR body and 3-4 lenses one day and carry a change of clothes for a day at the beach the next. The multiple, completely separate sections are handy for keeping lots of little things well organized, but the bag struggles if you have anything particularly large that won't fit in the laptop section.
The shoulder straps are suitably well padded, and there's a sternum strap  — but nothing for your hips. Kata has included a set of D-rings on the straps, designed specifically for their own Kata camera straps, but really, you could hang your keys off of them, or anything else with a carabina. Also, thanks to Kata for including a rain cover, something anyone who's been caught in a sudden downpour can appreciate. Water and camera gear don't exactly have the best working relationship, after all.
The DR-466 is a pretty new bag, but its ancestor, the DR-466i, was well liked by photography bloggers for surviving hell and high water. Dmitry Gudkov praised its low profile, solid construction, and comfort. D. Travis North of Shutter Photo likewise was a fan of its quality, calling it a "a solid bag that would be suitable for anyone with a fair amount of equipment." After 15 months of heavy use, Ashley Kramer of witchdoctor.co.nz wrote a rave review of the DR-466i for serving as not only an efficient camera bag, but as an excellent daily travel bag. The new version isn't identical (notably, it lacks a hip strap), but the quality of construction hasn't changed.
Perhaps the strongest selling point of the DR-466 is its size; compared to many other camera/gadget bags, it's much less bulky. Something like the Incase Pro Pack may be a good-looking bit of gear, but it's absolutely huge. The DR-466, on the other hand, has a very small footprint and if you remove the photo inserts it is even smaller. While bulk often means protection, it also means unwieldiness (and, in my case, inevitably clobbering the backpack on door frames). If you're not carrying much, and want something that keeps the size down, the 466 is a solid option.
If you like the concept of the DR-466, but want something that's slightly easier on your back and shoulders, try the Tenba Messenger Photo Daypack. Its overall design is very similar to the Kata, but it has more substantial straps, and includes a waist and sternum strap. It costs a bit more at $150, but is a viable alternative. If you're really trying to save every penny you can, check out the Lowepro Fastpack 250. While it's not as convertible or as thin as the DR-466, it is a very solid bag that will run you only $90.
The DR-466 suffers the usual drawback of being a jack-of-all-trades: It's the master of none. It holds only a relatively small amount of gear and when in non-photo mode, you're not going to be fitting anything big in that bag. Still, the flexibility is fantastic, it's sized right for people who don't want a big and bulky bag, and the ability to easily pull double duty with an understated and simple looking bag is immensely handy. And at $100, it won't break the bank.