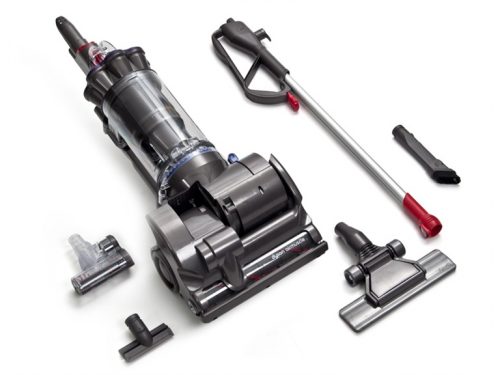 The Dyson DC 28 Animal has dropped significantly in price since we first reviewed it earlier this year and can currently be had for $439–that's $161 cheaper than the first time we looked at it. While Dyson's newer DC 41 vacuum (which is currently selling at the DC 28's old price point) comes equipped with slick features that the DC 28 doesn't have like a ball mechanism instead of wheels, and base plate that adjusts to different floor types instead of a variable suction system to deal with the various rugs and bare floors in your home. But the difference in cleaning power that such upgrades provide is negligible. Until something better and cheaper comes along, the DC 28 Animal is still your best bet).
If you're serious about cleaning and are in the market for a do-it-all dirt sucking beast, at the moment you can't do better than the Dyson DC 28 Animal. In the case of this bagless, 21-pound upright, the consensus seems to be you definitely get what you pay for. It's consistently been among the best reviewed vacuums for the better part of two years now. Both professional reviewers and owners praise the DC28's excellent filtration system (a lifetime HEPA filter which can be hand washed), unparalleled carpet cleaning prowess, and five-year warranty.
So what, specifically, does $439 buy you that you can't get on cheaper vacs? For one thing, adaptability. Consumer Reports (subscription required) says the DC 28 is one of the few vacuums that performs well on virtually all surfaces. That's partly thanks to a unique push button system that automatically adjusts the vacuum's height and suction power to the height of your carpet. Unlike other some other vacuums in the Animal's in price range, the DC 28 also does an excellent job on bare/hardwood floors, slurping up dirt and debris without scattering it around. According to Richard Bagley of Reviewed.com, "the DC28 Animal has plenty of air flow," and picked up nearly all of the dirt from the dirt wood floor test.
By the way, all that dirt collects in a 0.68 gallon container, which is good for about a month's worth of cleaning sessions (depending on how dirty your house or apartment is). If you're curious, other popular bagless vacuum containers, like the one found on the LG LuV200R, usually hover around .40 gallons. Bagged vacuums can have more room, but you'll have to deal with the hassle of replacing both them and the HEPA filters regular, which can get expensive. This Animal also sports two separate filters, one for larger clumps of dirt that get through "the cyclone," and a secondary HEPA filter for removing pollen and small dirt particles from the air before it is pushed out. While plenty of other bagless vacuum cleaners also come with a HEPA filter, they often require that users replace them every 6 months. Many of these can range from $15-25 depending on the vacuum. In the case of the DC 28, both of the filters are hand washable and can be reused ad infinitum.
But it's really performance, i.e., suction power, that truly sets the DC 28 from the rest of the field. Popular Mechanics gave the vacuum a test drive in its labs and found that "the [vacuum's] shockingly powerful pull was enough to nearly drag our testers off their feet." Similarly, Jen Trolio of Wired says that the DC28 "picked up an astonishing amount of fur from rugs that looked fairly clean at the outset." This power comes courtesy of a pneumatic actuator that forces the cleaner head into the carpet "for maximum crud removal," she says.
Both Richard Baguley of Reviewed.com and Good Housekeeping give specific kudos to the DC 28's ability to remove even deeply embedded dirt from long carpets, with the former heaping addtional praise to the vacuum's simple, intuitive design and truly useful bells and whistles like its stealthy, quick-draw telescoping wand.
Still, there are a few quibbles (aside from price) that occasionally pop up in reviews. For instance, many Amazon reviewers ding the Animal for its weight, noting that it can be difficult maneuver in tight spaces. Others note that the entire cord must be unwound to use that telescoping wand, a legitimate design flaw. At 75 decibels, this is also not a quiet Animal. But few uprights are if we're being honest. That's actually a bit lower than some cleaners, says Bagley, and the DC 28 has none of the high-pitched grinding noises that we sometimes hear.
If you simply can't abide paying $439-600 for a vacuum, there are plenty of well-reviewed uprights and canisters in the $300-500 range too. The Hoover Platinum UH30010 ($300) receive favorable reviews from the folks at Reviewed.com, Good Housekeeping, and Consumer Reports. It does not, however, comes close to the Animal's performance and adaptability. The UH3000 is more or less the design antithesis of the Dyson (it looks like it's straight out of the 50s), actually comes with two vacuums: a lightweight upright and a small canister vacuum cleaner for spot cleaning. You'll want to note nearly everyone says that the canister is more or less useless thanks to its anemic suction power. That's too bad because you're pretty much forced to use it on hardwood floors since you can't deactivate the upright's brush.
If you live in a place with a bunch of stairs, you may also want to opt for a canister vacuum to make cleaning a bit easier. Consumer Reports likes the $500 Kenmore Intuition 28014 (72/100), while Keith Barry at Reviewed.com says the much cheaper $250 Kenmore Progressive 21514 is also a great option for low-pile and bare floors. (The 21514 also earns a solid 69 in CR's overall ratings.) They don't have the same tricks or power the Dyson does, though.
Your other money saving option–and the one I'd probably take in this case–is to buy a refurbished DC 28, which can be had for $300 or slightly less. That's a good chunk of change, and depending on where you get it from, you can occasionally get a fully warrant too.
What do you give up by going with these cheaper vacs? Here's the thing: after spending hours reading through countless vacuum reviews, we found that even great $200-500 vacuums came with some fairly big compromises–even ones that rocket past the DC 28's price range like the $1,000 Miele S5281 Callisto. One may excel at hardwood floors but fail miserably at long carpets. Others will be easy to maneuver yet feature relatively anemic suction power. Some just feature crappy components, like belts that break every few months, or expensive filters you're obliged to replace. Yes, you'll also be making some compromises with the DC 28. But suction power is not one of them. And what more is a vacuum but a device to slurp up dirt and anything else collecting on your floors?
Key Specs
Bagless:
Yes
Cleaning Tools:
Stair tool, combination accessory tool, mini turbine head, flat out head
Vacuum Type:
Upright
Dirt Container Capacity:
0.081 Cubic ft.
Cord Length:
35 ft.
Filter Type:
Washable HEPA
Weight:
20.6 lbs.
Cleaning Path Width:
13.5 inches