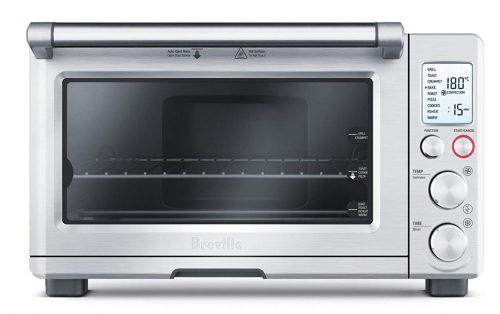 Then we toasted dozens of slices of bread, roasted chickens, crisped up frozen pizzas, and baked off tubes of ready-made cookie dough to confirm what we learned.


A brief history of the toaster oven
The original pop-up toaster was invented by Charles Strite around 1909. Before it came around, people had to watch their bread to make sure it wasn't going to burn, and flip it when it needed to be flipped. Strite's genius machine allowed a slice to sit upright, so that high heat wires would brown the bread on both sides and stop heating it when it was done. His invention achieved effortless, perfectly cooked toast, so sleepy breakfasters no longer had to worry about tending to their bread (or causing a house fire).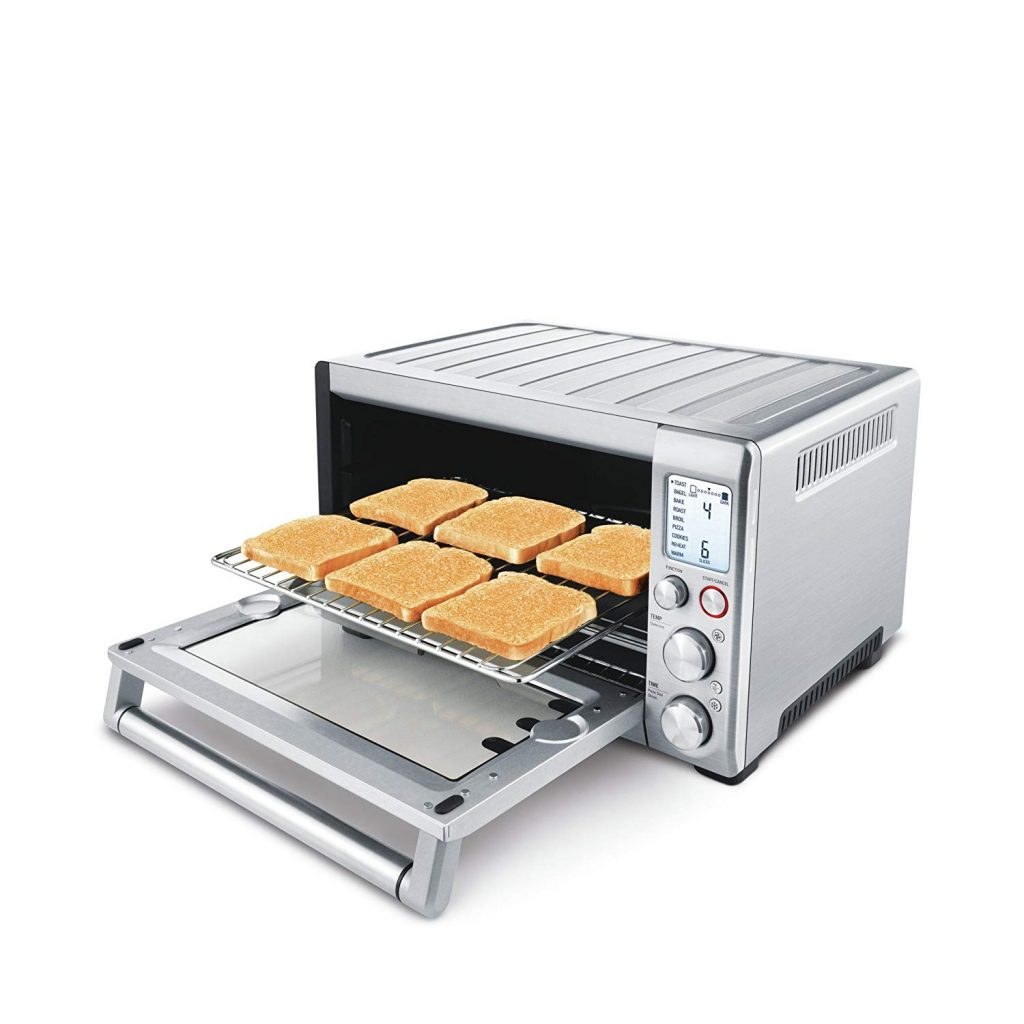 Why a toaster oven?
Toaster ovens, however, are built to do more than just brown bread. Strite's original goal still applies—the best toaster ovens should cook foods safely and precisely, without intervention. But while his original, stand-up design is still employed, it doesn't accommodate deliciously drippy foods like pizza, or oddly-shaped foods like halved blueberry muffins. In a toaster oven, those upright heating elements are flipped so they run horizontally above and below, with a rack in-between. It's a handy appliance for crisping up popular convenience foods such as frozen pizza, or for baking off small quantities of cookie dough.
Lynn Alley, author of The Gourmet Toaster Oven, created a whole book filled with recipes for whole meals designed to be cooked in the smaller space. Alley told us that she likes that the toaster oven "is not going to heat up your whole kitchen," making it ideal for baking things like summer fruit pies during the hotter months.
Because they generate a lot of heat in a small space, toaster ovens curry favor with serious home cooks as an auxiliary oven. We talked to New York City-based food writer Rachel Wharton, who says she uses her toaster oven "hourly" for everything from reheating leftovers to roasting whole chickens. "When my oven conked on Thanksgiving (yes), I used it to cook everything but the turkey," she revealed.
Saveur magazine Senior Editor Gabriella Gershenson loves her toaster oven for baking dishes usually reserved for the big oven. "I've used it for brownies, salmon, and pot de crème," she told us. And many people who wrote customer reviews for the best models also mentioned that they had chosen a toaster oven for primary use because their conventional oven had stopped working and would be too expensive to replace.


Even celebrated Le Bernardin chef Eric Ripert has a series of videos, sponsored by Cuisinart, with recipes designed specifically for the toaster oven. As he says in one of the videos, "If you are alone at home, it's the perfect machine that you have in the oven. You don't need a big oven to cook for two. You don't need a big oven to cook for yourself, so it's convenient. You don't have to clean…With the toaster oven, it's about a few minutes of preparation, a few minutes in the cooking process, and you have something which is very good."
Lois Dewitt, author of Pop It in the Toaster Oven, extolled the virtues of toaster oven cooking for single people, students, and empty nesters who don't need to cook large quantities. She also explained to us, "A toaster oven makes a lot of sense because it's economical. The amount of energy you use in a toaster oven is negligible compared to firing up the range." According to this Sierra Club Green Home article, she's right: "In general, toasters use a little less energy than toaster ovens, and toaster ovens use about half as much energy as a full-size electric oven." Convection-enabled ovens may save even more energy by reducing cooking time, says Adria Vasil of Now Toronto.
Toaster ovens range greatly in price. They start at about and can go all the way up to, full retail price. With the higher priced models, what you're paying for is versatility of functions, intensity of heat, evenness of cooking, good control over the temperature, and safety measures that keep your food from burning. Alley says, "This is one of those situations which I truly believe that you get what you pay for. The quality of workmanship in a cheap toaster oven is not going to be as good as an expensive one. But beyond that, part of the quality of workmanship means being able to heat evenly. You don't want to, for instance, put a cake in there and have one corner burnt to a crisp while the rest of the cake is still raw."
Who should buy this?
If you don't have one yet, and you like melting cheese on bread, a toaster oven is going to be great replacement for your upright toaster and a supplement (or even replacement, in some cases) to your microwave. If you already have an inferior or dying toaster oven taking up space on your counter, consider upgrading in order to make the most of your kitchen space. Or, if your conventional oven poses difficulties, an appliance at waist level may be ideal; on a Chowhound message board, Cam14 also mentions that a counter-level toaster oven helps elderly parents "because they just couldn't bend to lift things in and out of the oven any longer."
And, if all you need is toast, stick to a normal pop-up slot toaster—they're faster, cheaper, and generally more even.
People who like pies or cakes in the summer (especially those with no AC in the kitchen) but hate turning the oven on will appreciate that the toaster oven keeps the kitchen a little cooler than the conventional oven. And toaster ovens are handy for active cooks who want to make quick work of little jobs like making croutons or toasting nuts. (The Kitchn has a list of the 10 Best Uses for Your Toaster Oven, including using it to warm your plates before you serve. GENIUS.)


Of course, a toaster oven has a bigger footprint than an upright toaster, so it may not be right for those without counter space. All toaster ovens have hot surfaces, so they need clearance. And, if all you need is toast, stick to a normal pop-up slot toaster—they're faster, cheaper, and generally more even.
What makes a good oven?
We assumed that toaster ovens will need to be used for toast, so the best had to toast bread well, and in a timely fashion. But we wanted to also measure how they performed as auxiliary ovens.
Cooking should be even between the front and back, the sides and middle, the top and bottom of the foods—with no hotspots. A toaster oven should be versatile enough to cook a whole chicken or just to broil the cheese on top of an open-faced sandwich.
Size matters, though needs will vary from kitchen to kitchen. Looks also count, though this is again a matter of personal preference.
Ease of cleaning is important in such a small space, since fallen crumbs and oil splatters can cause smoke and possibly fire.
When it comes to longevity, both Lois Dewitt and Lynn Alley suggested that a toaster oven should last about five years. And, as with all household objects we use daily, design makes a huge difference in encouraging owners to use the toaster oven's multiple functions correctly, right out of the box. This is especially important in households with kids who are entrusted to heat up their own breakfast or after school snacks.
Choosing the best
Many of the common names on household appliances are players in the toaster oven realm, from affordable brands like Black & Decker and Oster, to mid-range brands such as Krups, DeLonghi, and Hamilton Beach, to upscale department store brands including Cuisinart, Breville and Kitchenaid.
In choosing the attributes that would distinguish the best toaster ovens, we looked at buying guides written by Consumer Reports, Good Housekeeping, and America's Test Kitchen.
These three major reviews gave the Breville Smart Oven top ratings across the board, as did testimonials from other sources, but its high price gave us pause—could the Breville, really be that much better than some of the more affordable competitors?
We decided to call in a few of the best rated toaster ovens in lower price points. The cheapest model we tried was the Oster TSSTTVMNDG Digital Large Capacity Toaster Oven on Amazon. We also got two mid-range models that performed well in the editorial, the Black & Decker CTO7100B Toast-R-Oven Digital Rotisserie Convection Oven and the Hamilton Beach Set & Forget Toaster Oven with Convection Cooking.
We toasted bread to check for hotspots, baked Nestle Toll House cookie dough from the tube to test baking against the tops and bottoms of food, heated up frozen pizzas (just as America's Test Kitchen did), and roasted 3.5 lb. whole chickens to check for sustained, intense heat, as Good Housekeeping and America's Test Kitchen both did. Whenever possible, we used the ovens' preset functions and followed recommended temperature settings.
Our pick
The Breville Smart Oven is the clear winner. It evenly toasts both sides of up to six slices of wide bread, arranged in a single layer. Heat is provided by five quartz elements—three on top, two on the bottom—that bring the oven to temperature quickly and maintain that temperature. Unlike most of the toaster ovens we looked at, the Breville offers not two but three rack levels so you can move your food closer or further from the elements as required. It's roomy enough for a 13" round pizza, a 13"x9" cake pan without handles, or a 4.5 lb. chicken. Most importantly, it handles roasting, baking, and toasting consistently well. There is a small button you can push to indicate that a food is frozen, which automatically adds the recommended amount of time needed to defrost things like pizza or cookie dough; there's also a convection button which helps circulate the hot air throughout the oven, speeding up the cooking process and browning.


But what really puts it in a class of its own are thoughtful design touches that make using the Breville intuitive and easy to use. There are three logical, well-marked, dials on the machine that turn and click smoothly: one to choose the function, one to set the temperature, and one to set the time. As with many other models, there are specific settings for the most popular functions—toast, bagel, bake, roast, broil, pizza, cookies, reheat, and warm—and each one changes which heating elements are employed for the appropriate amount of directional heat. Choose a function (with preset time and temp that can be adjusted to your liking and will be subsequently remembered by the machine), then hit the big start button. While the oven preheats, the light on the display goes from blue to orange. When the oven is ready, a beep signals to let you know you can put your food in. An automatic timer displays, counting down the remaining time left so you know exactly how long you have until you can eat. And, when the timer has run down, the oven shuts off automatically. The crumb tray pulls out easily from the front, making it a cinch to clean.
Some of the design flourishes are small, but no less genius. When the rack is in the center (as it would be for toast and cookies), magnets in the door automatically pull the rack out a few inches—no more burnt fingers when you fish your bagel out. Even the plug, pictured left, is designed with a hard plastic doughnut hole shape to help thumbs grip the plug when inserting or pulling out of the socket. Little safety catches on the oven wall allow you to pull the top two racks out a few inches without having your food fall. With its stainless steel housing and firm electronic beep, as well as the included pizza pan and heavy baking pan with broiler insert, it looks more solid and expensive than its competitors. We should mention, though, that there's no internal light to help see the food inside, a small detail some customer reviewers seem to miss.
The biggest flaw of the Smart Oven, if you can call it that, is probably the cost. We know, the price makes us uncomfortable, too. Why should you get a smaller oven if you've already got a big and powerful one? Think of it as the difference between having a big S.U.V. and a little compact car. Both are useful, and both will take you where you need to go, but the little car may be faster, more energy efficient, and more convenient for those shorter, smaller trips you commonly take. This is a highly versatile appliance that many reviewers say they use every day. Some say they use the Breville much more often than their conventional ovens, and that the Breville replaces it. If you're an avid cook, you may find that the Breville becomes the second oven you wouldn't otherwise have room for. Many of us live in homes with old ovens that may lack power or temperature control, not to mention some of the more modern touches like preheating notification, convection, or even a window to look in and see your food as it cooks. It's also a lot easier to clean than the conventional oven.
The Breville Smart Oven comes with a 1-year limited warranty. Of the 1,300 reviews on Amazon, there are about 100 1-star reviews, many of which come from people who love their Breville…until it stops working. Similar reviews crop up on Consumer Reports' page, as well as Breville's unusually public and transparent getsatisfaction.com forum.
Some negative reviewers report that their ovens allegedly die as early as 1 month in, but other 1-star reviewers report a lifespan of up to about 3 years. Many of the negative reports point to failure in the LCD display, quartz elements not working anymore, or unresponsive dials. Appliance failure complaints are not uncommon in the category; by percentage, the popular Oster has a similar number of negative comments on outages.
We contacted Breville for comment on these particular issues. They responded, "At Breville, we continually strive to create innovative, award-winning products that meet the highest standards of quality. While we do not comment on consumer reviews posted on third party sites, we know that the overwhelming majority of our customers are extremely happy with the ovens they have purchased from us, which is why we are the leading brand in the kitchen countertop oven category. If a customer thinks that he or she may have a problem with a product, we strongly encourage the person to call customer service (1-866-273-8455) Monday-Friday, 8 am – 5 pm (PST) or email us at [email protected] Often, with the assistance of one of our dedicated representatives, what might first appear to be a problem can be quickly resolved through basic troubleshooting."
Good Housekeeping touts Breville's "great customer service", as do several customer reviewers (including one whose oven had been 18 months out of warranty).
Who else likes it?
Consumer Reports gave the Breville Smart Oven a score of 73, 4 points higher than its Compact little brother and eight points higher than the nearest competitor of a different brand. They took note of its "sleek, sturdy design" and rated the model excellent on successive batches of toast, ease of use, and full batches of toast.
America's Test Kitchen gave the Smart Oven a perfect score. They said, "While the price makes us wince, this well-designed oven aced every test and was simple to use." Cooking through a macaroni and cheese casserole and making dark (not burnt) toast wasn't a problem. (See this YouTube video for more on what they loved.)
Good Housekeeping gave the Breville Smart Oven, and its little brother, the Breville Compact Smart Oven, an A, saying, "Expensive, yes, but Breville's Smart Oven is a whiz at toasting and baking." They note its "large interior", which provides more room for roasting a 4.5 lb. chicken or baking a cake (and it performed both tasks beautifully in their tests).
The Wall Street Journal gave the Breville "The Blue Ribbon", saying, "We were so wowed by this little state-of-the-art genius that we might just start using our old-school oven for storing summer shoes." They loved the "dummy-proof digital knobs" and the "auto-eject tray" (a reference to the magnetized middle rack).
The Kitchn writer Emily Ho called the Breville Smart Oven her "essential appliance", explaining, "When I pared down my kitchen tools last year, the Breville Smart Oven was among those that stayed firmly in place. It's a counter hog, no doubt about it, but I use this appliance nearly every day." As someone who references British recipes often, she appreciated the easy-to-miss Fahrenheit/Celsius toggle button. (Brevilles are designed in Australia, where they measure temperature in Celsius.)
Rose Levy Beranbaum, author of the The Cake Bible, calls the Breville "the perfectly even oven," saying that it cooked her test cream puff pastry to an even golden brown.
The home cooks in this Chowhound discussion rhapsodize about the Breville. Lynniato says "I worship my Breville. It's sexy and it works great. We use it throughout the day, every day." Rexter314 said, "We bought the Breville Smart Oven last year and couldn't be happier with it. We'll use it before we turn on our large ones." Goodhealthgourmet said, "I have to add my vote for the large Breville Smart Oven with convection. Easily the best I ever spent on a kitchen appliance."
In addition, the Amazon page for the Breville Smart Oven has a 4.5 star rating, which is especially impressive considering that it has amassed over 1,300 reviews as of this edit, with 975 of the reviews being five-star ratings. Amazon customer K. Robertson wrote a long, loving review of the Breville, pointing out, "I don't think most of us have convection ranges, so having this feature on a toaster oven is great." An update to K. Robertson's review also says, "It's 1½ years later, and I still use my Breville almost every day—still love it and not one hint of problems. Crumb tray in the front is SO very easy to pull out and to keep clean."
Testing results
We chose four models at different price points for testing: the Breville Smart Oven, the Oster TSSTTVMNDG Digital Large Capacity Toaster Oven, the Black & Decker CTO7100B Toast-R-Oven Digital Rotisserie Convection Oven, and the Hamilton Beach Set & Forget Toaster Oven with Convection Cooking. We really wanted to get a sense of whether or not the top-reviewed model was worth the money. And just as it did for America's Test Kitchen and Consumer Reports, the Breville consistently performed well. Toast was evenly cooked, if a little pale for medium; cookies were golden brown on both sides; the frozen pizza came out crisped around the edges and appealingly browned on top.
With the cheaper toaster ovens, evenness and temperature control were less consistent. The Hamilton Beach Set & Forget ran a bit cooler than the others, resulting in lighter cookies and very pale toast. The Oster ran much hotter, burning the cookies and overbrowning the bottom of the toast in one test. Pizza was burnt to a crisp, though part of the problem there was the lack of preheating instructions for that setting; had we just been watching the pizza, it would have been easy to take out and enjoy at peak doneness. The Black & Decker performed well on the cookie test, but toast took a whopping 8 minutes for medium color. And, following instructions in the user booklet, pizza required a quarter turn in the middle of cooking to keep the section in the back of the oven from overcooking. Remember Strite's original pop-up toaster? Having to tend to your food so it doesn't burn isn't ideal.
Again, Breville's dummyproof controls and crystal clear readout made the experience of using it a cut above. Oster's major flaw was that it lacks a preheat warning. The user manual suggests that you turn the oven on to the temperature required and then set the timer for 7 minutes. However, once those 7 minutes are up, the oven automatically turns off, which means that you have to set the temperature and baking over again. With the Black & Decker, the digital display shows how hot the oven is as it's climbing to the requested temperature, but when I put the food in, set the timer, and hit the "start/stop" as I thought I needed to, the oven thought I was canceling and turned off completely. The Hamilton Beach Set & Forget was quite easy to figure out how to use, but the plastic-covered air bubble buttons are less satisfying to push than spinning the Breville's substantial knobs.
The results were even better than chickens we've roasted in the big oven.
Roasted whole chickens were a revelation for our tasters—the toaster ovens can turn out a marvelous bird with very little attention. The Breville roasted chicken was especially gorgeous: a beautiful, burnished color, with crisp skin and fully cooked meat. One tester loved the savory fond in the pan drippings. The results were even better than chickens we've roasted in the big oven. Black & Decker's novel rotisserie chicken was especially juicy, with very little drippings accumulating on the roasting pan. However, it was a pain to truss the 3.5 lb. bird, which is the rotisserie's size limit, and an extra-wide bird could prevent the spit from turning properly. The Hamilton Beach has a built-in meat probe, which is fun to use and worked beautifully the first time we used it, but was off by about 25 degrees the second time we used it.
Consumer Reports says, "Convection doesn't pay. There's little proof from our tests that this fan-driven technology enhances baking performance, probably because air circulation is less of a factor in a small oven." However, we felt otherwise. We found that the Oster and the Breville's convection gave the chickens the crisp skin and Maillard reaction brown that made them even more appealing than the others. However, the convection on the smaller Hamilton Beach Set & Forget didn't seem to help much.
Our budget pick would be the Hamilton Beach Set & Forget. It's tall, but not very wide; there are about 6 inches of clearance from the bottom rack, and 3.5 inches of clearance from the upper rack. It can hold a 12" pizza, but not a 13"x9" pan without handles. It scored high praise from Consumer Reports, though they found the built-in thermometer to be inaccurate (see this video). America's Test Kitchen praised the out-of-the-box experience: "Clearly designed control buttons, a helpful electronic display, and an easy-to-understand manual made using this oven a snap." Though the machine ran a little cool in our tests (which is consistent with some of the Amazon reviews), the heat was mostly consistent in different areas of the oven.
If you're looking for high intensity heat for something like a pizza, this may not be the right unit for you. But it's a solid, consistent alternative at 1/3 the price. If you plan on using your toaster oven infrequently (2x a week), or you only want to use it for basic toaster oven functions like toasting bagels or heating up convenience foods, this is an affordable and reliable pick.


The competition
The Breville Compact Smart Oven is based on the same technology that makes its bigger brother so great, but it lacks convection and some of the smart design touches like the magnetized rack. The time and temperature are combined into a single knob. Considering that its footprint is not much smaller than the full-size, the internal measurements feel significantly smaller. Consumer Reports gave it a score of 69, saying, "This Breville toaster oven is priced well below its top-of-the-line brand mate, but it performs just as well in many areas." Good Housekeeping notes that it only allows 4 slices of bread, as opposed to the 6 slices that fit into the full-size. Amazon customer Michael J. Edelman, who owns the Compact, says, "I think the Breville BOV800XL The Smart Oven 1800-Watt Convection Toaster Oven with Element IQ, which adds convection and a somewhat larger oven is a better deal overall." Like its big brother, it comes with a 1-year limited warranty. Saveur Senior Editor Gabriella Gershenson has this model and loves it, but says she would have gotten the larger one if she had had room for it.
The Hamilton Beach Set & Forget Toaster Oven with Convection Cooking was the next best performer in editorial reviews. Consumer Reports gave it a score of 65 and praised its "very good overall performance", though it noted that the meat probe was not as accurate as the manufacturer claims. Good Housekeeping gave this model a B, and thought it was "a whiz at toasting, consistently delivering evenly browned bread in GHRI tests." Note that Consumer Reports complains about a lack of crumb tray; the model we tested did have a crumb tray, but you had to open the oven door in order to retrieve it. This comes with a 1-year limited warranty.
The Cuisinart TOB-195 Exact Heat Toaster Oven Broiler has gotten stellar reviews from customers on Amazon, with 358 5-star reviews out of 529 total. But America's Test Kitchen found faults in its uneven cooking and thought its 16-button keypad was confusing. The Wall Street Journal also disliked the "over-designed" interface, saying, "So many buttons! Too many options!" Consumer Reports gave it a score of 63, saying this model was "a cut above the competition" when it came to toasting, though its baking was just "average" compared to a conventional oven. Heat fiends should note that the Cuisinart can reach a temperature of up to 500 degrees on broil, and customer Charles G. says that it can "get near pizza oven (600 degrees) results." Good Housekeeping gave this model a B, noting that its roasting pan wasn't deep enough to hold all of the juices from their roasted chicken. And most agree that its worst design element is a crumb tray comes out of the back of the oven instead of the front. It comes with a 3-year warranty, and we should note that our two toaster oven cookbook authors both have and love their older model Cuisinarts; Lois Dewitt says she has had hers for ten years.
The Black & Decker CTO7100B Toast-R-Oven Digital Rotisserie Convection Oven It earned a low score of 48 in Consumer Reports, which noted that it "took too long to toast one slice bread medium brown." America's Test Kitchen found its performance "acceptable but a little uneven." Amazon customer Anonymous said, "This B&D oven makes outstanding rotisserie meats and is a big leap in value over a traditional toaster oven, with one significant drawback: it's a very mediocre toaster." The Black & Decker comes with a 2-year limited warranty.
The Oster TSSTTVMNDG Digital Large Capacity Toaster Oven was the cheapest of all of the best ranking toaster ovens we looked at; unfortunately, its plastic components make it look the cheapest. Consumer Reports gave it a score of 62 and chose it as its best buy in the category, but said "the model's overall toasting performance was only so-so." Good Housekeeping gave this model a B and, strangely, said that "it toasted bread fairly evenly (the most even of any toaster oven in our test)." Our own testing showed performance to be uneven, with hotspots and high running temperatures. This model comes with a 1-year limited warranty.
One model that has received top customer reviews on Amazon but very little editorial attention is the Panasonic NB-G110P Flash Xpress Toaster Oven, which uses infrared light to quickly toast bread. Bloggers who tested it for Viewpoints said to avoid this toaster oven—several of them complained about its "flashing" lights, which were especially hypnotizing for one writer's curious preschooler. This model comes with a 1-year limited warranty.
Wrapping it up
The innovative Breville Smart Oven is worth the money once you calculate its daily use. It's smart enough for amateurs who want a no-think appliance and precise enough for experienced cooks who want to harness its versatility.