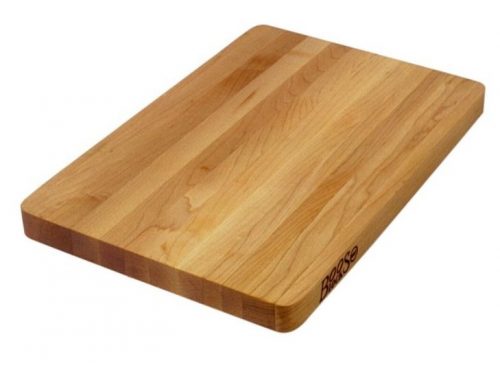 A lot of people believe there's a difference between wood and plastic in bacteria retention, but that's not the best way to understand the two materials. First off, nobody really knows which board type is cleaner.
 .
For every Journal of Food Safety finding that determines wood retains more live bacteria cultures than plastic, there's a USDA follow-up that cites equal retention and removal between both materials. From UC Davis, a study shows the dangers of bacteria hiding in plastic boards' knife cuts; other readings of the same study suggest that it's not so cut and dry (forgive the pun). None of this matters with our two-board strategy, though.That's because even if the bacteria retention of each board type is hotly debated for each material, if you have two boards you can keep the food that's unsafe to eat raw on one board while prepping everything else on the other.After reading many hours' worth of articles, science journals, research papers, manufacturers' guidelines and professional advice about cutting board sanitation, I couldn't agree more with this bit from an excellent post at Knife Forums: "You need at least two, one for fruits, vegetables, bread and anything that is safe to be eaten raw. The other is specifically (and solely) for raw meats, poultry and fish.
This is absolutely critical. There are some strategies for using just one board in a home kitchen, but they are compromises at best. You need two boards. End of story."Which material is better for each? I think that, given the staining nature of meat juices, especially marinated and garlic-spotted and deliciously spice-rubbed meat, you should use your good wooden board for the raw and veggie stuff, and a plastic board for meat. If you cook exclusively vegetarian, this doesn't apply so much, but two boards is still a pretty good idea for any kitchen.On woodNot just any wood will do though.
Maple is preferred, whereas bamboo should be avoided.Furthermore, wood does treat knives better and will last longer with proper care. Plastic is easy to clean and not too expensive to toss when it gets too scarred. But you want the right kind of wood—knife-friendly and classic, but not too fussy—and you want a plastic board that isn't too cruddy.Bamboo is fashionable, perhaps the most ecofriendly, and very hard. But that hardness is tough on knives, and without regular oiling there can be board-length cracks and splits, as borne out by the video of an extensive Cook's Illustrated test (subscription required).
The National Science Foundation, Food and Drug Administration, and U.S. Department of Agriculture all certify hardwood cutting boards as a safe (if cleaned) preparation surface. And hard wood, chosen and assembled with skill, looks great.On plasticYou can buy really cheap plastic cutting boards at something like for five, then buy more when you inevitably carve up their surfaces beyond sanitation and usability. But beyond the general issues of waste and ecology, there are other factors to consider in the very cheap boards realm.You also don't want a small board if you can help itYou want a larger board.
Very cheap boards are small. Until you've had a big cutting board for a while, you might not realize how convenient it is to chop up greens without losing them, keep garlic and onions in their own piles, and hack at meat without fear of an entire roast slipping onto the floor you don't sweep enough.They can be so hard that your knife makes annoying, edge-decimating clicks and scrapes, or so soft that you end up with plastic particles in your food. Very cheap boards are very thin and lightweight, and they can easily slip out from under your work. And they very rarely have nice little features, such as juice grooves, good handles, no-skid rubber edges or reversible faces.If you must have a small board though…
While we are confident that anyone who cooks frequently will appreciate the extra working space of a large cutting board, some people's counters and/or sinks are just too small to properly fit and clean a board of this size. If you're short on space, our recommendations stay the same, only the sizing changes. The Chop N Slice comes in both 18×12 and even smaller 16×10 sizes that you can select before adding to cart. Similarly, the OXO is available in a smaller 15×10.5 version.However, it's definitely worth thinking twice before defaulting to a smaller size. With a little angling, a 20×15-inch board should easily fit in any standard sized sink–even if it's split. So we still recommend big boards unless you have an exceptionally small kitchen (like half-bathroom-studio-in-Manhattan small) with an exceptionally small, odd-sized sink. Besides, you can always exchange it for a smaller version if you find it doesn't fit.Our wood pickThe John Boos 20-inch Chop-N-Slice comes recommended by Cook's Illustrated as well as a number of renowned chefs for its durable, hard maple edge-grain construction. While other companies may cheap out on construction or materials, the John Boos company has been making lumber products since 1887 in southern Illinois. They still use 100% raw hard maple sized and sourced from nearby states. There's also a one-year warranty for added ease of mind.Boos' 15-by-20 Chop-N-Slice board comes recommended by Cook's Illustrated in a 2011 review of nine boards: "A classic wood model, this reversible, edge-grain board's slightly rough surface offered twofold control: It securely held the counter and gently gripped the knives. Though it absorbed stains and developed hairline cracks after a few months, it never warped."Note that those stains and hairline cracks came after three months of heavy day-to-day usage by the professional chefs in the Cook's Illustrated test kitchen. Top Chef All Stars winner Richard Blais recommended Boos boards for home cooks in the New York Times. Wylie Dufresne, chef and owner of wd~50, specifically recommended the 15-by-20 Chop-N-Slice board (without its trade name); it had been recommended to him by Paul Kahan of Chicago's famed Blackbird. "'I love the weight of it, the height of it, and it doesn't slide,' [Dufresne] said. It makes other boards look ill-proportioned. And unlike resin boards, this one does not nick deeply.
"The board's reviewers on Amazon will let you know that the board, like any good wooden cutting board, needs to be oiled regularly (especially when you first receive it) and washed in proper fashion: not soaked in a sink and definitely never thrown in a dishwasher—simply wiped down and rinsed. But they tend to like the size, the thickness, the heft that keeps the board from sliding and the reversible nature. Says one five-star review, "I traded down to this [board] and really like it. It's just the right size for a big chef knife and large bunch of kale, but also for chopping little piles of herbs and veggies next to the stove. It looks nice enough to leave on the counter all the time."Boos sent me a slightly different model—the R03 is available in many types of wood, and a quarter-inch thicker than the Chop-N-Slice—and I used it as my main non-meat cutting board for at least four weeks before this was written. It's a good upgrade if you're sold on the idea of a single board that owns a piece of your counter, (and if you have the counter space available). In general, though, it's the size and stability that make the real difference and Boos is a solid and dependable source of large slabs of quality wood.It's worth noting that the Boos doesn't have juice grooves, but this isn't an issue since you'll be using it for clean things anyway where contamination by blood isn't a worry. Just make sure you've dried, or at least shaken out your veggies before chopping them.Overall, the Boos 20-by-15 reversible board gets you a comfortably-sized piece of maple that's thick and properly heavy, well-constructed and made by an established U.S. firm.The competitionAs noted above, John Boos stands out among wooden cutting board and butcher block makers for their reputation for craftsmanship and long, long history. Beyond brands, the big divide in wood cutting boards is end grain versus edge grain.A diagram at Ken Goodwin Design (possibly sourced elsewhere) explains the physical difference best: end grain boards are a number of board ends fused together while edge grain boards are faces and sides in alternating strips.Chefs tend to prefer end grain, because when the wood fibers are standing up and meeting your knife parallel to the sides of your knife, you can cut more cleanly and leave fewer scars. End grain blocks are also generally huge and thick, with little counter slippage. Jeff Biesinger, a science teacher, serious charcuterist and competitive barbecuer who lives near me, said that with end grain, "your edge sinks into the wood like a shag carpet. Your edges hold up better and you'll mince herbs cleaner."Former chefs and custom cutting board makers discussing grain preferences at ChefTalk certainly agree. But we're not going to recommend an end grain for someone who isn't at least a part-time professional cook with a stellar knife collection.
These boards are expensive and require more careful washing, oiling and care than an edge grain board, unless you buy a block that is very, very thick and heavy (and thus even more expensive). What's more, Cook's Illustrated found two faults with standard-sized end grain boards: "Unfortunately, those exposed wood fibers also soaked up liquid and stains like a sponge, making them prone to warping. The end-grain models in our lineup began to warp—and eventually split—after just a few rinses in the sink. The edge-grain boards, on the other hand, showed no evidence of warping." That also pairs up with what veteran woodworker Ken Goodwin has to say about end versus edge grain: "On the other hand, edge grain is a little more resistant to staining and absorbing moisture…in our experience the differences [between end and edge grain] are marginal."What about bamboo? Again, Cook's Illustrated found their bamboo boards suffered from quite a few warping and cracking issues. I have a bamboo board and, while it looks quite nice, it does seem to have a reputation for being hard on knives, and, at its cheaper levels, easy to split along the glue lines, as commenters on Chow and ChefTalk and elsewhere have noted. I should know: I've split at least two bamboo cutting boards along the dark/light wood divide, because I was younger and didn't know to oil my boards. That's not a great testing case, but I can say that cheap bamboo cutting boards, no matter how thick, can break.Cook's Illustrated did recommend one wooden board over the Boos Chop-N-Slice: a Proteak edge grain teak model. At from a third-party seller on Amazon, it's definitely a step up from a board, although reviewers report some quality-control issues on Amazon. But at 24″ x 18″, it's also going to be a stretch to fit into any kitchen that doesn't intend to leave it out as a showpiece, and a bit tough to wash down after every use. It certainly comes highly recommended, but the Boos Chop-N-Slice seems like it will work just as well in most kitchens and fit better in most, too.
Best wood for cutting boardCook's Illustrated gave the OXO Good Grips 15″ x 21″ board its "Best Buy" recommendation, noting its grip and reversible nature, dubbing it a "good, considerably cheaper alternative." We agree. A lifetime guarantee only sweetens the deal.I've used a test model provided by OXO since mid-February, and it has taught me a lot about the pleasures of a big, counter-gripping board. I boned a dozen chicken breasts on it and found myself far less worried about spilling and contamination. I chopped up my own corned beef hash mixture one Sunday morning without a single bit hitting the floor. And the weight and handling ratio is just about perfect: it's big, but light enough to move around with one hand, and the grips on its edge are very useful.Are there knife cuts in my board? Yes, a few of them, but none so deep to even think about tossing the board. I keep two or three of my Victorinox and Henckels knives fairly sharp, but I'm not as good as I should be about sharpening. If you have very good knives and keep them really sharp, you might make plastic boards unseemly and unusable much more quickly than most homes. But in many professional kitchens with very sharp knives, color-coded plastic boards (red for raw meat, blue for seafood, etc.) are the norm, unless they had their butcher blocks grandfathered in by health inspectors. If you spent that much time and money on your knives, perhaps a second good wooden board is in order.
One important caveat is that I have a big, washbin-style sink and a deep dishwasher with adjustable racks, so a 15″ by 21″ cutting board works for me. Dishwasher cleaning isn't mandatory (as noted just below), but if that size is unrealistic for a small kitchen, consider buying one or two of the next size down, 10″ by 15″.Board careYou need to clean your cutting boards as soon as possible after you're done using them, and you need to oil your wooden boards. With a bit of routine under your belt, maybe augmented with a smartphone or calendar reminder, this should not be too much of a chore.What really matters is cleaning your boards, wooden or plastic, and preventing cross-contamination.For washing, Cook's Illustrated provides a three-step guide for any cutting boards, wooden or plastic (subscription required). Here's a summary:Wash your boards as soon as you can with hot, soapy water.After smelly or stain-producing work, rub down your board with a paste of 1 tablespoon baking soda to 1 teaspoon water, let it sit for about 10 minutes, then wash with hot, soapy water.
If a stain sets in, or if you're uncertain if soapy water can do the disinfecting job, create a mixture of 1 tablespoon bleach to 1 quart water. Wash the board in this mixture (with gloves), then soak a towel in this solution and leave it on the board overnight (it's also a handy way to keep white kitchen towels white).As for oiling wooden boards, many Amazon and kitchen forum reviewers noted that, since a wooden board has been sitting dry for some time before you receive it, you want to oil the board a few times and leave it to dry overnight in the first week. After that, oil every week for the rest of the first month, then, as Boos itself recommends, every 3-4 weeks (or let's just say monthly). You can buy Boos' own Mystery Oil or board cream, but mineral oil should work just fine. Don't use vegetable or animal oils, as they can turn rancid. And don't ever put your wooden board in the dishwasher.Wrapping it upIf you want a pair of cutting boards that will last a long time and keep your counters and knives happy and sanitary, it's hard to beat the combination of a John Boos Chop-N-Slice maple for veggies and OXO Good Grips for meats.