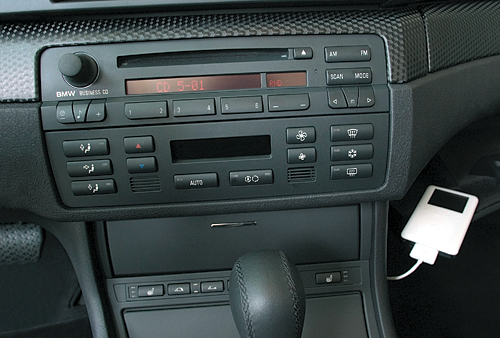 Now that Apple's newest 40GB iPod can hold up to 10,000 songs, it may take hours, days–even weeks–of your time to download your entire CD collection onto its hard drive.
Once that work is done, all you need is a pair of headphones and you've got nearly limitless music for the treadmill, plane or train. Driving should be even better, especially if your car has good aftermarket speakers. Unfortunately, there's a potential glitch: the bewildering variety of accessories available that let you play your iPod music through a car stereo. Take it from me, it ain't pretty (see "No BMW? No Problem").
ADAPTING TO THE FUTURE
A much easier solution, if you have a few–well, more than a few–bucks to spare, is to just buy a BMW. Then you can purchase the BMW iPod Adapter, which is available for 2002 and later 3 Series models, Z4 roadsters, X3 and X5 SUVs, and Mini Coopers. This adapter, plus installation at BMW service centers, attaches your iPod to a glovebox adapter without any extra wires.
The adapter also acts as a dedicated power source, so your batteries won't go out on you right in the middle of "Witchy Woman."
back to menu ↑
CONTROL
To be able to play your music, you have to create and download no more than five playlists to your iPod before you get in the car. This means you won't be able to pick your tunes by genre, artist or song the way you usually do.Once you have finished making your playlists (they can be as long or short as you'd like and must be named BMW 1, 2, etc.) and once the iPod is securely hooked into the glovebox adapter, you're ready to start streaming. The car's system will treat your playlists as it would a CD changer, letting you view and play your lists and songs through the controls. Just select a playlist (you have buttons labeled 1 to 6 on your dashboard control panel) and hit play. You also can skip between tracks, shuffle the playlist and adjust volume. The Scan function will let you preview each track. You can skip around tracks using the arrow buttons on your steering wheel. So, you may be asking, what's that "6" button for if you can only have five playlists? If you're taking a really long road trip, you can use button 6 to play your entire library of iPod songs. These songs also can be shuffled, skipped and rearranged as much as you'd like–just like any of the iPod playlists.