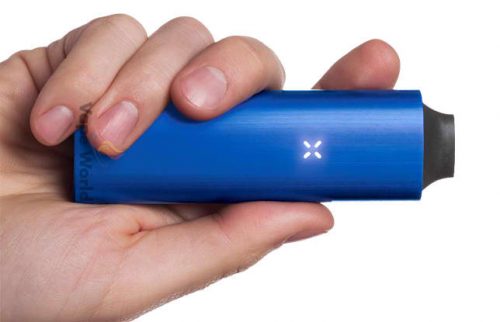 I really like the Magic Flight Box portable vaporizer. It's not the most fully featured or efficient in vaporizing, but it is one of the smallest and cheapest and is a great value. It is also beloved by many and can be found for less than $100.
Vaporizing a herbal remedy is preferred over burning it, it is said, because the chemicals are delivered in hot air without smoke.
The Magic Flight Box is not as efficient at vaporizing as a full sized vaporizer like the Volcano digital (the king of all vaporizers) but the Magic Flight box gets the job done, discreetly. It's not as efficient as the highest-end portable vaporizers like the Arizer Solo which has digital temperature controls. But the Arizer costs $190 and is as big as a can of Red Bull, and needs to be hidden in a soda can if you want to be discreet with it. The Magic Flight box is about the size of a match box car and comes in a velvet carrying case, which is also useful for holding the included AA rechargeable batteries. (It also comes with a charger.) It's also, nearly half the price. Its construction is very rustic and I like it that way. The body is made of wood, and inside the herb chamber is a metal screen, heating element, a plexiglass cover and a hole for a removable plastic inhale tube and a second hole that fits the AA battery. On the back is a poem, which includes the phrase "Love is Always Stronger than Fear." This is true.
When I asked VapeWorld.com what they believed the best portable vaporizer was, they mentioned 5 models, including the Magic Flight box, but the Magic Flight was the only one that was listed under $200 which they had no reservations about. Their customers have left 85 reviews for the Magic Flightand it has a score of 4.5 out of 5 stars. It also is loved on Amazon, where fit has 89 reviews with an average of 4.5 out of 5 stars.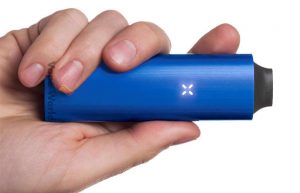 The Magic Flight is great for what it is, but what it is is basically a mesh hotplate powered by a AA battery. If price is no object and you are serious about your herbal remedies, the $250 Ploom Pax is your best bet.
It's really expensive for a portable vaporizer but you're getting what you paid for. The Pax's 2 hour rechargeable lithium ion battery, 30 second warm-up time, digitally controlled temperature settings, anodized aluminum exterior, and discrete size add up to create a more sophisticated portable vaporizing experience. Basically, this thing does its job, and it does it well. Maybe even a bit too well.
We recently received a test unit and found that the Pax is user-friendly to the point that it could turn an occasional user into a full-on med-head. The vapor it produces is top notch–comparable to similarly-priced plug-in desktop models that should theoretically be more efficient. It's also ridiculously convenient. Its discrete footprint lets you can take it anywhere, even places and situations you previously couldn't have imagined using such a device in. Its quick warm-up time and dead-simple operation (just press the mouthpiece and go) make it as easy to use as a morphine button on a hospital bed. It really is that effective–consider yourself warned.
Strangely enough however, it isn't very good at vaporizing tobacco, which is its "intended" purpose. We put some rolling tobacco in it and had a number of smokers give it a try. They all found it to be unpleasantly hot and flavorless. That being said, they also reported feeling a much stronger nicotine rush.
I don't have much more data than that, because vaporizer reviewers tend to be not very good source material. There are tons of unqualified reviews out there that recommend it, but few I would link to as authoritative sources.
But I used this vaporizer for awhile while I was recovering from a back injury a year ago, and I recommend it.