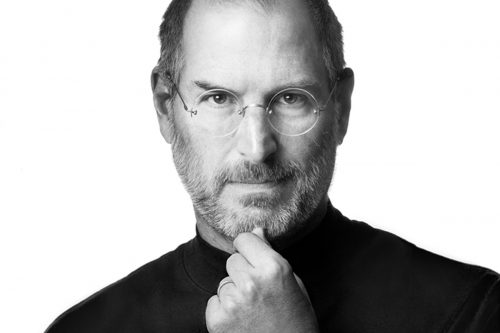 In a keynote address that emphasized a slew of new software applications and upgrades—but also included a demonstration of innovative new notebook computing technologies—Apple CEO Steve Jobs kicked off this week's MacWorld trade show in San Francisco on Monday morning. Dressed in his typical blue jeans and black turtleneck, Jobs waxed especially enthusiastic about Apple's new notebook designs. "This will be the year of the notebook computer for Apple," he said.
The biggest product announcement at the show was a new PowerBook notebook computer that Jobs touted as "the thinnest PowerBook ever." It features a number of design innovations. The system has a 17-inch display based on the same display found in flat-panel iMac systems. The notebook is based on a 1-GHz G4 chip, with a GeForce 440 GO graphics subsystem. It weighs 6.8 pounds and is one inch thick when closed. The case is based on an aluminum alloy used in airplane manufacturing, and is not painted.
In a crowd-pleasing demonstration of one of the notebook's biggest design innovations, Jobs showed that when the lights were dimmed, the keyboard became lighted. Apple designers put ambient light-sensing sensors in the notebook to detect when lighting is dim, at which point automatic keyboard backlighting turns on. The system ships with Bluetooth wireless capability built in, Lithium prismatic battery technology, and—in conjunction with a new 54-Mbps Airport Extreme wireless hub—does 802.11g wireless networking with the hub. The notebook will sell for $3,299 and ships in February.
obs also announced a smaller version of the new PowerBook, featuring many of the same components and capabilities. Calling it "the smallest PowerBook ever" he showed its 12-inch screen, and its 1.2-inch thick form factor when closed. The system has an 867-MHz G4 chip with a GeForce 420 GO graphics subsystem, and a full-sized keyboard. The system sells for $1,799 and ships in two weeks. Both notebooks will ship with Quickbooks 5.0 for the Mac bundled, which was just made available. Both notebooks also include 800Mbps FireWire connectivity (IEEE 1394b), which Jobs said is twice as fast as the previous iteration of FireWire. The systems also have ports, though, for standard 400Mbps FireWire.
On the software side, Apple has a few brand new applications. One, called Keynote, which will sell for $99 and is immediately available, is a presentation package that Jobs claimed took shape at his own request for a new kind of presentation application. Keynote specializes in many kinds of glitzy transitions, rotation of graphics, and special effects such as dissolves. It imports and exports PowerPoint files, .PDF files, and other formats. The graphics in the product are filtered through an OpenGL layer, so that some of the effects it is capable of are eye-popping, including treating a graphic like a 3-D chessboard, where certain squares can be flipped and rotated during graphics transitions.
Apple also introduced a new Web browser for the Mac called Safari. Jobs said that speed and ease of use were the drivers for the design of Safari, and claimed that the browser is three times as fast at HTML load speed than Microsoft's Internet Explorer. The browser allows Google searches directly from a toolbar, without going to the Google site, and for search results or simply scrolling quickly to the top of any Web page, incorporates a SnapBack feature to take the user back to where he or she started from. It's available as a free download immediately at Apple's site.
Extending its Digital Hub strategy, announced two years ago, Apple is also delivering new versions of its iPhoto, iMovie, and iDVD products. The products include some handy new features. In iPhoto 2, for example, a One Click Enhance feature can improve the look of digital photographs. In iMovie 3, users can compartmentalize movies into parts using a Chapters feature, and take advantage of a complete sound library. A new effect in iMovie 3, dubbed the Ken Burns Effect (after the documentary maker who specializes in still images) allows effects for still images. The new products will be integrated into a new software suite called iLife, available January 25th.
Finally, on the software front, Jobs showed off a new video editing product called Final Cut Express, which is a slightly stripped down version of the company's $999 Final Cut Pro video editing product. Final Cut Express features the same interface and most of the same features. It will sell for $299 and is immediately available.