A great console-sized PC stuck in the alpha stage
As great as PC gaming is, let's face it, when it comes to gaming in the living room, consoles have the PC beat. Alienware and the Steam Machines were supposed to change that, but considering Valve delayed its hardware initiative, Alienware decided to releases its box early as a small Windows 8.1 PC, dubbed the Alienware Alpha. While the PC does an admirable job of attacking the PC's problem areas in the living room, as the name implies, it's still (unfortunately) in a bit of an alpha stage.
The chassis is black and small. Measuring 2.1×7.8×7.8 inches, the Alpha is closest in size to Nintendo's Wii U console. At 4.5 pounds, Alienware's little PC is also extremely portable. We had an easy time lugging it around to friends' apartments with four controllers inside a backpack. Speaking of controllers, the unit comes with a black wireless Xbox 360 controller.

Ports on the Alpha include two USB 3.0, three USB 2.0, one S/PDIF, and two HDMI (one for output and another for input). It is a little disappointing that there isn't an analog headset port, but Alienware told us it was one concession it had to make to produce such a small form factor.
The box's aesthetics aren't very flashy. It's got some sharp angles, akin to Alienware's gaming laptops, a glowing triangular LED, and a glowing Alienware power button. You can also customize the LEDs through Alienware's UI. Overall, it will look nice sitting next to your TV.
Inside the box, the Alpha is running a mobile GPU based on Nvidia's GeForce GTX 860M, which was the same graphics card used in the HP Omen gaming laptop we reviewed last month. Since this box has such a unique setup, the Omen seemed like the fairest candidate for a zero point to test against. Its GPU runs at 1,020MHz and has 2GB of GDDR5 VRAM clocked at 1,253MHz. Compared to our ZP, however, the Alpha's performance was a disappointing 11 percent slower in our Metro: Last Light and 3DMark 11 benchmarks. It did perform 7 percent better in BioShock Infinite, however. Overall, the Alpha is nowhere near the most powerful gaming PC out there, but it should be able to run most AAA games on medium to high settings. It will, at the very least, be competitive with the next-gen consoles.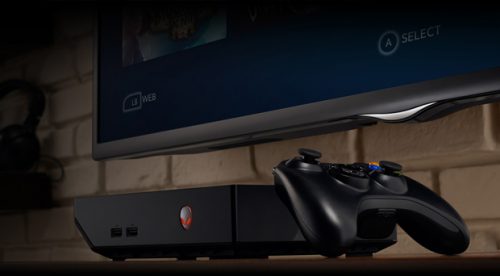 One aspect of the Alpha that we feel isn't up to snuff is system RAM; our unit only offered what we feel is a minimal 4GB. Sure, the majority of games should run fine on 4GB, but that's beginning to change with newer titles. We think Alienware should up the Alpha's base RAM to 8GB. Luckily, you can upgrade the RAM to 8GB, though you'll need laptop RAM to do so.
You can also upgrade the storage with any 2.5-inch drive. If you're like us, you'll really want to do this. Our unit came with a 500GB 5,400rpm hard drive, which was embarrassingly slow. It took the Alpha one minute and 35 seconds to boot up, and then another 35 seconds to boot up into Steam Big Picture Mode. If you're loading a really big game, it's only going to lengthen the wait.
At the heart of the console is the Alpha's i3-4310QT CPU. Despite the box's size, it's actually a quad-core desktop CPU running at 2.9GHz. You can upgrade this to a quad-core i7, too. And you may want to, considering this i3 gets beat up by 30–54 percent compared to the HP Omen's mobile i7-4710HQ processor. While dual-core CPUs are fine for the majority of games, for a little more future-proofing, we would have preferred at least a quad-core i5 chip.
Of course, the hardware means very little if the software isn't properly optimized to take over the living room. While the Alpha is running Windows 8.1 underneath, Alienware has wrapped its own user interface around it, which you can navigate with a controller. The Alpha UI also allows you to launch directly into Steam Big Picture Mode, which comes pre-installed. Because some Steam games only offer partial controller support, Alienware has done some super-nifty software tweaks to allow you to use an Xbox controller like a mouse in a pinch. You can do this by pressing down on all four shoulder buttons and pressing down on the left stick. This will allow you to navigate past any pop-up window boxes.
The Alpha isn't perfect, however. One of the taglines Alienware is using for the Alpha is that it "combines the freedom of PC gaming with the ease of a console," but the slogan doesn't always ring true. We encountered some resolution issues. For instance, in Shadow of Mordor, it defaulted to 1280×1024 resolution on our 1080p TV and had no in-game option to adjust it to 1080p. Some games that allowed us to adjust the resolution ended up blacking out the screen when we cranked it up to 1080p. Meanwhile, some games would open up off-center in a windowed mode by default. When we tried to boot up Skyrim, it gave us an error message that read, "Failed to initialize renderer. Your display doesn't support the selected resolution."
The consoles also allow you to watch Netflix, and the only real good way to do that on the Alpha at the moment is to boot it up to the desktop mode, but here you'll need to have a keyboard/mouse plugged in. Because of that, we really recommend getting something like Logitech's wireless K400 keyboard, which pairs well with the Alpha.
Another area in which the consoles have at a little easier than PC gaming is that console gamers don't have to tweak their settings. Nvidia has a solid workaround to this problem with its GeForce Experience, but unfortunately the Alpha does not support GeForce optimal playable settings, which is a shame considering many console noobs might not know which graphical knobs to twist.
At $550, the Alpha certainly isn't cheap, especially when you look at its specs and compare it to the consoles. And the Alpha has a bunch of little software hiccups to overcome. Despite these problems, however, when the Alpha works, it's awesome. Steam has a surprising number of fun local co-op games like Broforce, SpeedRunners, and more. Alienware's box does a great job of bringing PC games to the living room. Sure, you could build a cheaper, more powerful system, but Alienware has spent a decent amount of R&D trying to solve the software/UI issues. Yes, the box is in a bit of an alpha stage right now and isn't the console-killer it set out to be, but we hope that Alienware continues to make future iterations of the Alpha. As it stands, the Alpha is a good machine for the PC vet, but not a perfect solution for the console noob.
Alienware Alpha Specs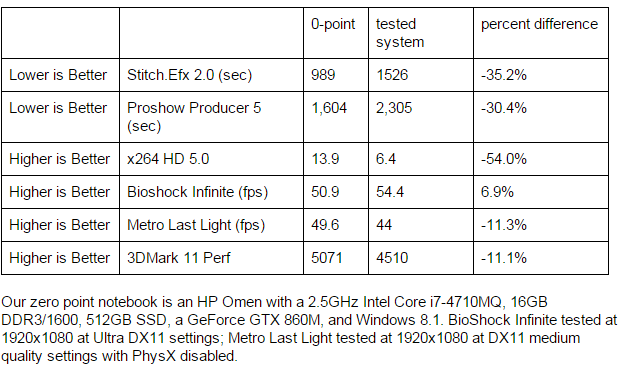 1 new from $999.77

Last update was on: June 4, 2023 2:32 am
This Certified Refurbished product is tested and certified to look and work like new. The refurbishing process includes functionality testing, basic cleaning, inspection, and repackaging. The product ships with all relevant accessories, a minimum 90-day warranty, and may arrive in a generic box. Only select sellers who maintain a high performance bar may offer Certified Refurbished products on Amazon.com
PROS
Very portable; brings PC gaming to the living room. - See more at:
CONS
Can't upgrade GPU; slow hard drive; only 4GB of RAM; still some bugs to iron out. - See more at: http://web.archive.org/web/20150305041447/http://www.maximumpc.com/alie
Add your review