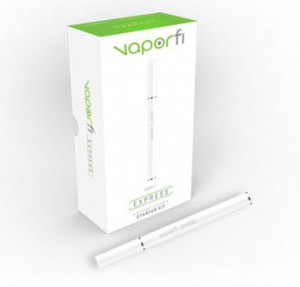 With the New Year upon us, now is the perfect time to establish realistic goals for better health. Some will be harder to meet than others, but with the prolific number of electronic cigarettes on the market, it won't be hard to quit smoking. We will provide reviews of the best electronic cigarette brands that are currently on the market (2015) to help you with your decision.
These replicate the feel, the motion, the habit, and the nicotine without the toxic smoke that is killing American smokers, hurting second-hand smokers, and polluting the planet.
Recommended E-Cig Starter Kits
Here's a couple recommendations, and further down this page we explain more about starter kits, if you're still deciding if a starter kit is right for you.
back to menu ↑
Vaporfi Express Kit – $30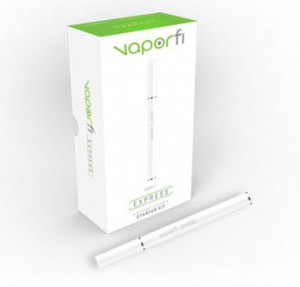 back to menu ↑
This is a nice cigalike kit, at an excellent price point.
It comes with:
Two batteries (one standard, one high capacity)
Wall charger
USB Charger
Manual
Membership card
Then you have a choice of pre-filled cartridges, empty cartridges you fill yourself with e-juice, or mini clearomizer tanks.
This kit is a great introduction to vapor cigs, and they have many flavors to choose from, from your basic tobacco and menthol, to dessert flavors, and pretty much every flavor you can imagine.
back to menu ↑
What are Electronic Cigarettes?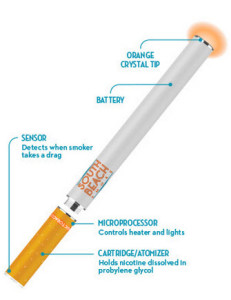 You might have heard them referred to as "ecigs," "mini cigs," or "cigalikes." These are all electronic cigarettes for beginners.
Another category known as "eGos" is larger and has to be refilled with e liquid (another term, discussed below).
More complicated versions known as APVs can be adjusted so they produce hotter or cooler vapor.
Mini cigs are made up of two parts: a battery and a cartomizer. The battery provides power to an atomizer coil (like the ring on your stovetop) found inside a cartridge.
This cartridge contains e liquid. The term "cartomizer" comes from the combination of "cartridge" with "atomizer." Some brands of e cigs offer automatic batteries (you puff on the ecig to activate the atomizer). Some are manually triggered with a small button on the side of the battery.
Styles designed to closely emulate real cigarettes mimic the length, circumference, and weight of analogs. They are also the same color: white and tan. The end glows with an orange or red LED bulb when you draw on one.
Consumers are often drawn to items which are most realistic, but there are versions of the right size and shape in alternative colors too. The LED could be red, orange, green, blue, and more.
Although you can buy a disposable ecig to try it out or to have on hand when traveling, the most environmentally friendly way to use ecigs is to opt for rechargeable ones. These plug into a USB power source and take about 90 minutes to recharge.
When ready, they last anywhere from 90 minutes to 4 hours, but mini ecigs are well-known for running out of power faster than eGos, one reason powerful eGos become popular with consumers relatively quickly. The best e cigarette brands can be known to last longer, but the time stamp is 90 minutes to 4 hours.
back to menu ↑
E Liquid
Doubtless you want to know what e liquid is, mentioned above. This is the substance that replaces tobacco.
Contents of e liquid are propylene glycol, vegetable glycerin, flavorings, and nicotine. Nicotine is almost always present in disposable ecigs but is an option when you buy refill cartomizers or bottles of eliquid.
Companies offer various strengths from 0.2% to over 4% nicotine, allowing smokers to slowly withdraw from their addiction to this stimulant. If they wish to continue using nicotine, that's an option too.
At first, flavors of e liquid were designed to closely replicate those of cigarettes, although with varying degrees of success. In fact, very few companies really got it right. Now, e liquid is available in numerous flavor categories. Tobacco is one, menthol another, with gourmet, fruits, drinks, and savory flavors also on the menu.
So you could "vape" (the term for using an ecig since "smoking" will not do) Bavarian Crème, toffee, fruit cocktail, coffee, chocolate, or jalapeno pepper. Customers are introduced to numerous styles of tobacco, including some from around the world.
A disposable ecig is already filled with e liquid and cannot be refilled. When you buy a rechargeable ecig, the cartomizer can either be replaced or opened and refilled. APVs and eGos come with special tanks for refilling; much easier than tiny cartomizers which hold 0.9 ml to 1 ml of material. Tanks contain from 1 ml to 6 ml of liquid.
Consumers can buy replacements for their e liquid from the maker of their ecig, but if they choose to refill it doesn't matter where e liquid comes from as long as it is not too thick or acidic for the style of atomizer and tube. A plastic tube will crack when filled with acidic juice such as lemon-lime or black licorice. Cheap atomizers inside of refillable mini cig cartomizers are unable to handle e juice made from mostly vegetable glycerin as this is too thick.
back to menu ↑
Popular Brands of ECigs
The well known brands of mini cigs have stayed popular for several years. They seem to have the market share, but more recent brands have been encroaching on their success. At first, there wasn't much choice if you wanted quality, but now a healthy amount of competition encourages reasonable pricing and high quality.
Top brands of e cigs include VaporFi, V2 Cigs, White Cloud, Halo, and Volcano. South Beach Smoke, 777, Eversmoke, and Vapor4Life provide further options. Their prices vary and all of them sell starter kits to reduce costs a little as well.
back to menu ↑
E Cigarette Starter Kits: The Introduction
Electronic cigarette starter kits are sold with at least one battery and 2 cartomizers plus a USB charger, but you will find this inadequate as more than a teaser; perhaps as a way to coax a smoker into trying this method of replacing his nicotine.
The best starter kits contain at least 2 batteries and 5 cartomizers so that you can use the system for about 48 hours before needing replacements for the liquid.
Batteries can be recharged about 300 times according to the manual although customers should usually view claims like these and how many puffs you get out of a cartomizer as exaggerations. A 2-battery, 5-carto kit containing a USB charger and AC wall adapter is usually priced around $45 to $50.
Several businesses improve on this deal by either dropping the price to around $30 (a fairer reflection of the actual cost as markups in this industry are very high), or they add more pieces like five more cartos, a car adapter, or a PCC (this would definitely cause the price to go up at least a little.
Why do people buy kits and not separate pieces? If you did that, each item would cost the full price. Starter kits reduce the overall price of buying this gear by around 20%.
You can buy these kits online directly from the company. They are also available from some storefronts, although these companies often disregard mini cigs.