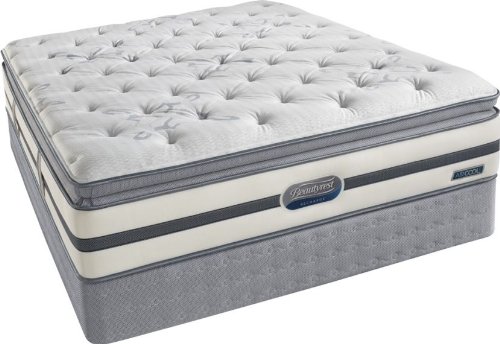 Bottom Line
The biggest advantage of the Simmons Beautyrest line is its superior motion isolation provided by its signature pocket-coil design. These mattresses are very comfortable and supportive when new, but they often begin to sag within a few years, becoming less supportive and even painful to sleep on. Simmons' warranty is average for an innerspring mattress, but the company gets more complaints about its service than any other.
Comfort
Very comfortable, at first. Owners of Simmons Beautyrest mattresses say they're very comfortable when new, providing good support that minimizes pressure points, reducing pain and improving sleep quality. Professional tests say the Beautyrest mattress provides better support for side sleepers than for back sleepers, but premature sagging tends to undermine their long-term supportiveness. At least 16 percent of owners experience pain, usually in the back, as a result of a sagging mattress. Another 10 percent find the mattress uncomfortably firm or uncomfortably soft, but with a good range of firmness levels to choose from, consumers should be able to avoid that problem by shopping carefully.
One strong suit of the Simmons Beautyrest is its ability to isolate motion. Mattresses are constructed with each spring encased in its own fabric pocket, so less movement transfers across the bed. This makes them more couple-friendly in one way, since partners are less likely to disturb each other at night, but it also eliminates much of the bounciness that makes innerspring mattresses good for sex. As for temperature, it's not a problem for most users: Only about 6 percent say the mattresses feel uncomfortably warm at night. This problem is most common with models that have a thick pillow top or contain a lot of memory foam.
Value
Don't expect great service. Simmons Beautyrest Mattress Reviews come in a wide range of styles and prices. The basic Classic model can cost as little as $880 for a queen size, while the top-of-the-line Beautyrest Black may cost more than $5,000. These are list prices and sales are common, so the price you pay should be considerably less. Beautyrest owners don't often grumble about the price, but they do complain at length about Simmons' customer service, especially for warranty claims.
The warranty on Beautyrest mattresses is typical for an innerspring. Lower-priced models are covered for 10 years while high-end models are covered for 20 years, prorated after the first 10 years so the customer pays a share of the repair costs. The most common problem with mattresses is sagging and the Simmons warranty covers this, but only if the mattress has developed an indentation at least 1.5 inches deep.
Although this is typical coverage, many customers consider it inadequate. Moreover, reviews at Viewpoints.com report a variety of additional service problems. After paying $100 to return the old mattress, one owner received a defective replacement that began falling apart within two weeks. Another was denied coverage because of three tiny stains on the mattress cover. And these don't appear to be isolated complaints. Simmons' current rating of C with the Better Business Bureau is the lowest grade for any major mattress manufacturer, and most grievances concern warranty and quality-control problems.

Simmons Beautyrest Queen Classic Plush Firm Eurotop Mattress and Boxspring
Enjoy a sounds night's sleep with this Plush Firm Euro Top mattress. Layers PurFoam Firm and PurFoam Plush offer supportive comfort and create a soft sleep surface that side sleepers and some back sleepers will enjoy. T
Durability
Premature sagging is common. Many innerspring mattresses have issues with sagging, and the Beautyrest line is no exception. At least one in four owners say that within a few years, their mattresses began to sag or develop impressions from the weight of their bodies. Posts at Viewpoints.com report sagging problems starting anywhere from five months to five years after purchase. Models with a thick pillow top or comfort layer are most prone to sagging, while firm ones hold up better; one owner at Viewpoints.com who bought "the firmest mattress Simmons had on the market" says that after 13 years, "it is still as firm as the day we bought it."
However, even the firmest models in the Simmons Beautyrest line are one-sided, which means they can't be flipped to extend their lifespan. Owners tend to keep this mattress about six years, and reduced comfort or support due to sagging is the most common reason for replacing it. This puts the longevity of a Beautyrest mattress pretty close to the average for innersprings.