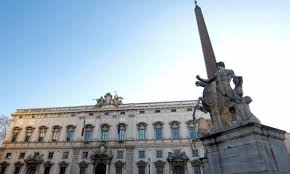 LONDON — The Court of Cassation, Italy's highest appeal court, on Tuesday ruled that a kiss on the cheek amounts to a sexual offense punishable by a prison sentence of up to seven years, if the assailant keeps hold of the object of his affections against her will or is aiming his unwanted attentions at an erogenous zone, such as the mouth.Sexual etiquette has become a legal and social minefield in the land of the Latin lover, with Italian men no longer sure whether their traditional macho behavior is acceptable. Two years ago the Court of Cassation overturned a Sardinian man's 16-month prison sentence for sexual harassment after he had kissed a female office colleague on the neck. The court ruled that a kiss on the neck was "not the same as a lustful kiss on the lips in a clear display of desire and intoxication", and that cheeks and necks were not erogenous zones.
But on Tuesday, the court refined its thinking when asked to rule on a separate case in Naples, in which a 65-year-old man had landed a kiss on a young woman's cheek."A woman's cheek is not an erogenous zone as such, but kissing it without the consent of the party involved — especially if the man holds or restrains her by the arm or hand — has the characteristics of a sexual act," the appeal judges said.They were ruling on an appeal by the Naples man, who last September was found guilty by a local court of "acts of libidinous violence" because, in trying to kiss a young woman he did not know on the lips, he "restrained her against her will."He succeeded in kissing her on the cheek only because she turned away.
The girl brought a complaint, and the Naples court found her admirer — or assailant — guilty of sexual violence. Tuesday, the court declared that "what matters is not just the kiss but the intention of the kisser". It laid down that the offence was punishable by a jail sentence of between one and seven years. New laws on sexual violence were introduced in 1996 after pressure from feminist lawmakers.