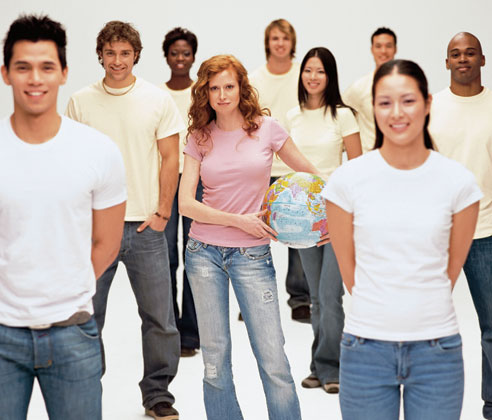 Polling Millennials
The rally was held early in the Presidential cycle — the first week of February 2007, a full 21 months before Election Day — and its guest of honor wasn't yet an actual candidate. But at the Johnson Center on the Fairfax, Virginia, campus of George Mason University, an electric charge was in the air. When Sen. Barack Obama strode onto the stage, shrieks of "I love you!" rang through the hall.
Via Facebook, the social-networking website invented in 2004 by a Harvard undergraduate, word had already spread among students about the Senator and the issues. The news about this campus event went viral in minutes, relegating leaflets and phone calls to the junk pile.
In January 2007 Farouk Olu Aregbe, a student government coordinator at the University of Missouri, launched a Facebook group, "One Million Strong for Barack." A year later, the group had signed up half a million "friends" (in Facebook lingo) as Obama supporters.
This knack for pairing technology and activism is only one way the Millennials differ from their baby boomer and me generation parents. And with the disaffected Generation Xers now in their 30s, a new group is finding its political voice. Encompassing 47 million young adults between the ages of 18 and 29, the Millennials constitute the first generation to come of age in the 21st century. Ambitious, civic-minded, and socially engaged, they may well decide the next President of the United States.
And the candidates know it. Hillary Clinton announced her candidacy by video on her website. Obama's site went interactive so that supporters could "talk" to each other without a filter. Last March, John McCain invited his website visitors to challenge his NCAA basketball tournament picks on MySpace, another youth-networking site.
"At the risk of sounding self-absorbed, it's not just about Barack Obama — it's also about us," says Heather Smith, executive director of Rock the Vote, an organization dedicated to registering young voters. "Young people are paying attention to politics at rates we've never seen."
At the College of San Mateo in California, political science professor Frank Damon is struck by how energized his students have become by the current campaign. "I've noticed a lot less apathy this semester than in a long time," he says.
To gauge how this generation will shape our future, starting with a close look at its role in the upcoming election, Reader's Digest commissioned a poll that posed a broad range of questions about Millennials' political and personal views. Our findings revealed widespread disillusionment with the Bush Administration. Even without a military draft — which galvanized antiwar sentiments during Vietnam — the war in Iraq has alienated young people. This helps explain why the President's popularity has eroded more among Millennials than among the rest of the public.
Yet Millennials, while more liberal than their elders, are neither monolithic nor easy to typecast. While most Millennials support gay marriage, which puts them at odds with conservative Republicans, they don't share the Democrats' zeal for universal health coverage — they're more concerned with reducing the costs of medical treatment.
Nor do these young people fit the secular stereotype of older liberals: 67 percent of Millennials say that religion is important to them. And more than a quarter say they've become more religious in recent years. When this concept is expanded by substituting the word spiritual, the figure climbs to 34 percent.
Looking at the poll results through a wider lens, it appears that this generation will alter the shape not just of the current election cycle but of the two major political parties for years to come.
"There is something happening out there, and it's potentially big," says Stanford University political scientist Morris Fiorina. "I've been saying that 2008 is the last election of the old order, but maybe not. Perhaps we held that election in 2004, and this is the first election of a new order."
Millennials cast their first votes in 2000, and the candidate who spoke most directly to them that year was John McCain, with his call for shared sacrifice and community service.
McCain's moment with young voters may have passed — we will know in November — but all signs point to continued support for any candidate who emphasizes service.
"We're an action generation," says 26-year-old Christina Gagnier of
mobilize.org, an "all-partisan" grassroots organization, "and we're entrepreneurial, not for the traditional purpose of making money but for doing social good."