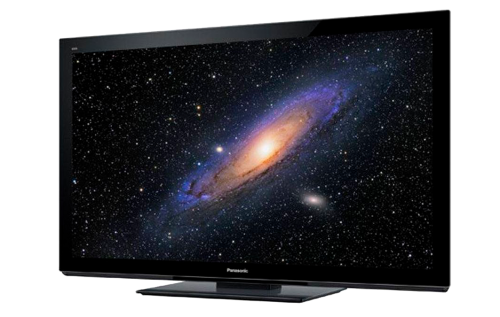 So, a few years ago, the best looking TV around would have been over 5 thousand dollars. This set is the best looking set out there for normal people, according to CNET and Consumer Reports. And it can be had for less than $2k. The Panasonic TC-P55VT30 is fully high definition, comes with 3d glasses for 1 person, and can be controlled by an iPhone app. It has wifi/ethernet for streaming Netflix, or images and videos from a computer. On top of the highly regarded picture, that's all I'd imagine anyone might really need from a TV. And then some.
Other sets from LG, Sony and Samsung are neck and neck with this set. The Sony has this crazy face recognition feature that turns off the set when the last person leaves the room. But it costs almost 40% more because it's an LCD which tends to be more expensive in big sizes. The Samsung also has a few more widgets, but I've never been completely satisfied by the sturdiness of Samsung gear compared to how rock solid Panasonic sets are. The only thing you should really care about is how good it looks. Which is why the Panasonic is our choice ahead of other TVs that have more bells and whistles.
KEY SPECS
Resolution: 1080p
3d: Yes (1 x glasses included)
Networking: Ethernet
Inputs: 4 x HDMI, Component, composite. 2 x USB for media files. VGA.
Media Playback: MP3, JPEG, MPEG
Online Services: Viera Connect. See David Katzmeier's article on CNet for full details of what streaming services the set has, below.