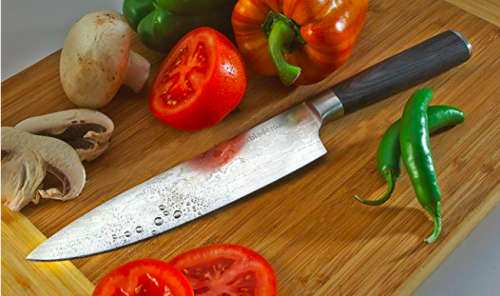 INNOVATIVE BLADE DESIGN
A job that took you a great deal of time before will now only take you minutes with this steel kitchen knife. Damascus knife blades are stylish and will go with any kitchen decor. This prime chefs knife is made from top-quality stainless steel with a damascus pattern. Our blade was manufactured in a standard 8-inch length and 2.5mm thickness.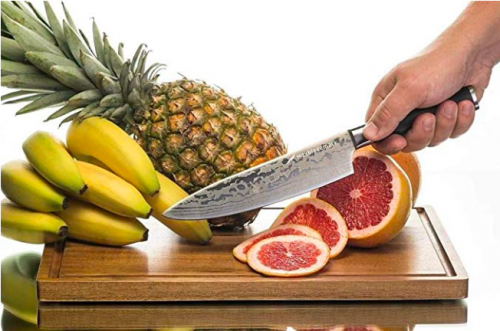 back to menu ↑
EFFORTLESS SHARPENING
The stainless steel metal that the blade on this professional knife is made of is incredibly easy to sharpen and ultra durable. So if you're in need of some pro knives that are chef quality, then these kitchen knives are the ones for you. Our 5Cr15Mov stainless steel blade is soft yet durable, making it one of the easiest types of steel to sharpen.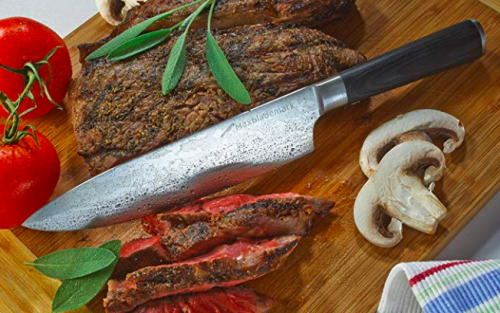 back to menu ↑
COMFORTABLE DESIGN
If you have a large family or host frequent gatherings, it is likely that you have a great deal of chopping needs. With regular knives, having to chop and slice mass quantities of food can be a pain, both literally and figuratively. We designed this knife for efficiency and comfort, reducing hand cramps from chopping for a long time.

Maxblademark 8 Inch Chef Knife
They say a chef is only as good as his knife, and at Maxblademark, we believe that to be true. That is why we have created the kitchen knife to conquer all kitchen knives.
Chef's Knife Maxblademark 8 Inch
Stainless Steel with Ergonomic Handle, Sharp Knives with Damascus Pattern, Knife Guard and Gift Box
DURABLE AND HIGH-QUALITY MATERIALS
10
DURABLE AND HIGH-QUALITY MATERIALS
10
PROS
INNOVATIVE BLADE DESIGN
EFFORTLESS SHARPENING
COMFORTABLE DESIGN
DURABLE AND HIGH-QUALITY MATERIALS
Add your review
|
Read reviews and comments